While running in a cotton T-shirt and your college gym shorts is certainly an option (and one we've all chosen in a pinch), it might be time your workout wardrobe got an upgrade. Besides, cotton tends to hold onto sweat, which is exactly what you don't want when you're on a long run.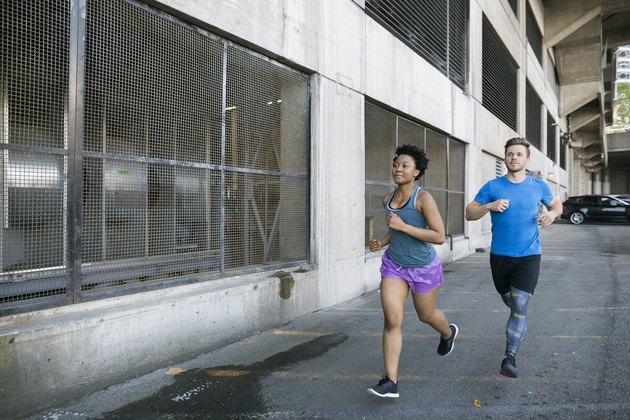 Fortunately, the technology in a lot of newer running clothes on the market may actually help you step up your running game. Even if they're sometimes on the pricier side, they're worth the investment if you plan on logging lots of miles. Not sure what exactly to look for? Take the guesswork out of the equation and check out these expert recommendations to help you find the right clothes for your next run.
Running Shorts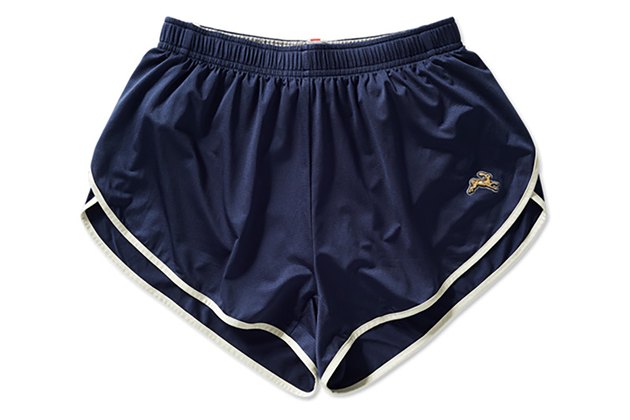 Next to your shoes, your shorts are getting the most wear out of your running gear, says Matthew Meyer, RRCA run coach and coach at Mile High Run Club in New York City. "So it's important to find something super comfortable that you can spend plenty of miles in."
Look for a pair of running-specific shorts, which are made out of breathable, sweat-wicking fabric, so they won't slow you down. Shorts with a liner and drawstring are also popular for ventilation, comfort and a personalized fit.
"Tracksmith makes my favorite running shorts out there, their Twilight Split Shorts," Meyer says. "They're made of a soft and comfortable fabric with internal pockets to hold gels, keys and more."
A second option? lululemon's Linerless Pace Breaker Shorts. "They're the only shorts I wear," says John Honerkamp, RRCA- and USATF-certified coach and founder of The Run Collective. "They helped me officially retire my college short shorts. They're comfortable and my phone fits in the pocket, perfectly. I can grab coffee for a work meeting in them, too, post-run."
Running Shirts and Tank Tops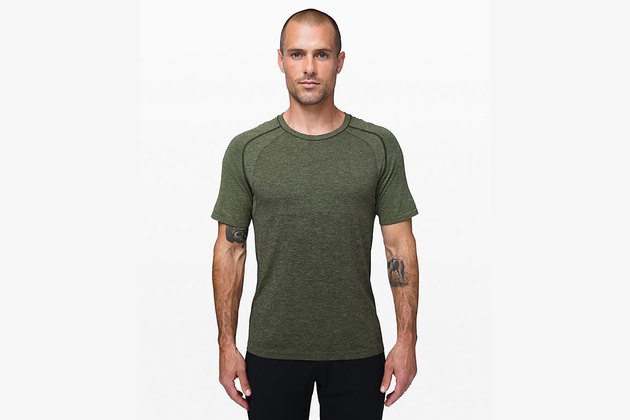 No matter your personal preference — short sleeve, tank top or singlet — it's all about the anti-chafe factor when choosing a running top. "Look for one that allows proper breathability and won't chafe your nipples or armpits," says says Joe Holder, USATF-certified track and field coach and Nike+ Run Club coach.
An all-cotton tee probably isn't a good bet either, as it holds onto sweat. Instead look for tanks or T-shirts made out of moisture-wicking materials, like the Nike Dri-FIT Miler Short Sleeve Running Top, which not only absorbs moisture, but has ample ventilation in the back via mesh panels and cut outs.
Two more chafe-free options are lulemon's Metal Vent Tech Short Sleeve 2.0 for men and the lululemon Swiftly Tech Raceback for women. "I like that they dry quickly," says Hollis Tuttle, RRCA level 1 coach and director of instructors at CITYROW in New York City.
Sports Bras
No matter the size of your chest, it's important to have a supportive sports bra that can keep up with the miles you're putting in. "You want something supportive, but probably with no padding," says Jess Movold, RRCA-certified coach and Runner's World Coach.
"The Nike Swoosh Classic Sports Bra, is a good medium-impact option, and I turn to Outdoor Voices Doing Things Bra for high impact, longer, more intense runs."
Looking to stash a key, ID or even your phone but your shorts don't have pockets? Consider The North Face Stow-N-Go Bra, which can fit your iPhone comfortably and not have it bouncing all over the place.
Running Pants and Tights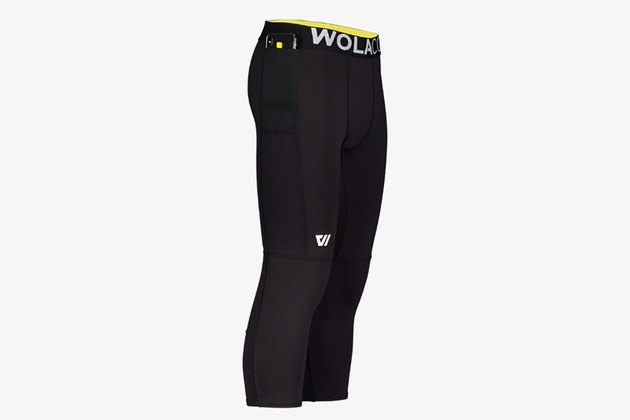 The most important thing when it comes to running tights or pants? Finding a pair that doesn't fall down. There's nothing worse than having to hike your pants up every couple feet.
Look for tights that fit well, are comfortable and that have a drawstring like the Saucony Women's Bullet Capri or compression like the WOLACO Men's Fulton .75 bottoms. Both of these features will help keep your pants in place.
Plus, they both have side pockets to stash your phone and other small items during your run. "The WOLACO spandex are pretty great because they have pockets that tightly hold your phone and any other essentials, so you can lose the running belt," says Luke Lombardo, RRCA-certified running coach and owner of LPL Fitness LLC in Los Angeles. "And they fit like a glove!"
Running Vests
Add an extra layer of warmth on a chilly day by throwing on a vest. It'll insulate your core without adding heat or being constricting to your arms.
But don't just grab any old vest from your closet; you need a vest that has some give, like the Eddie Bauer IgniteLite Hybrid Vest, which has four-way stretch, odor-control material on the sides, is wind-resistant and breathable.
Running Jackets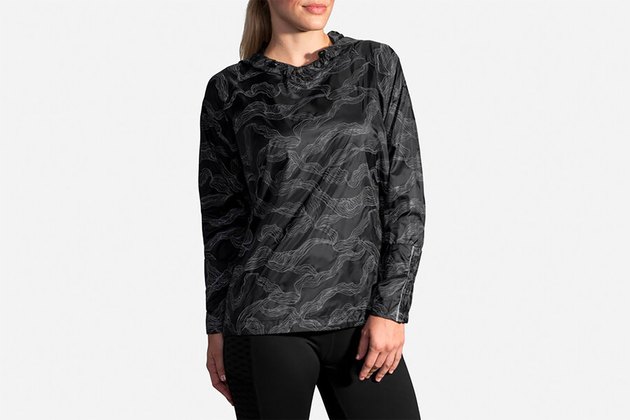 If it's a chilly day on the road or you just want an extra layer of protection on the trails, wear a long sleeve or jacket. But it needs to be breathable and have ventilation so you don't end up sweating more because of it.
"Think something lightweight but protective," says Movold. "I choose Brooks LSD Pullover. I love that it's a pullover, super easy to travel with, windproof, but also has a back vent to help keep you cool."
Or if there's snow or rain in the forecast, throw on a layer that's windproof and water-resistant, too. Try Under Armour's Outrun The Storm jacket. Its shell repels water, and the material also wicks sweat and dries really quickly. Bonus: It has a chest pocket, reflective details, and thumbholes!
Running Gloves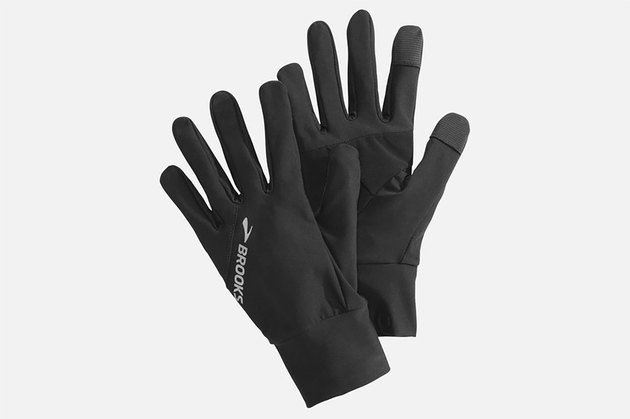 Just because the temperatures drop during some months of the year, it doesn't mean you can't run outside anymore — it just means you need to be prepared. For cool fall runs, throw on a pair of gloves to keep your hands toasty and comfortable.
A good option? The Brooks Running Greenlight Glove, which are tech-compatible in the fingertips and have a small pocket in the palm. If it's raining, try Brooks Running Nightlife Gloves, which have a windproof and water-resistant mitt that pulls over your fingers for added protection. Plus they're completely reflective.
Running Shoes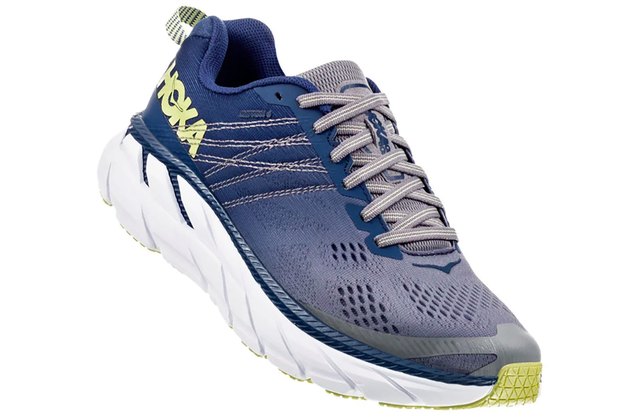 What's the most important thing when it comes to buying running shoes? "Honestly, even with all the gait analysis technology, the biggest thing when it comes to shoes is comfort," says Holder. "If you're uncomfortable in a shoe you're not going to perform well. Go to a sneaker store that allows you to return the shoes after a few uses if you're not pleased."
One good pair to start with is the Hoka Clifton. "I just bought my ninth pair," says Meyer. "They're light, supportive, comfortable and give me plenty of protection from the hard pavement! I love that it's a workhorse shoe I can put huge miles into, but it's also fast enough for strides and speed work."
For trail sneakers, Tuttle, suggests Altra Superior 4 Trail Shoes. "They fit great and allow me to run up, down and through mud in both directions with complete confidence.
Running Socks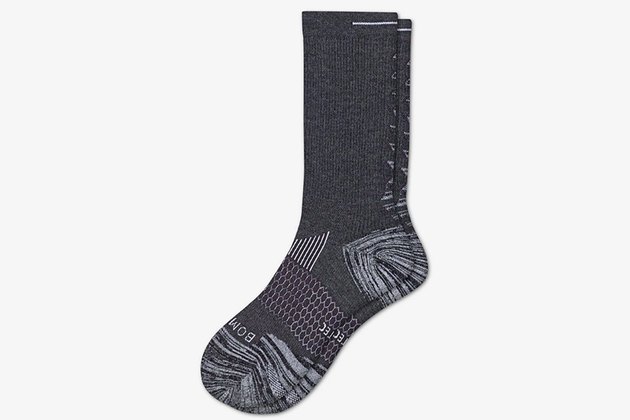 You might not think this small piece of gear makes a difference, but running socks are what help keep your feet dry, fresh and blister-free. Having a good pair is instrumental for your run game. In terms of thickness and sock height, it's a personal call depending on which you feel most comfortable in.
"I love the higher socks — so old school," says Honerkamp. "I like Bombas Performance Running Calf Sock, and the brand donates a pair of socks for every pair you buy, too." Moldov agrees saying, "Bombas are breathable, lightweight and usually have a fun vibe. I love the mid-calf height, too."