Don't let the wrong workout leggings or compression pants that are too tight hold you back. It's important to wear a pair that are comfortable, offer support and don't restrict movement, so you can do box jumps, burpees, sprints and lunges with ease.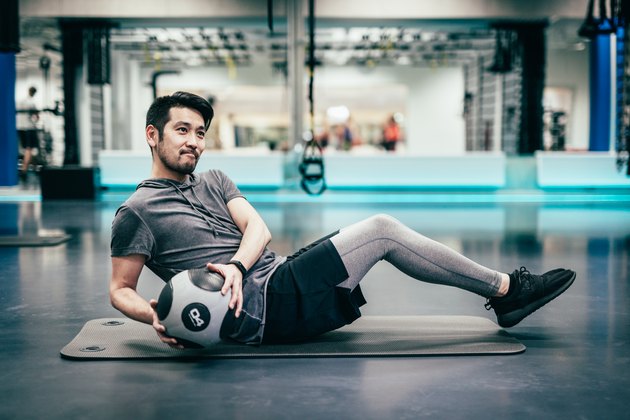 The search for the right pair of men's workout leggings can definitely be a challenge. You need to consider material, features and fit, as leggings are tighter than workout shorts or pants. On top of that, you'll want to make sure you're finding a pair that's functional but also enjoyable to wear and doesn't feel too constrictive.
What to Look for in Men's Workout Leggings
First, you'll need to ask what type of men's tights you're in the market for and what kinds of workouts you'll be doing. Some workout pants are a bit looser, where you might wear them for a walk or other low-intensity workout. But most workout leggings are tighter and set to aid in muscle recovery post-workout, such as men's compression pants or those with sleek pockets.
One thing to look for in men's leggings, regardless of your workout, is moisture-wicking material, says Caleb Backe, a certified personal trainer and health expert for Maple Holistics. "This fabric moves your sweat to the surface while also quickly drying it so that your clothes are moisture-free and as comfortable as possible during your workouts." You'll be able to ward off chafing and won't get weighed down by the heaviness of damp clothing.
"Men should also be looking for leggings that have pockets if they plan on running or otherwise working out outdoors," Backe says. That way, you can go with just your phone and keys, since it's a pain to have to hold something during your run or take a bag with you and store it somewhere. You can also stash your ID, says Backe, as it's best practice to have one on you should something go wrong.
And make sure they're long enough, he says. "This is especially relevant for taller guys, as leggings that don't cover the ankle won't give you full protection in the cold winter months." Try the leggings on first if you can, but if you're ordering online, break out the measuring tape and pay attention to sizing guides to find ones that go all the way to your ankles.
Best Men's Workout Leggings and Compression Pants
Need a bit more direction on which compression pants or workout tights are best for you? We rounded up experts' top picks, so you can feel safe with your purchases and have pants for all occasions and workouts.
1. Nike Power Tech Tights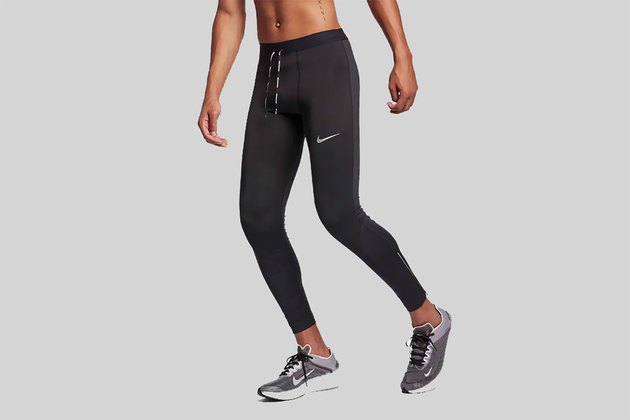 "There is a nice stretchy, comfortable fabric in these men's leggings that's designed to provide streamlined coverage with silicone texture on key zones (like your quads and calves) to help you feel supported and maintain pace during runs," says Sam Presicci, personal trainer and lead registered dietitian at Snap Kitchen. They're also moisture-wicking to keep you cool and have ankle zippers to make them easy to pull off.
2. Under Armour UA Rush
These leggings have innovative fabrics infused with minerals to help boost performance. They can help increase blood flow, which can potentially help you push through a workout longer and harder, says Presicci. "They also have compression support, mesh panels for ventilation and anti-odor protection," she says.
3. 2XU Men's Elite MCS Compression Tights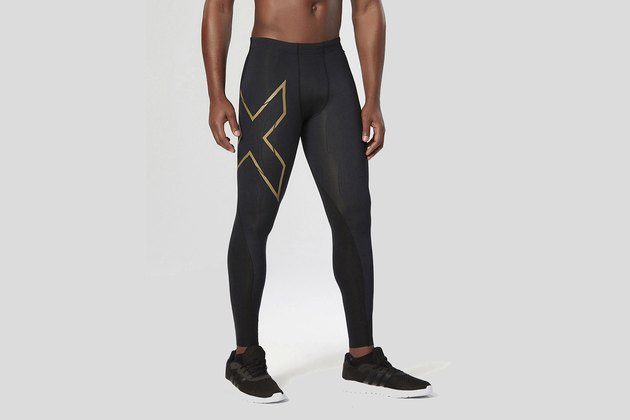 MCS applies additional targeted compression to quads and calves for less muscle fatigue and more stability, says Presicci. They have an adjustable drawstring waistband for added comfort, antibacterial protection and UPF 50+ sun protection, so you can wear these men's tights when it's sunny but cool outside.
4. Under Armour HeatGear Armour
This is a great all-around comfortable men's workout legging, especially for warmer climates. "The fabric is designed to be tough and lightweight with built-in ventilation and is ergonomically constructed to keep seams off those high abrasion areas," says Presicci. There's also four-way stretch for greater mobility.
5. 2XU Refresh Recovery Tights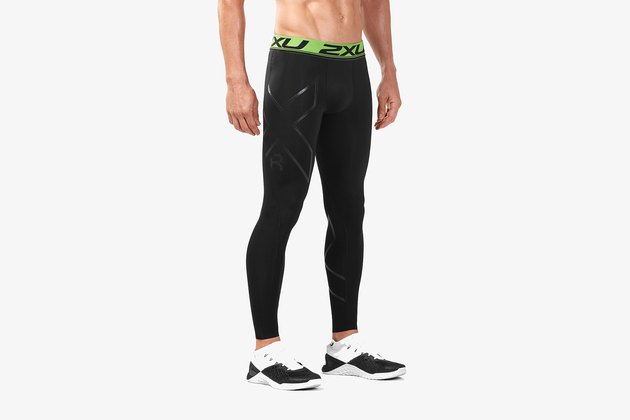 "Designed to stabilize muscles and promote increased blood flow, they help to reduce stiffness and swelling after an intense training or competition," says Presicci. These men's compression pants are great for during or after a workout. Plus, the moisture-wicking fabric keeps skin dry, and the special seams reduce chaffing, so you're more comfortable.
6. Under Armour ColdGear
"The lightweight, moisture-wicking, dual-layer fabric has a warm interior and a smooth, fast-drying exterior, plus built-in ventilation to keep you warm and dry during colder months," Presicci says. They also have anti-odor technology to prevent the growth of odor-causing bacteria, which can get super smelly in thermal gear.
7. DRSKIN Compression Cool Dry Leggings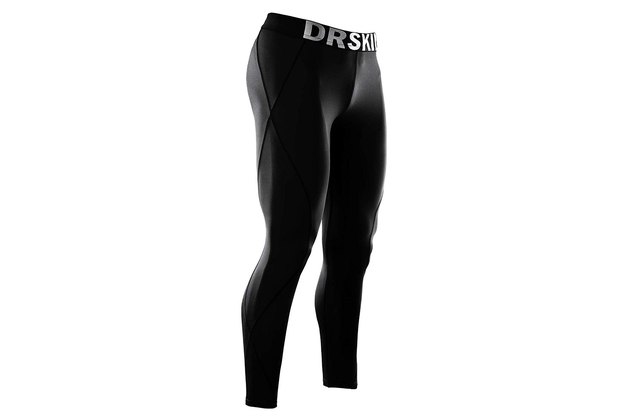 These men's compression pants have a soft, lightweight fabric and are versatile for a variety of activities and weather conditions, like training, sports, cycling, yoga and more, says Pressici.
"Plus, the moisture-wicking fabric is designed to retain heat in the winter and stay cool and dry in warmer temperatures," she says. There is also built-in UV protection, and they're super affordable and have killer ratings on Amazon — more than 2,000 5-star reviews!
8. EvoShield Recovery DNA Compression Tights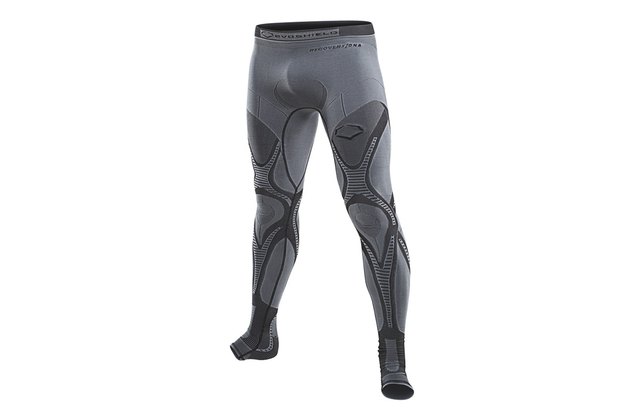 "For thin yet strong leggings look no further than these recovery compression tights," Backe says. "They keep your game at 100 percent but do their best work post-workout to aid the recovery process and reduce soreness." Stretch fabric and body-mapped compression make these workout leggings breathable and effective during tough workouts.
9. Kapow Skyrunner Pro Meggings: Performance Pro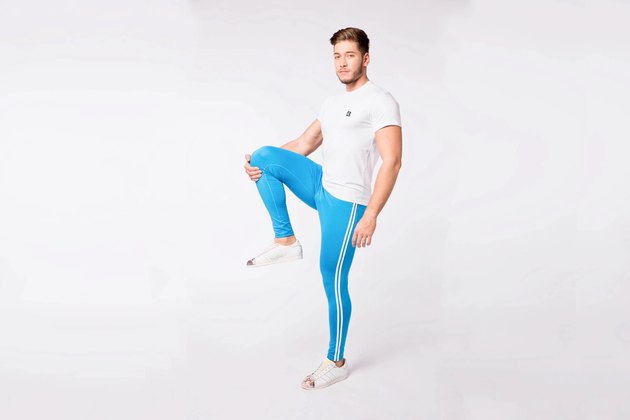 These are the leggings version of the classic track suit and have a retro style that'll really stand out, Backe says. "But they're also super practical, as the compression leggings contain not just a bounce-proof pocket for your phone, but also a zippered pocket for other valuables."
They're made of a strong spandex/polyester blend with four-way stretch so you can work out comfortably. "Plus, with an ergonomic waistband, these leggings will mold to your body so that you don't have to be afraid of them slipping mid-workout," he says.
10. Kapow 24 Carrot Meggings in Metallic
"These flashy leggings are super lightweight so they won't weigh you down while you're exercising, and they contain hyper-reflective speedlines, so you know you'll be safe when working out at night," says Backe.
Plus, they're made from technical compression fabric and contain places for your phone and other valuables, making them perfect for long runs. "And with their squat-test seal of approval and sweat-wicking abilities, these leggings are great for any type of workout," he says.
11. Adidas Alphaskin Sport Moto Pack Long Tights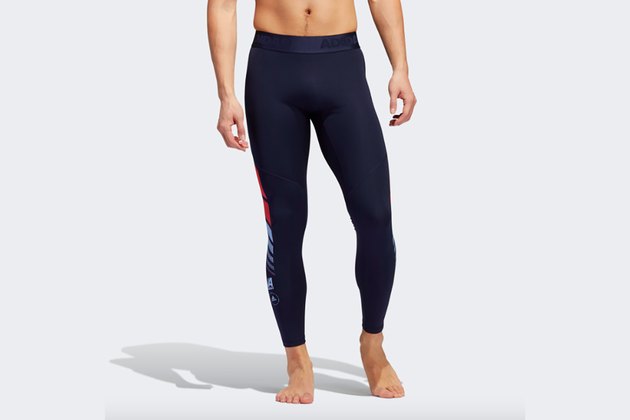 These leggings come in three colors and are super affordable. "The Climacool will keep you dry and cool when it's warm outside, making for an easier and more productive workout," says Backe.
"Likewise, the Alphaskin serves to wrap around your body and support flexibility and movement," he says. Meaning you'll have that tightness without it being too constrictive on your range of motion.
12. lululemon Surge Light Tight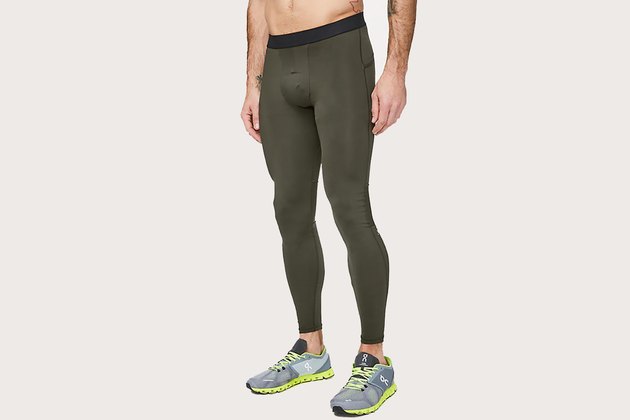 "These leggings come in a variety of colors and have reflective detailing to make sure you're seen in low-light settings," says Backe. These workout leggings for men are also lightweight, and are made of Lycra fiber to retain the right shape on the body. "Plus, the waistband is designed to lay comfortably against your skin, so you won't be uncomfortable with it digging into you during a training session," he says.