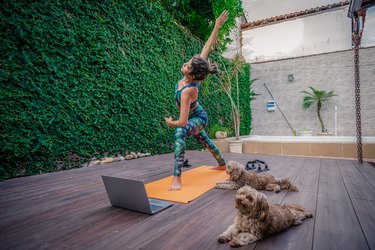 When you're stuck at home and out of at-home workout ideas, live-streaming training sessions or virtual group classes are a great way to get your heart pumping with a new workout.
But even a live session with your favorite trainer becomes burdensome when you're constantly squinting at your cell phone screen or craning your neck to see the next exercise. Before you hit the mat or start your burpees, follow these five tips to make your at-home workout feel more like a personal training session.
1. Stream on a Bigger Screen
Phones are convenient, but when it comes to streaming workouts, small screens can ruin the experience. Not only are your favorite trainers more difficult to see but having to step closer to your phone gets annoying quickly. Plus, craning your neck if your phone is on the floor can be painful and may even cause improper form in your exercises.
Instead, stream your workouts on your computer or iPad, says April Whitney, certified personal trainer. If the workout you're watching is on Instagram, you can access the stream through the IG website or using the app on your tablet.
If you really want to feel like your personal trainer is right in the room, project the workout onto your smart TV, Whitney says. If you have an Apple TV, you can use AirPlay to stream content across devices, enabling you display your trainer's Instagram Live on the big screen.
2. Double Check Your Connection
Before a long-awaited live workout, you'll want to ensure you're connected to a reliable wireless network.
"This might be obvious, but make sure you're connected to a wifi network and not streaming using your cellular data," Whitney says. "It should be faster and with fewer glitches using high speed wifi."
3. Optimize Your Workout Space
Set aside some time outside of your workouts to give your living room, bedroom, spare room or garage a workout-friendly makeover.
Scan your exercise room and look for any sharp corners first, Whitney says. Move any coffee tables, desks, benches or chairs out of the way — you don't want to bump into a coffee table mid-burpee.
It's also a good idea to keep a yoga mat nearby, Whitney says. Also, if you want to protect your rug from damage, consider rolling it out of your space. Or lay your mat on top if you want some extra cushion during your yoga session.
4. Fuel and Warm-Up Properly
If you want your at-home workout to feel more like a personal training session, treat it like a personal training session. Before you hit the gym, you probably (hopefully) fuel your body with a healthy pre-workout snack. That's a routine you should stick to even at home, Whitney says.
The same goes for your warm-up. "It's absolutely crucial to warm up for livestream workouts if the instructor is not warming you up prior," Whitney says. She suggests reaching out ahead of time and asking how long the warm-up is. If it's less than 5 minutes, take 10 to 15 minutes ahead of time to do some foam rolling and dynamic movements.
Video calls of any kind — training session included — can feel awkward at first. But if you have the option of participating or speaking up during the workout, encourage yourself to do so, Whitney says.
"You'll feel more connected to the instructor and other members on the call," she says. "It also helps to bring a family member or partner with you so that there is someone physically doing [the workout] with you as well."
Challenge yourself to speak up once or twice each virtual training session. Over time, contributing to the conversation will feel more comfortable and natural. And you'll feel more involved!