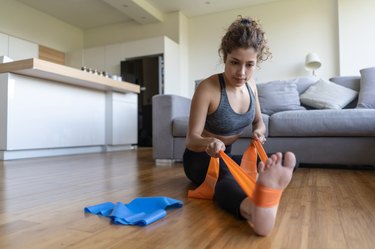 If you're like most people working out from home these days, you've likely invested in a set of resistance bands. And while they're great for toning your arms and sculpting your legs, you might not have thought to incorporate them into your stretching routine.
Especially if your weekly fitness schedule is packed with resistance band strength training workouts, you should also prioritize post-workout stretching. It's one of the best way to prevent your muscles from getting stiff and injured.
To maintain your body and overall health, you have to find harmony between your workouts, stretches and a positive mindset, says trainer Matt Cheng, co-creator of Beyond the Movements and 90-Day Energy Reset. "Neglecting stretching can lead to preventable injuries and pain in the joints," he says.
Even though one of the best parts about stretching is that you only need your body weight, adding equipment like resistance bands can make your stretches even more effective.
"Adding a resistance band can help you with hard-to-reach places as well as assisting with full-body tension," Cheng says. Another perk? Resistance bands have more resistance as they're stretched, he says. That means they provide extra tension as you get closer to the ends of your ranges of motion, which helps improves your flexibility.
Rejuvenate your body from all those grueling HIIT workouts with this resistance band stretch routine that'll target your whole body and loosen any tension. These five stretches will help restore your muscles from post-workout damage and get you ready for your next sweat session.
Move 1: Band Discolate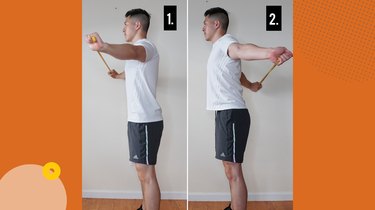 Body Part
Chest, Arms and Shoulders
Holding each end of the band in one hand, find tension in the band as you bring it overhead.
Attempt to "break the band" as you reach your arms behind your body to maximize the stretch in your chest, shoulders and biceps.
With straight arms, bring the band back overhead and in front of your chest.
Repeat for 1 minute.
Tip
"Band dislocates are great for stretching out the chest and shoulders, and they can also serve as an all-in-one movement for warm-up and activation as well," Cheng says.
Move 2: Band-Assisted Quad Stretch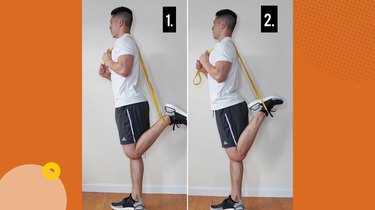 Start by looping the band around your ankle.
Then loop the band over the shoulder.
Finally, find your balance and pull the band down to feel the stretch.
Hold each side for 1 minute each.
Tip
"If you have trouble balancing on one leg, you can also do this while laying flat on your stomach," Cheng says. The movement will be the same as the standing version in terms of directions, except you'll be pushing your hips into the ground instead as you pull the band over your head.
Move 3: Band-Assisted Inverted Hamstring Stretch
Start with the band looped under the arch of your foot.
Then loop the other end over the same-side shoulder.
While keeping your body in a straight line, hinge your hip back and slowly lift the banded leg.
Lower your leg and stand back up.
Repeat for 1 minute each side.
Tip
"This drill is great for stretching the hamstring as well as working on your posture and balance," Cheng says. So if you sit at the computer all day or do workouts that keep you more hunched over or require a lot of balance (think cycling, HIIT, running or yoga), it's a good move to add into your routine.
With this move, "the key is to feel the hamstring that's closest to the floor while maintaining your posture," Cheng says. That gives you the deepest stretch possible.
Move 4: Band-Assisted Triceps Stretch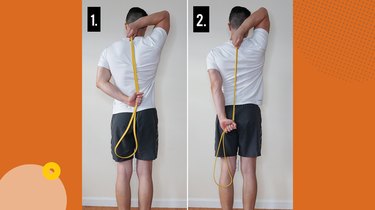 Body Part
Arms and Shoulders
Hold one end of the band in your right hand. Reach that arm up and over the back of your head and let the band drop down behind your back.
Use the other arm to pull the band, stretching the top arm.
Do this for 1 minute each side.
Tip
Your triceps is a smaller muscle in your arm, and it can get tight after working out, so you don't want to neglect them. "If you do this stretch properly, your elbow will be pointed at the sky and you'll feel the back of your arms stretch," Cheng says.
Move 5: Band-Assisted Rotate and Reach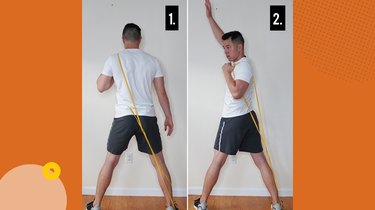 With the band under your left foot, loop the other end over your right shoulder and behind you.
Hold onto the band as if it were a backpack strap.
Twist to your right, and with your free arm, reach overhead and allow the band to shorten.
Do a 1-minute hold each side.
Tip
"This last stretch will help you with your rotation and overhead reach," Cheng says. You'll know you did it correctly if your band rotates your torso as it shortens, where you feel a stretch in the obliques and under the arm overhead, he says.