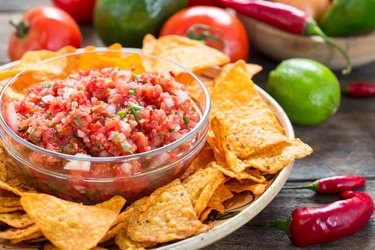 You can find tomatoes any time of year but there's nothing like biting into a juicy, in-season tomato fresh off the vine during the summer.
Plum, cherry, beefsteak, Roma — there's a tomato for every need whether you're looking for a thick slice on a sandwich or small cherry tomatoes for kebabs.
Tomatoes are delicious and good for you, but we already knew that. They're the second most-consumed vegetable, closely trailing potatoes, according to an August 2016 report in Nutrition Today.
This makes them a crucial part of our diets because only 10 percent of adults eat enough vegetables on a daily basis.
Although it varies slightly by variety, a cup of chopped tomato provides 32 calories, 0 grams fat, 7 grams carbs (2 grams fiber, 5 grams sugar) and nearly 2 grams of protein. They're also an excellent source of vitamins C and A, vitamin A and a good source of vitamin K and copper.
Rather than falling back on your usual salad, try these delicious tomato recipes to get all that good nutriiton.
1. Curry-Roasted Graffiti Eggplant With Chickpeas and Grape Tomatoes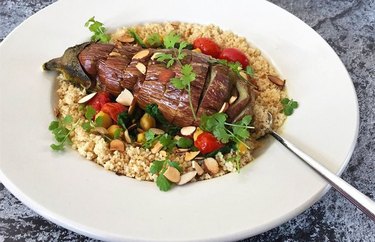 Skip the meat with this personal-sized roasted eggplant at the center of the plate.
Don't fret about missing out protein — the almonds and chickpeas help pack in 15 grams per serving.
While some people avoid eggplants and other vegetables like tomatoes and potatoes because they're part of the nightshade family — which is thought to cause inflammation because of the veggies' alkaloid content, as explained by the Cleveland Clinic — there is not enough research to confirm this.
2. Zucchini Chips With Feta and Cherry Tomatoes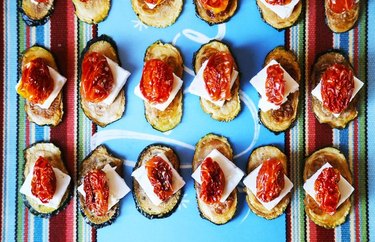 Get your next cookout started with these veggie-packed apps. Slow-roasted cherry tomatoes provide an umami flavor.
Your guests won't believe they're actually good for you — each serving (six chips) has only 50 calories and provides 5 grams of satiation protein and 2 grams of filling fiber.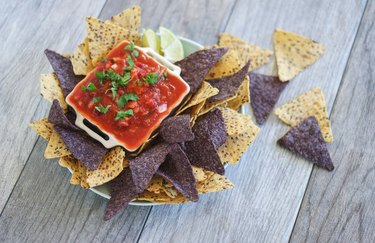 Everyday salsa we love paired with kimchi? Yes please!
Kimchi is a fermented food and is lauded for it's probiotic benefits. While probiotics are a growing area of study, we know that they confer health benefits in different ways, depending on the strain.
In fact, a March 2013 study published in Journal of Medicinal Food observed that kimchi helped to lower harmful cholesterol levels.
4. Vegan Lox, Bagel and Cream Cheese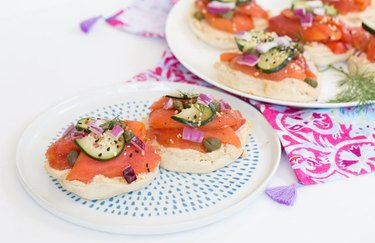 Yes, you can enjoy a lox and cream cheese bagel even if you're vegan with this delicious recipe.
To give this breakfast some staying power, we used a bean-based spread (instead of cream cheese) and used high-protein English muffins. Each serving has 16 grams of protein.
It also provides 25 grams of fiber, which is a significant amount. If you're not used to eating a high-fiber diet, you may want to try a half serving to start to avoid any GI issues.
5. Savory Spinach Tomato Goat Cheese Pancakes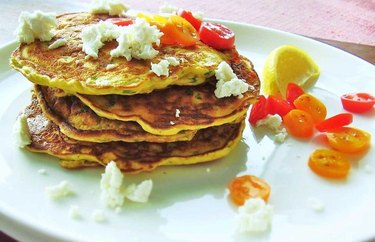 Try something new the next time you serve up pancakes. Instead of topping with fruit, whipped cream or syrup, take the savory route instead.
Spinach, tomatoes and goat cheese come together to create a dish you'll never forget. The cakes are made out of chickpea flour, which significantly contributes to the dish's 24 grams of protein per serving.
We tend to skew on the low end when it comes to dietary protein in the morning so swapping in this recipe for your typical bowl of cereal and milk will keep you feeling fuller longer and help you reach your weight loss and/or muscle gains, per a June 2014 analysis in the Journal of Nutrition.