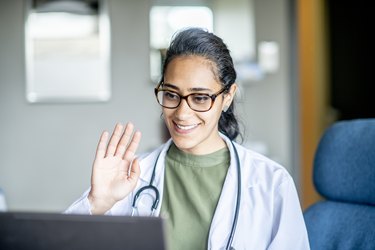 At the start of this year, virtual doctor appointments probably either seemed like an inferior option to in-person visits or weren't on your radar at all. But there's a good chance that the novel coronavirus pandemic has changed all that.
In just a few short months, telehealth statistics show that telemedicine has exploded in popularity. What was previously considered a fringe service (that was rarely covered by insurance) is now seen as a safe, convenient way to meet with providers and quickly get the care you need.
Still, if you've yet to have a virtual visit yourself, you probably have some questions about how the whole process works. Here's a closer look at what telemedicine is and how it works, when it's a good option, how to make your appointment and what you need to do to prepare.
Put simply, telemedicine uses technology to practice medicine at a distance instead of in person. It usually involves meeting with a health care provider through live video chats, or in some cases, a phone appointment.
But it also involves things that many patients have already been using for a while — like patient portals, online test results, text reminders, provider messaging or online video tutorials to learn how to use a medical device or take a medication, according to the National Institutes of Health (NIH).
And even though you might not have heard of it until the pandemic, telemedicine isn't new. It's been around since the late 1990s — but until COVID-19, it tended to only be used for underserved or rural populations who couldn't otherwise access care. In 2020, stay-at-home orders and a fear of going to the doctor's office means that many, many more people are taking advantage.
"Video appointments have become a must-have for both patients and health care providers alike," says Robin Motter-Mast, DO, CPE, chief of staff and medical director of care transformation for Greater Baltimore Medical Center Healthcare System (GBMC). Case in point: "At GBMC, we had 59 telemedicine visits in February 2020 but totaled nearly 14,000 by May," Dr. Motter-Mast says.
There are loads of other benefits to telemedicine besides avoiding possible exposure to COVID-19. Telemedicine can:
Save you time, since you don't have to travel back and forth to your provider's office or sit in the waiting room.
Give you access to care from a provider or specialist who isn't nearby.
Make it easier to schedule an appointment, since many providers offer virtual visits at night or on the weekends.
Potentially save you money, since virtual visits may be cheaper than in-person ones, according to the NIH.
Help you feel more positive about your care, since virtual visits can promote better communication between patients and providers, per the NIH.
Still, telemedicine isn't perfect. Visits with multiple virtual providers can make it tougher for your primary care doctor to coordinate your care — which could result in the virtual provider missing out on key information about your health history, per the Mayo Clinic.
And while more and more insurers are adding telemedicine visits to health care plans, you could end up paying out of pocket if a visit isn't covered by your insurer.
"Video appointments have become a must-have for both patients and health care providers alike."
Another thing to keep in mind: You can't always fix your health issue with telemedicine alone.
"A video visit might result in the need for an additional visit in the office, if the telemedicine visit doesn't solve the problem or it's determined that more information needs to be collected in person," Dr. Motter-Mast says.
When Telemedicine Is a Good Fit
Telemedicine is a way to deliver care when an in-person visit isn't possible or could be unsafe. If you're experiencing signs of COVID-19, for instance, you might meet with your doctor virtually to discuss your symptoms and figure out whether you need to get tested. That way, there's no risk of potentially transmitting your germs to anyone at the office.
It's also a good option for when getting to the office would be very inconvenient — like if you're working from home while your kids are doing virtual classes, if you don't have reliable transportation or if you have mobility issues, Dr. Motter-Mast says.
But that's not all. Telemedicine is also a good fit in the following scenarios:
When You Have a Simple Concern
"Telemedicine visits are good for simple new problems or follow-ups on newly started medications that don't require lab work or taking vital signs," Dr. Motter-Mast says. Think: a minor cold or allergy symptoms, headaches, rashes or bug bites or mild nausea, vomiting or diarrhea, according to the NIH.
When You Don't Need In-Person Care
In some cases, trekking to your provider's office just isn't all that necessary.
"It's suited to counseling-type visits or visits that don't require an exam, like discussions about family planning or medications," explains Ruby Shah, MD, an internist at Texas Health Presbyterian Hospital Plano. "It's also a good fit for managing chronic conditions like diabetes or high cholesterol."
Telemedicine can also be a good option for meeting with mental health providers or nutritionists, and you can even take advantage for things like physical or occupational therapy, according to the Centers for Disease Control and Prevention (CDC).
Despite all that telemedicine can do, experts agree there will always be a need for in-person visits. Some situations where that may be preferable include:
When You Need Physical Exams or Tests
For instance, "if you're seeing a cardiologist for chest pain, you will likely need an EKG or an ultrasound of your heart, which would require an office visit," Dr. Shah says. "If you are sick and need your throat examined, this is best done with an office visit."
When the Appointment Is for a Child
You might want to think twice about scheduling a virtual visit for your child. In-person care is the best option for babies and kids, per the American Academy of Pediatrics, and many telemedicine providers aren't trained to care for children. If you're considering a video appointment for your little one, talk it over with their pediatrician first.
The good news is that you don't have to figure out on your own which type of visit is the best choice. If you're thinking about booking a telemedicine visit, just ask your provider. They'll let you know whether your needs are better suited to a virtual or in-person appointment.
Finding Telemedicine Services
Start by asking your provider if they offer virtual visits, according to the Health Resources and Services Administration (HRSA). Even if it wasn't a service they had at the beginning of the year, there's a good chance things have changed since the start of COVID-19.
"Before the pandemic our medical practice was 90 percent office-based. Now we're 95 percent telemedicine," Dr. Shah says.
If your doctor doesn't have telemedicine services, the office may be able to refer you to another provider who does. You can also talk with your insurance company, or if you don't have insurance, search online for providers that accept out-of-pocket payment.
Whether you book a video visit with a provider you've seen before or are trying someone new, be sure to do your research on copays and fees. Your insurer might charge more or less for telemedicine appointments compared to in-person ones, and some doctors may charge convenience fees for video visits, per the Nemours Foundation.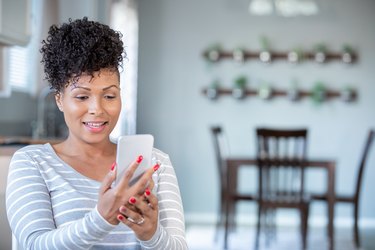 Instead of going to your provider's office to meet in person, you'll simply hop on the computer or your smartphone for a video conference with your doctor, physician's assistant or nurse practitioner. The process is a lot like what happens in person.
"The front desk will call the patient for the patient's copay and update any demographic information, and then the doctor will start the video chat," Dr. Shah says. If it's your first time meeting with a provider, you'll fill out the same paperwork and provide the same type of information as you would in person, Dr. Shah says, just digitally instead.
It's also worth checking your space and setup to ensure the visit runs smoothly. Some first-timer tips:
​Ask your provider for instructions.​ You may need to download a certain program to conduct the video chat. Your provider can tell you what software you need, how to get it and how to navigate it. (In some cases, you might just be able to use FaceTime on an iPhone.) They might also recommend logging on ahead of time to check for any technical issues. Your provider will also let you know if you need to have any vital sign information handy (and how to get it) — like your blood pressure, temperature, pulse rate or weight, Dr. Motter-Mast says.
​Make sure your device has a camera and a microphone that work.​ Both are musts in order for you and your provider to communicate effectively, Dr. Shah says.
​Find a bright, quiet spot.​ The best place for a video chat is a spot with plenty of light — by a window is always a good choice. Find somewhere without a lot of background noise, too, so you and your provider can hear each other clearly.
​Wear loose clothing.​ It'll give you quick, easy access if you need to show your provider something on your skin, per the HRSA.
​Close other apps.​ Having other programs running might slow down your device — or distract you.
Is Telemedicine Here to Stay?
The novel coronavirus pandemic pushed virtual visits into the forefront. But there's a good chance that they'll stick around even after the pandemic is long gone.
"Many evaluations can be done via telemedicine, from screening for COVID-19 to keeping up with routine needs and follow-ups in many primary care and specialty areas," Dr. Motter-Mast says. And "more employers are building it into their coverage plans, which puts more pressure on insurance companies to pay for the service."
In other words, if you haven't had a telemedicine visit yet, there's a good chance that one will be in your future.
Concerned About COVID-19?
Read more stories to help you navigate the novel coronavirus pandemic:
Is this an emergency? If you are experiencing serious medical symptoms, please see the National Library of Medicine's list of signs you need emergency medical attention or call 911.