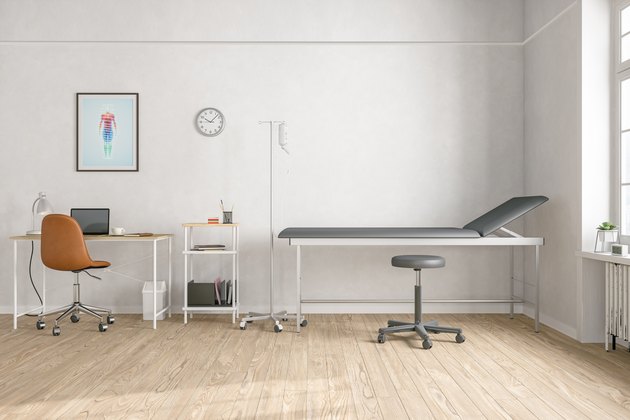 After months of shutdowns due to the novel coronavirus pandemic, more and more mainstay institutions — workplaces, gyms, restaurants, bars — are starting to open their doors as state and local governments navigate a new normal: communal life during the age of COVID-19.
Even during the height of closures and stay-at-home orders, many doctors' and dentists' offices remained open to serve patients. Given the fact that COVID-19 continues to circulate among our communities, you might be wondering whether it's wise to keep your scheduled appointments if you're otherwise healthy and haven't been knowingly exposed to someone infected with COVID-19.
Below, experts weigh in on whether it's safe (or socially responsible) to see the doctor or dentist during this stressful time.
Is the Appointment Necessary?
During the strictest days of the shutdown, the guidance on medical appointments was clear: Avoid them whenever possible. That allowed health care workers to focus on serving people seriously ill with COVID-19.
Plus, it meant that you would be able to continue social distancing. Doing so reduces your risk of exposure to potentially harmful germs as well as lowering others' risk from your germs. That's important, since it's possible to be infected with COVID-19 without knowing it — i.e. you're asymptomatic or pre-symptomatic — and unintentionally spread the virus to others, per the Centers for Disease Control and Prevention (CDC).
If you experience urgent health problems, however, experts recommend seeking care, regardless of whether your community is amidst a shutdown or re-opening.
"If you are having more significant symptoms, such as shortness of breath, chest pain or confusion, then it is appropriate to seek care," says Shannon Sovndal, MD, a board-certified doctor of emergency medicine and author of the upcoming book Fragile. "Don't let the fear of a virus potentially put you at risk for other serious health issues."
Similarly, it's important to keep a dentist's appointment when you experience a dental emergency (severe pain, infection or broken tooth). And, while in some cases it's OK to postpone checkups and routine cleanings until a later date, you definitely shouldn't neglect your teeth, dentist Scott Asnis, DDS, CEO and founder of Dental365, tells LIVESTRONG.com.
"After all, the mouth is the gateway to your body," and thus taking care of it is essential to good overall health, Dr. Asnis explains.
Even as communities slowly re-open, telemedicine and communicating with doctors via phone and email is still advised, per the CDC. Some medical situations, of course, will require an in-person consultation — refilling an inhaler prescription can be done through telemedicine, but if your asthma symptoms have changed, your pulmonologist will likely need to perform breathing tests to understand the situation.
And preventive care is still essential, even during the pandemic. For instance, children and adults should not delay vaccinations, according to the CDC.
Symptoms Not to Ignore
Some serious symptoms that warrant medical attention, per Dr. Sovndal and the Mayo Clinic, include:
Shortness of breath
Chest pain
Confusion
A fever over 103 degrees Fahrenheit, or a fever that persists for several days
Bowel movement changes that aren't typical for you, such as bloody stools or persistent diarrhea
If you're still unsure what type of issue warrants a visit to the doctor or dentist, call and check with your health care provider for the most current information and guidelines, suggests Jason Kindrachuk, PhD, a virologist at the University of Manitoba in Canada. "This continues to be a rapidly changing situation and recommendations or procedures may change very quickly."
How to Avoid Germs if You Have to Go to a Doctor or Dentist's Office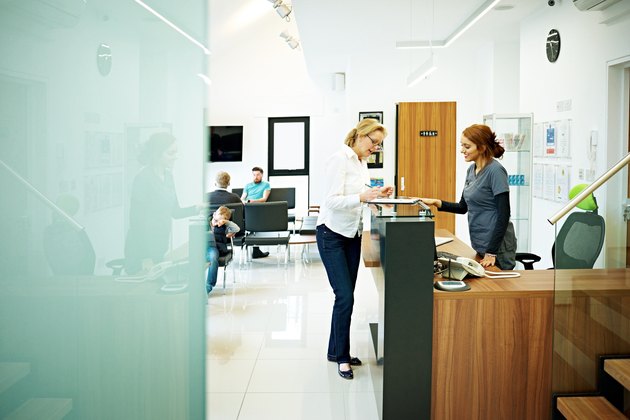 Even before you step foot into a medical or dental office, your health care providers should be taking precautions to keep you — and their staff — safe.
For example, many facilities are screening patients by phone prior to appointments, Dr. Sovndal says. This usually involves a brief set of questions to assess whether you've been in contact with someone infected with COVID-19 or have experienced symptoms.
"If patients have been exposed or if they are symptomatic, they are required to delay their visit to help keep everyone safe," Dr. Asnis says.
What's more, many health care providers are also performing temperature checks before a patient may enter the office, Dr. Sovndal adds.
In some offices like Dr. Asnis's, each person on staff also records their temperature at the beginning of every shift to ensure that only healthy staff members are treating patients.
And, when going to the doctor or dentist is unavoidable, social distancing is key. For starters, stay off public transit whenever possible, Dr. Sovndal says — and if you can't steer clear, try these strategies to avoid germs on public transportation.
Kindrachuk agrees: "The 6-foot rule is indispensable right now for us to reduce the potential for transmission between people." In other words, try to keep as much space between you and other commuters on the bus or other patients in the waiting room.
In fact, "your care provider should have provisions in place to space out patients and avoid crowded waiting rooms," Dr. Sovndal says.
If you feel uncomfortable, or the waiting room is too congested, he recommends that you kindly let the provider know and wait outside until it's your turn to see the doctor. Many offices are requiring you to do so; you may be instructed to call the front desk when you've arrived and then wait in your car or outside until you receive a call back letting you know it's time to enter.
And, unless the appointment is for a child or someone who needs assistance, patients should come alone. By limiting the amount of people — and potential COVID-19 carriers — in the office, "we can eliminate unnecessary bacteria and germs being spread," Dr. Asnis says.
Preventive care is still essential, even during the pandemic. For instance, children and adults should not delay vaccinations, according to the CDC.
Once you're in the office, refrain from touching common office objects that might have passed through many germy hands (think: magazines, pens or toys if you're visiting a pediatrician's office). Remember, although it's unlikely that you'll become infected with COVID-19 from touching various surfaces, the novel coronavirus can hang around on them for hours to days, per the CDC. To help facilitate this, many offices have stopped using digital check-in devices like shared tablets.
That said, "many health care facilities and doctors' offices have increased the frequency and diligence of cleaning to decrease the potential exposure to large volumes of the virus," Dr. Sovndal says.
"Reputable dental offices have always had stringent cleanliness and sanitization practices, but with the onset of the COVID-19 pandemic, our offices have implemented even greater safety and infection control protocols to help keep patients and staff members safe," Dr. Asnis adds. In his offices, they're adding air purification and filtration systems to more effectively remove airborne bacteria and viruses.
As always, you'll want to wash your hands often or use alcohol-based hand sanitizers before, during and after your visit and avoid touching your face.
But medical offices may also require you to wear a mask or other face covering, even if you don't feel ill or show signs of sickness. That's because asymptomatic infections may represent as much as 45 percent of all COVID-19 cases, playing a major role in the spread of the potentially deadly disease, according to a June 2020 review in Annals of Internal Medicine.
To reduce potential transmission of the coronavirus, doctors and medical office staff should also be sporting masks and, when advisable, other forms of personal protective equipment.
"When our clinical staff are working on treatments and procedures, they are required to take extra precautions by wearing N95 masks in combination with surgical masks, face shields, gowns and gloves to ensure there is no exchange of virus or bacteria between staff members and patients," Dr. Asnis says.
Again, if you have any questions about your medical or dental provider's protocols, you should visit the practice's website or contact the office directly to inquire about how they are handling patient care and safety.
Concerned About COVID-19?
Read more stories to help you navigate the novel coronavirus pandemic:
Is This an Emergency?
To reduce the risk of spreading COVID-19 infections, it is best to call your doctor before leaving the house if you are experiencing a high fever, shortness of breath or another, more serious symptom.