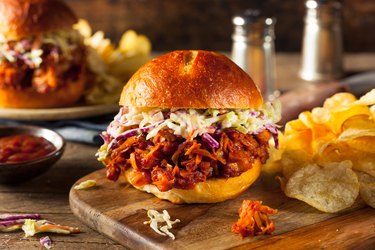 When weeknights get hectic and whipping up a healthy dinner requires more time and energy than you can muster, reach for a rotisserie chicken. Not only super convenient, but this pre-cooked poultry also provides plenty of nourishment, too.
Chicken is a great source of protein and other nutrients like blood-pumping iron, immune-boosting zinc and energizing B vitamins, Lisa Moskovitz, RDN, founder and CEO of The NY Nutrition Group, tells LIVESTRONG.com.
"Sticking with the top part of the bird, or the breast, will keep cholesterol-raising saturated fat intake to a minimum. However, it's also perfectly fine to enjoy the darker meat of the leg, thigh and drumstick in moderation," Moskovitz says.
Try these seven succulent rotisserie chicken recipes for a week's worth of easy, nutritious dinners when you're on a time crunch.
1. Tzatziki Rotisserie Chicken Pita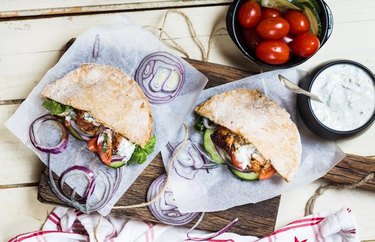 This Greek-insipired recipe transforms a rotisserie chicken into a jaw-droppingly delicious gyro in ten minutes flat. Stuffed with plum tomatoes, a superior source of antioxidant vitamin C, and tzatziki yogurt dip, a wellspring of calcium, the whole-grain pita pocket supplies stamina-building carbs and fiber, Moskovitz says.
But the real stars of the show are the herbs and spices. "Cumin is a powerful anti-inflammatory ingredient that adds flavor and fights off oxidative stress" while "garlic is a natural bacteria fighter," Moskovitz says.
2. Rotisserie Chicken Lasagna (Family-Style)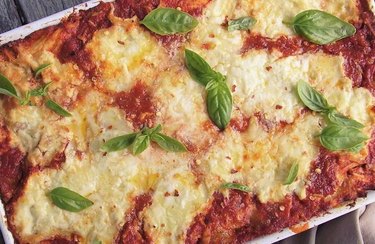 Traditional meaty lasagna gets a makeover, trading beef for lean rotisserie chicken to cut down fat and calories without sacrificing any of the Italian -food flavors you love. "With anti-inflammatory olive oil, antioxidant-rich red sauce and bone-building calcium-rich cheese, you can, and should, feel good about this satisfying chicken recipe," Moskowitz says.
To boost the nutrient profile of this lip-smacking lasagna, sneak in leafy greens like spinach for a robust dose of vitamin K, which is linked to good heart health, per the USDA.
3. Rosemary Carrot Soup With Rotisserie Chicken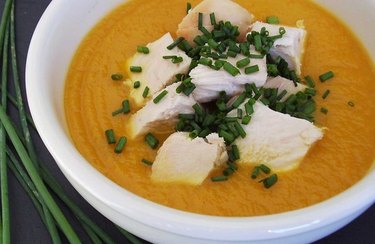 "There is a reason why people turn to soup the minute they feel the onset of a cold," says Moskovitz. "Most soups, and especially this enticing recipe, offers a plethora of immune-boosting nutrients such as vitamin C, zinc, antioxidants and potentially gut health-boosting collagen."
4. Leafy Rotisserie Chicken Salad With Creamy Tarragon Dressing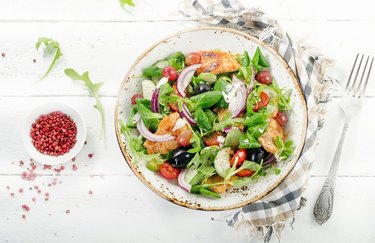 This hearty bowl of leafy goodness proves that salads are anything but boring. Indeed, this salad recipe tantalizes your taste buds "while also filling [you] up on a winning balance of protein-rich chicken, high-fiber beans, heart healthy olive oil and antioxidant-dense, voluminous vegetables," Moskovitz says.
Tasty toppings like sweet, juicy grapes and crunchy pine nuts add texture and round out the variety of flavors in every satisfying bite.
5. Five-Minute Cranberry Chicken Salad Sliders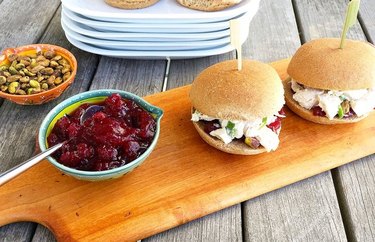 Perfect for busy weekdays, these five-minute chicken salad sliders save you time in the kitchen but don't skimp on good-for-you ingredients. This interesting take on chicken salad includes vitamin C-rich cranberry sauce, protein-packed chicken and antioxidant-abundant pistachios, Moskowitz says.
The aromatic herb rosemary not only lends flavor (without adding extra calories) to these savory chicken sliders but also brings health benefits too. A stellar source of antioxidants and anti-inflammatory compounds, rosemary is tied to improving your immune system and blood circulation, according to Flushing Hospital Medical Center.
6. Middle Eastern Chicken Breakfast Superfood Bowl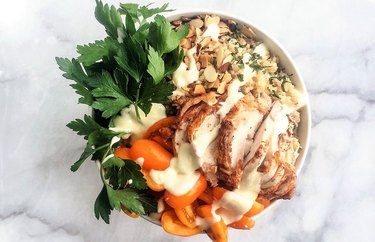 With a winning combo of complex carbs, lean protein and healthy fat, this robust chicken bowl would make a beautifully balanced breakfast, lunch or dinner. "This recipe has fun and flavor written all over it," Moskovitz says. Known for its fragrant herbs and spices, Middle Eastern-style cuisine makes your mouth water as it doles out nutrient-dense ingredients like cinnamon, parsley and mint.
"The addition of probiotics from the Greek yogurt and fiber in bulgur [which will keep you full for hours] gives you even more bang for your buck," Moskovitz says.
7. Thai-Inspired Chicken Thick-Crust Pizza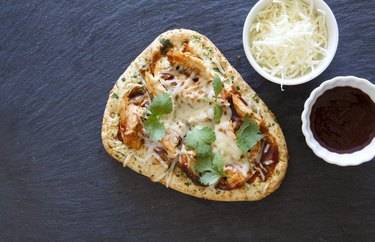 Topped with diced scallions, mung bean sprouts, grated carrots and salted peanuts, this Thai-inspired chicken flatbread isn't your run-of-the-mill pizza.
Moskovitz especially loves that this pizza fusion mixes and matches different types of foods. Adding variety to your weekly plan is the best way to eat a diverse array of nutrients; plus, you'll never get bored of what's on your plate. A win-win.