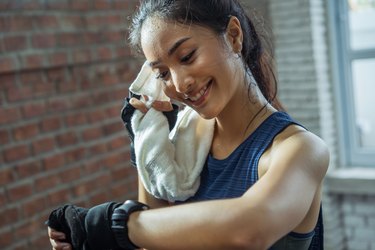 What if we said you could get an intense full-body workout in four minutes, no gimmicks? Tabata — a form of high-intensity interval training (HIIT) — takes you through eight exhausting bursts of 20-second maximal-intensity exercise with a 10-second rest between sets, for a total of four minutes.
"Tabata is the definition of a 'quick and dirty' workout," says Crystal Williams, a NYC-based personal trainer and ACE-certified group fitness instructor. "You can get a sufficient sweat and burn in a short amount of time — anyone can squeeze a 4-minute workout into their day."
Try This 4-Minute Tabata Workout
Ready to fast forward your fitness in just four minutes? All you need is a stopwatch for this demanding full-body Tabata workout designed by Williams to help you build strength and stamina.
Do: Move 1 for 20 seconds at max intensity (i.e., reaching breathlessness), completing as many reps as you can without losing good form, then rest for 10 seconds. Repeat the same with Move 2. Repeat both exercises for 4 sets total.
Move 1: High Knees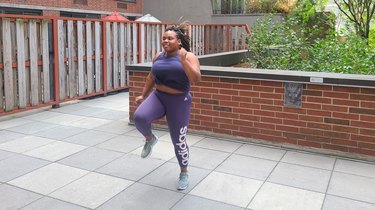 Start with your feet hip-width apart.
Raise one knee to the chest, while pumping your arms.
Hop and switch to the opposite leg, pumping your arms in sync.
Continue doing this at a fast space (your feet should only make contact with the ground for a second or so).
Move 2: Broad Jump
Start in a squat position.
Placing your weight in your heels, drive your body forward to hop at a distance in front of you, landing on your heels.
Securing weight in your heels, again, hop backwards into your starting position. Repeat.
Benefits of Tabata Workouts
In addition to the time-saving benefit, Tabata touts major bonuses for your body. "Tabata workouts increase your endurance level, since they challenge your ability to recover quickly from expending intense amounts of energy," Williams says.
Indeed, an April 2019 review published in The Journal of Physiological Sciences concluded that Tabata improves an exerciser's anaerobic capacity and increases their VO2max (maximal oxygen consumption).
An indicator of cardiovascular fitness and aerobic endurance, your VO2max is the greatest amount of oxygen you can use during intense bouts of exercise, according to the University of Virginia's Exercise Physiology Core Laboratory. And the more oxygen you use, the more energy you can exert in the gym.
And the 20-second on/10-second off Tabata structure also tends to burn a lot of fat. "Imagine your body operating like a car in traffic: You burn more gas when you are constantly speeding and stopping repeatedly, as opposed to driving at a steady, long pace to your destination," Williams says.
Plus, the format is easily adaptable to your favorite exercise modality, Williams says. From body-weight aerobic routines to cardio with gym equipment (think: treadmills, rowers or recumbent and cycling bikes) to strength-based workouts, your Tabata options are endless.
Tip
If you choose to go the Tabata route for resistance training, always remain conscious of your form when lifting weights to avoid injury, Williams says.