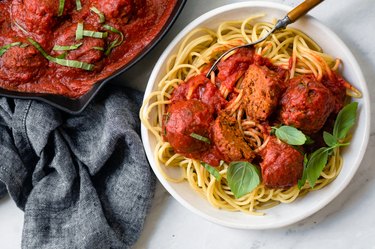 There's nothing like a comforting, piping hot bowl of spaghetti and meatballs. But the truth is, we could all benefit from eating a little bit less meat.
Good news: There are healthier spins you can make to the family-friendly meal that transform a calorie-laden dinner into a nutritious plant-based meal everyone will enjoy. Enter: Vegan meatballs.
Thanks to recipe developer and food blogger Yumna Jawad of Feel Good Foodie, we're bringing you a delicious, meatless twist on traditional meatballs that's equally as hearty and satisfying as its beefy counterpart. The best part is it's packed with nutrients — and you can whip the dish up in 45 minutes or less.
Traditional meatballs are often made with beef, pork, turkey or a combination of these meats. While eating meat in moderation is totally OK, most recipes call for fatty cuts so the meatballs stay juicy and soft. Not to mention, meatballs are often first fried in oil and then finished in the oven, which adds even more calories to the dish.
What makes these vegan meatballs a smart swap is that they're full of plant-based proteins, fiber and healthy fats that will not only taste good, but make you feel good, too.
The recipe calls for chickpeas which are a good source of filling protein and an excellent source of fiber, says Amy Gorin, RDN, a plant-based dietitian based in NYC.
Both flaxseed and walnuts make a cameo in these plant-based meatballs.
"Flaxseeds and walnuts contain a plant-based source of omega-3 fatty acids, which have been linked to providing anti-inflammatory effects in the body and supporting heart health," May Zhu, RD, LDN of Nutrition Happens, says. Not to mention, one cup of walnuts adds a whopping 8 grams of fiber to this recipe.
In addition to the chickpeas, flaxseeds and walnuts, you'll incorporate oats into this recipe. "Oats are 100-percent whole grain and contain magnesium, phosphorus and vitamin B1," Zhu says.
As for the sauce, you can expect a healthy dose of lycopene thanks to the tomatoes in the marinara. Lycopene is an antioxidant that's associated with helping protect against certain chronic diseases like heart disease and cancer.
Convinced this meal deserves a spot on your menu? When your craving for red sauce and meatballs comes about or you simply want to introduce your family to a new meatless meal, try this delicious plant-based meatball recipe below.
Yields: 18 to 20 meatballs
2 tablespoons flaxseeds + 5 tablespoons water
1 15-oz can chickpeas, drained and rinsed
1 cup walnuts
1/2 cup rolled oats
3/4 cup Italian breadcrumbs
1 tablespoon soy sauce
2 tablespoons tomato paste
1/2 small onion
1-2 garlic cloves
2 teaspoons Italian seasoning
1/2 teaspoon salt
25 ounces marinara sauce, for serving
1 pound spaghetti, for serving
Step 1
Preheat the oven to 400 degrees Fahrenheit and line a baking sheet with parchment paper.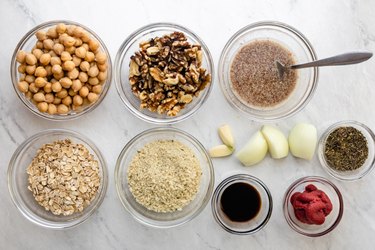 Step 2
Place the flaxseed and water in a small bowl, mix and let stand for 5 minutes.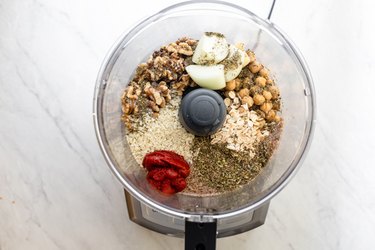 Step 3
Add all the ingredients to the food processor along with the flaxseed mixture, and blend until well-combined. You can also place the ingredients in a large bowl and blend using an immersion blender, potato masher or fork.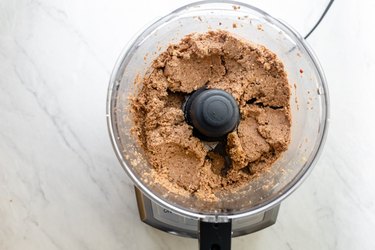 Step 4
Form the meatballs with your hands or by using a medium cookie scoop. Place them on a prepared baking sheet and bake in the oven for 30 minutes, turning the meatballs halfway through.
Step 5
Transfer the meatballs to a skillet with the heated marinara sauce and lightly stir together to combine. Serve over spaghetti, if desired.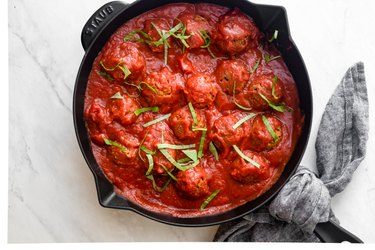 Swap the flaxseed with chia seeds if you prefer. It will allow the mixture to bind more easily, so I definitely recommend keeping either in the recipe.
Fry the meatballs or air-fry them for more crispy texture. Be sure to use a non-stick pan if you're shallow-frying as the mixture may stick to the pan.
Add density by adding mushrooms. Mushrooms have a great, meaty taste and can easily be added to get a more springy texture. You can use up to 8 ounces.
Add the meatballs to the marinara just before serving. Otherwise, the texture of the meatballs may soften as it soaks up the liquid from the marinara sauce.
Once your meatballs are prepared, you can serve them right away or store them in an air-tight container in the refrigerator for four days.
If you'd like to prep these as a make-ahead meal, cook the meatballs as directed, cool and store in the freezer for up to three months. After freezing, you can simply reheat in the oven or on the stovetop before serving.
To make this a well-balanced dinner, Gorin suggests serving the meatballs with a side of veggies such as roasted asparagus. "You can even add additional protein to the recipe by using a legume-based pasta instead of regular spaghetti," Gorin says.
Zhu agrees that this dish is best complimented by a side of vegetables. Her pick: leafy greens like spinach, chard or kale to give a boost of vitamins A, C, K and potassium. If you're opting for a low-carb pasta substitute, try serving with zucchini noodles or spaghetti squash.