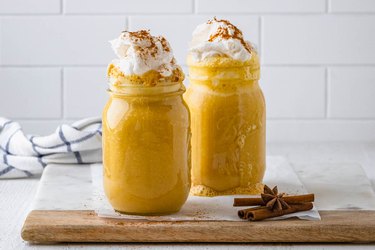 The chill in the air lets you know that it's pumpkin spice season again.
But while so many pumpkin spice offerings make a cameo on menus everywhere (hello, lattes, doughnuts and energy bars), most of these treats are, sadly, packed with added sugar (and calories) and less than healthy.
That's why recipe developer and food blogger Yumna Jawad of Feel Good Foodie helped us create a smoothie that gives you all that pumpkin spice goodness, but with plenty of nutrients and protein to keep you full. Toss just a few ingredients you probably already have on hand into the blender and in no time, you can be sipping your way to pumpkin-spice nirvana.
What makes this pumpkin protein smoothie better than other seasonal treats? For one thing, it has actual pumpkin in it.
"One cup of canned pumpkin has about 7 grams of fiber, and it's also low in calories," Vanessa Rissetto, RD, CDN, tells LIVESTRONG.com. "This pumpkin spice smoothie is also nutrient-dense, so it can help keep you full while also helping to promote weight loss."
This delicious smoothie also has no added sugar — instead, ripe bananas bring the sweetness in a healthy way. "A medium-sized banana has only about 105 calories and consists almost exclusively of water and carbs," Rissetto says, noting that a banana also provides 3 grams of fiber and 11 percent of your daily value of immune-supporting vitamin C.
Tip
Use overripe, frozen bananas for the best texture. This will get you a thick, creamy smoothie without adding ice, which can dilute the flavor.
Also adding to the satiety factor: Greek yogurt, which is "a great source of protein with about 19 grams per cup," Rissetto says. "Greek yogurt also has probiotics to help maintain gut health and a fair amount of potassium to help balance out your sodium intake."
So go ahead, get your pumpkin spice on, and feel good about it.
Protein Pumpkin Spice Smoothie Recipe
2 cups unsweetened almond milk

1 cup canned unsweetened pumpkin

2 frozen and ripe bananas

½ cup Greek yogurt (plain or vanilla)

2 tbsp vanilla protein powder

1 tsp pumpkin pie spice mix
Tip
This smoothie is a great way to use overripe bananas without adding a sweetener (and extra calories)!
Step 1
Gather all your ingredients. (You can skip putting them into separate bowls to cut down on dish-washing time.)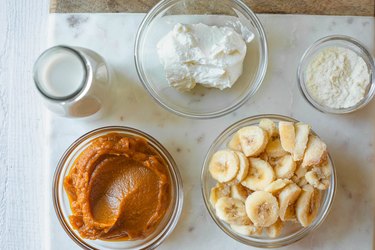 Step 2
Place all ingredients in a high-speed blender in the order listed. You'll want to add the liquid (almond milk, in this case) first, which helps blend everything together more easily and avoid clumping.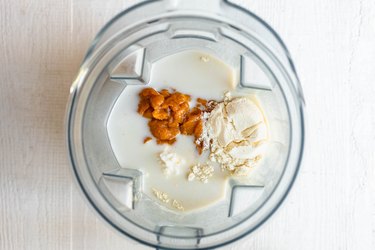 Step 3
Blend the ingredients for 2 to 3 minutes, until you get a smooth and creamy texture.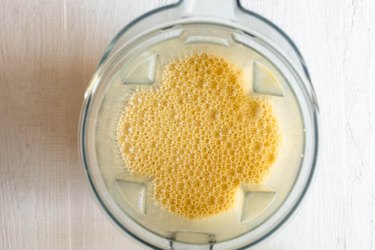 Step 4
Taste the smoothie, adding more almond milk if it is too thick or adding a sweetener of choice if it's not sweet enough for you. If you need a bit more sweetness, we recommend a tablespoon of honey or maple syrup, or trying a quarter packet of stevia instead.