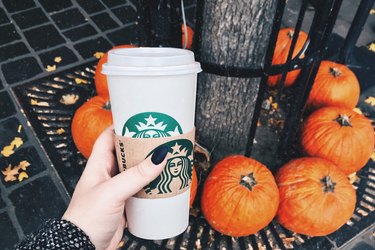 Anyone who's wandered the aisle of a Trader Joe's has noticed the explosion of pumpkin foods and beverages. According to Nielsen, as of late August 2018, pumpkin-flavored products were already flying off the shelves, bringing in $6.9 million in sales — all before the official start of the fall season. And the popular flavor shows no signs of stopping: Products labeled as pumpkin-flavored have already seen an increase of 15.5 percent in sales from 2017.
One of the most widely-known fall pumpkin dishes is none other than Starbucks' Pumpkin Spice Latte, or PSL. Launched in 2003, the PSL is now a very popular teenager, with a social media presence to match. In fact, Adweek reported that Instagram photos of Starbucks' pumpkin spice lattes are receiving 493% more likes per photo than other shots tagged with #Starbucks. There's no denying that the PSL is a cultural phenomenon, but what's actually hiding underneath that picture-perfect foamy drink?
The PSL: A Nutritional Disaster?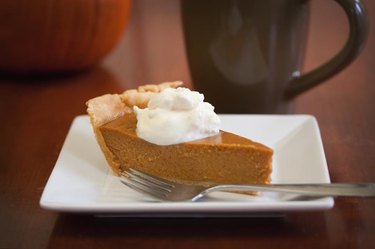 While its volume might look more manageable compared to a slice of pumpkin pie, the PSL can be deceiving. A grande Pumpkin Spice Latte (or 16 oz.) with 2 percent milk and whipped cream equals a setback of 380 calories and 50 grams of sugar. That's two times as much sugar as a slice of pumpkin pie.
As for its actual contents, the PSL boasts carrageenan and mono- and diglycerides. Say what? Carrageenan is a food additive made from seaweed and commonly used as a thickener or emulsifier in packaged foods such as ice cream, almond milk and coconut milk. It has also been connected to inflammation and gastrointestinal issues.
Mono- and diglycerides are a Mono- and diglycerides are a type of incomplete fat that is added to processed foods to help bind the ingredients and/or increase the shelf life. They're created from an animal source (derived from a pig or cow), a vegetable source (usually canola or soybean oil) or may be synthetically produced.
A Pumpkin Spice Latte will generally set you back between $4.25 to $4.45 for a 12-ounce, or tall, drink. With 89 days in the fall season, drinking one PSL every day for $4.25 per drink would mean $378 dollars per season down the pumpkin drain.
Want to take a more DYI approach to your seasonal cravings? Bloggers such as Lindsay Nixon of Happy Herbivore and Genevieve of Mama Natural have created their own version of the treat — and inspired the LIVESTRONG team to create a delicious 125-calorie pumpkin spice latte recipe that vegans and non-vegans can both enjoy.
An Easy, Healthy Homemade Pumpkin Spice Latte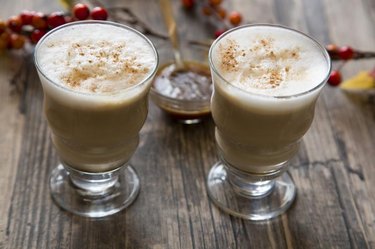 2 ounce double espresso shot
* 1 cup organic unsweetened vanilla almond milk or coconut milk (check the ingredient list and make sure you choose a brand that doesn't contain carrageenan) OR if you're not vegan, 1 cup organic milk
* 4 tbsp organic pumpkin puree
* 1 tbsp real maple syrup
* 1/4 tsp pumpkin pie spice (or your own mixture of cinnamon, nutmeg, ginger and clove)
* 1/8 tsp organic vanilla extract
NOTE: If you don't have an espresso maker, you can use 4-6 ounces of very strong coffee.
When you have your coffee ready, add the pumpkin, spices, vanilla extract and maple syrup to a mixing glass or blender and mix together. When smooth, remove from blender and pour into mug.
Froth your almond milk using the frother on your espresso machine OR if you don't have an espresso machine, put your milk into a saucepan and cook at medium heat until it's simmering. Pour into the blender and blend on high until it gets frothy.
Pour the milk into a coffee mug carefully, using a spoon to hold the froth back, then spoon the froth on top.
Hungry for more pumpkin? Check out these recipes: