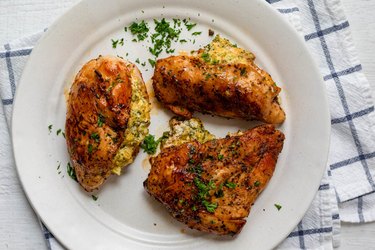 A dinner that's healthy, easy to make, feels fancy and pleases kids and adults alike — if this sounds like a unicorn of a recipe, you're in for a treat.
Recipe developer and food blogger Yumna Jawad created a dish that checks all these boxes and beyond: It's also budget-friendly. This Broccoli and Cheese-Stuffed Chicken is about to become your new dinner staple.
In terms of good nutrition, this one is expert-approved, too.
"Chicken has two nutrients that are great for reducing stress: tryptophan and vitamin B5," Vanessa Rissetto, RD tells LIVESTRONG.com. "Both of them have a calming effect on your body, and this makes chicken an excellent option after a stressful day."
As for broccoli, you already know it's great for you. "It's a good source of fiber and contains iron, potassium, calcium, selenium and magnesium and it has vitamins A, C, E, K and a good array of B vitamins, including folic acid," Risotto says.
"Believe it or not, paprika may also promote healthy digestion by increasing saliva and stomach acids, which help in breaking down food and making nutrients available for energy," Rissetto says.
We love this dish because it looks special and tastes amazing — but it's actually quick and easy enough for a busy weeknight, too. And it uses ingredients you can get at any supermarket, so consider it hassle-free.
To round out the plate, "I would pair this meal with some delicata squash, which is in-season [in the colder months] and easy to cook," Rissetto says. "Just slice and place on a baking sheet with oil and salt and roast. It's a good source of potassium and dietary fiber, and contains magnesium, manganese, and vitamins C and B."
Broccoli and Cheese Stuffed Chicken
4 8-ounce skinless, boneless chicken breasts
1 ½ teaspoon oregano
1 teaspoon paprika
½ teaspoon salt
¼ teaspoon black pepper
2 tablespoons olive oil
2 cups chopped broccoli florets
½ cup cheddar cheese
¼ cup sour cream
½ teaspoon garlic powder
¼ teaspoon dried mustard powder
Preheat the oven to 400 degrees Fahrenheit. Cut a horizontal slit in the thickest part of the chicken breast to create a pocket, making sure not to cut all the way through.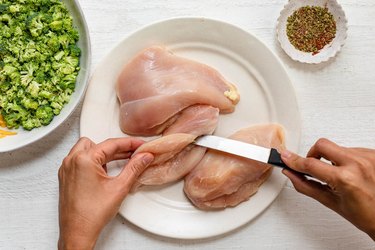 Tip
‌Pat the chicken dry before adding the spice rub.‌ Use paper towels to remove any excess moisture from the chicken. This will allow the outside of the chicken to have a wonderful brown crisp.
Season the chicken breast with oregano, paprika, salt and pepper and use your hands to rub the seasoning on both sides of the chicken.
In a small bowl, combine the broccoli, cheddar cheese, sour cream, garlic powder and mustard powder. Stuff the mixture evenly inside the chicken breast. Use a couple of toothpicks to close each pocket.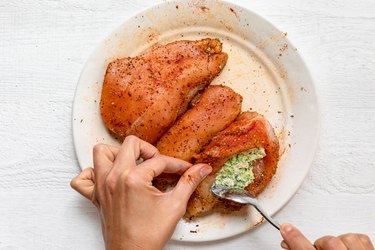 Heat the olive oil in a large oven-safe skillet or cast iron skillet, add the stuffed chicken and sear until golden brown, about three minutes per side. (Don't overcrowd the pan; work in batches if necessary.) Transfer the skillet to the oven uncovered and bake until cooked through — about 15 to 18 minutes.