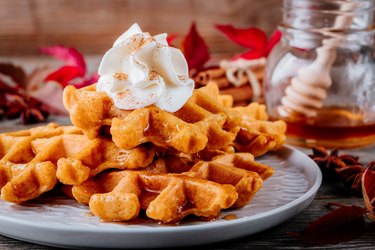 'Tis the season for pumpkin. And while PSLs used to dominate, there are (dare we say) tastier ways to enjoy the fall favorite.
If you find yourself with a can of pumpkin puree sitting in your pantry with no idea how to use it, we've got some recipes you're going to love.
For starters, these pumpkin breakfast recipes are easy to follow, taste delicious and are packed with plenty of nourishing nutrients. But they'll also get you out of that breakfast rut and add some seasonal delight to your first meal of the day.
Look forward to your a.m. meal with these pumpkin-loaded, high-protein breakfast recipes that will keep your tummy full until lunchtime.
1. Gluten-Free Pumpkin Protein Bars
Just one serving of these pumpkin protein bars has a whopping 18.8 grams of protein and 2.8 grams of fiber all for under 200 calories. There's heart-healthy nuts, sweet pumpkin puree and vanilla protein powder all mixed into one nutrient-dense bar. Opt for a protein powder without added sugars, says May Zhu, RD, LDN of Nutrition Happens.
‌Get the Gluten-Free Pumpkin Protein Bars recipe and nutrition info at My Natural Family.‌
2. Pumpkin Oatmeal Pancakes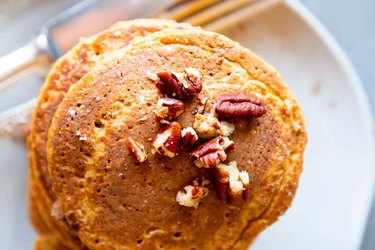 Oatmeal is a source of the soluble fiber beta-glucan, which is linked to lower levels of LDL cholesterol, which is known for clogging up arteries and narrowing blood vessels, Zhu says. And the protein and fiber combination of egg whites, oats and pumpkin provide a steady source of energy to help you avoid the lunchtime slump.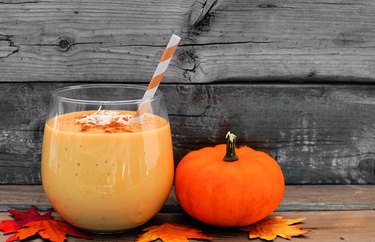 Smoothies are a quick go-to breakfast when you're on the go or short on time. Simply dump your ingredients into a blender and voila! you've got a protein-packed smoothie that you can sip at your leisure. You'll get a whopping 30 grams of protein in this recipe, and Zhu suggests adding a tablespoon of nut butter for some healthy fats.
4. Pumpkin Oatmeal With Egg Whites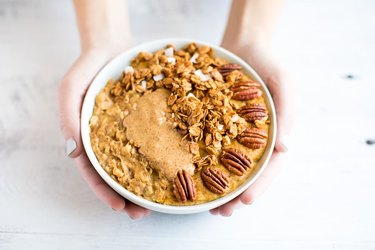 This bowl oatmeal has the perfect balance of protein and fiber. "The fiber comes from a variety of sources including pumpkin, oatmeal and banana for a combination of both soluble and insoluble fiber to support a healthy digestion," Zhu says. Not to mention, you'll think you're eating pumpkin pie when you bite into this bowl of oats, so it's perfect for satisfying that early morning sweet tooth.
‌Get the Pumpkin Oatmeal With Egg Whites recipe and nutrition info at Eating Bird Food.‌
5. Pumpkin Spice Protein Waffles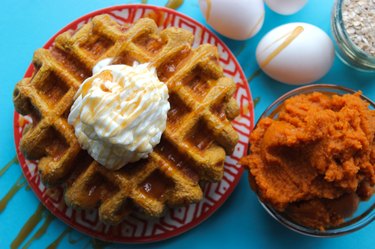 Typically, waffles aren't the healthiest breakfast option, but this protein-rich recipe is an anomaly. You'll get 24 grams of protein and 5 grams of fiber in just one waffle. This recipe is also flour-free and made from just six simple ingredients including oats, egg whites and pumpkin puree. Zhu warns that although oats are naturally gluten-free, if you have a gluten allergy, make sure the label notes that it's gluten-free to avoid any cross-contamination.
‌Get the Pumpkin Spice Protein Waffle recipe and nutrition info at The Diet Chef.‌