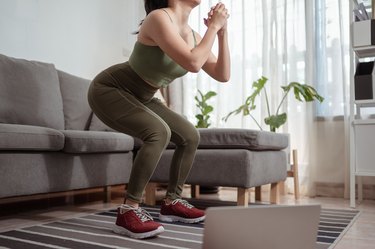 You don't have to devote hours of your day to lunges, squats and hip thrusts to get your legs and glutes feeling strong.
In fact, all you need is 10 minutes for a solid lower-body workout — and these videos are proof. Friendly for all fitness levels and featuring different modalities, there's something here for everyone.
Try one when you're pressed for time or a couple in a row for a longer leg-day workout.
Lace up your sneakers, grab some water and hit play to start toning your legs and butt.
Tip
Before you begin, run through a few warm-up exercises to prime your muscles for the work to come.
Spice up your typical leg-day routine with this high-intensity interval workout from Luke Milton, certified personal trainer and founder of the online HIIT program Training Mate. These five exercises will put your strength and stamina to the test — expect to feel it in your legs and glutes the next morning.
Lower-Body Resistance Band Workout
Led by Ingrid Clay, certified personal trainer and founder of ISC Wellness, this resistance band workout will have your legs and butt burning in the best way. Great for beginners, this routine targets lower-body strength and endurance while still getting your heart pumping with exercises like lunge jumps and kickback squats.
Although this Pilates sequence focuses on the glutes, you'll feel it all over — and especially in your core. Follow Amy Jordan, founder of Wundabar Pilates, as she guides you through 10 total exercises that will strengthen from head to toe.
Want More Workout Videos?