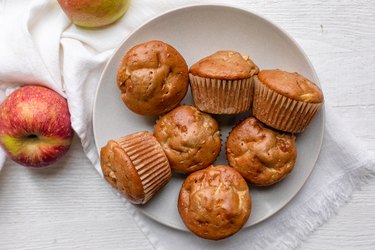 Just thinking about a delicious muffin studded with apples and scented with cinnamon would be enough to get us out of bed in the morning.
Of course, a muffin isn't usually what we think of as a healthy breakfast, but recipe developer and food blogger Yumna Jawad of Feel Good Foodie has solved that problem by strategically upgrading the ingredients.
"Typical muffins are void of high-quality protein and are instead packed with quickly digested carbs from refined white flour and sugar," Eliza Savage, RD, tells LIVESTRONG.com. "This muffin recipe is packed with protein from top sources including protein powder, eggs and Greek yogurt. Adding protein will help boost your energy and make you feel satisfied for longer."
Plus, it has apples, which are "full of dietary fiber, which helps to keep you full and satisfied," Savage says. Cinnamon, which we think of as just a delicious, warming spice, has superpowers of its own. "Cinnamon is a great anti-inflammatory, anti-diabetic ingredient," Savage says. "Some evidence suggests that cinnamon is linked to reduced insulin resistance and lower blood sugar levels."
As for the protein powder you use, be choosy when shopping for one. "Always take a look at the ingredient list before purchasing a protein powder," Savage notes.
"Whether you choose a plant-based or animal-derived product, make sure that you can identify each ingredient. Avoid artificial ingredients including colors, flavors and preservatives. Be selective in terms of sweeteners — I'm usually OK with a bit of stevia or monk fruit. When possible, choose a non-GMO and/or USDA-certified organic products."
With all the fiber and protein in these muffins, you can grab one and go for breakfast. "But if you're looking for a bit more heartiness, pair the muffin with a bowl of berries for a satisfying fiber-rich meal that's relatively low in carbs. If you want even more protein, pair the muffin with a boiled egg," Savage suggests.
Apple Maple Protein Muffin Recipe
1 cup all-purpose flour
¼ cup protein powder
1 teaspoon baking powder
1 teaspoon baking soda
2 teaspoons cinnamon
¼ teaspoon sea salt
2 large eggs
½ cup non-fat Greek yogurt
½ cup applesauce
¼ cup maple syrup
1 tablespoon lemon juice
2 cups peeled, diced apple
Step 1
Preheat oven to 350 degrees Fahrenheit. Line a 12-cup muffin pan with paper liners. Combine all dry ingredients (flour, protein powder, baking powder, baking soda, spices, salt) in a large bowl. Whisk to evenly distribute everything.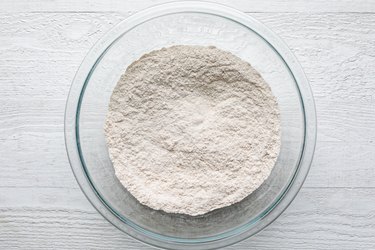 Step 2
Make a well in the center of the flour mixture and add the eggs and yogurt to the well. Whisk the eggs into the yogurt, incorporating as little of flour as possible. Add the applesauce, maple syrup and lemon juice to yogurt and eggs. Whisk to mix, slowly incorporating in the flour.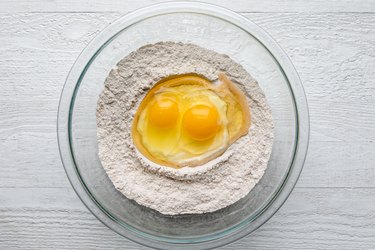 Step 3
Mix only until everything is incorporated — it's OK if some lumps may remain as over-mixing will result in tough muffins. Gently fold in the apple pieces.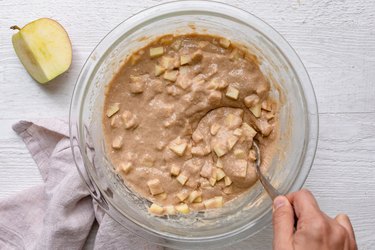 Tip
​Use peeled apples for the best consistency.​ While unpeeled apples add texture, peeled apples help the batter meld well together.
Step 4
Scoop the batter into paper liners, filling to the top or slightly heaping. Bake for 25 to 30 minutes, until a cake tester (or toothpick) comes out clean and the muffins are lightly browned.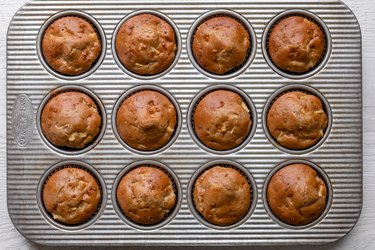 Tip
​Customize with nuts or added fruit.​ You can add pecans, walnuts, sunflower seeds or raisins. Just swap up to ¾ cup of the apples for any extra add ins.