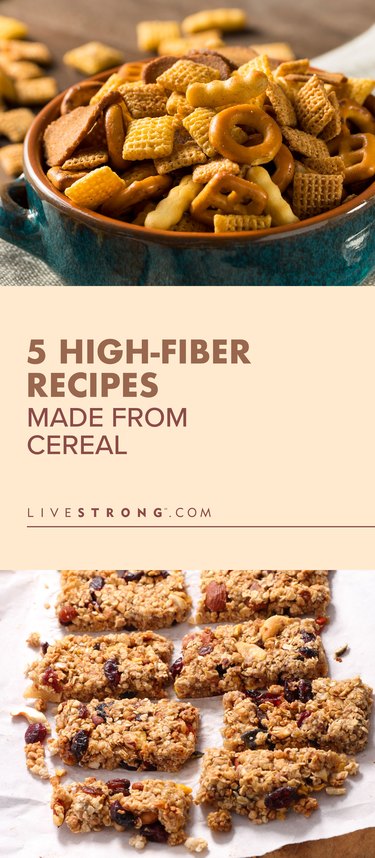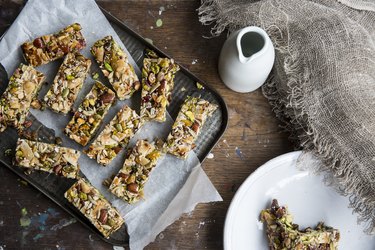 While most fruits and vegetables certainly provide fiber, the right breakfast cereal can help you meet your fiber goals, too.
High-fiber oat or bran cereals can be a great way to help hit the recommended 25 to 38 grams per day set by the USDA. Up the fiber in your diet with these tasty recipes made with cereal.
1. Brownie Banana Cereal Bowl
‌Calories:‌ 320
‌Fiber:‌ 19 grams
High in fiber and protein and low in saturated fat, this breakfast smoothie bowl certainly ticks all the right boxes. Plus, this recipe only requires a handful of ingredients — most of which you probably have in your kitchen pantry.
You'll get 27 grams of protein in a serving of this yummy option. Combined with fiber, this satiating recipe guarantees you'll stay feeling full right up until lunchtime.
‌Calories:‌ 244
‌Fiber:‌ 6 grams
These high-fiber cereal bars are loaded with dates, cereal (of course), coconut flakes and beans — yes, beans! Unlike your standard granola bar, this recipe calls for a can of white beans, which adds fiber and protein.
Although the recipe recommends using Fiber One cereal ($22 for 4 boxes, Amazon.com) specifically, you can substitute just about any bran-based variety.
‌Calories:‌ 320
‌Fiber:‌ 11 grams
Swap your usual yogurt parfait for this dessert-style breakfast cookie dough recipe, which offers 11 grams of fiber.
This recipe adds a creative (and sweet) twist to a bowl of Greek yogurt, combining vanilla, powdered peanut butter and Fiber One breakfast cereal. If you want to add a little extra unsaturated fat to this dish, you can swap the powdered PB with your favorite nut butter.
‌Calories:‌ 160
‌Fiber:‌ 9 grams
You might be familiar with ants on a log, but please allow us to introduce you to the kid- and adult-friendly Bug in the Garden. This snack recipe is quick to make and will zap any afternoon sweets craving.
While this recipe does call for a Fiber One protein bar ($4.89 per box, Amazon.com) you can use any high-fiber granola bar of choice. Or, use the Cereal Power Bar recipe above and make this snack a total DIY.
‌Calories:‌ 757
‌Fiber:‌ 11 grams
You can make just about anything in a slow cooker, including a tasty, homemade Chex mix. And unlike the store-bought varieties, you can make this mix your own by adding your favorite nuts, seeds and cereals — that's where the fiber comes in.
Watch your portion sizes, as these snacks can be pretty high in calories.