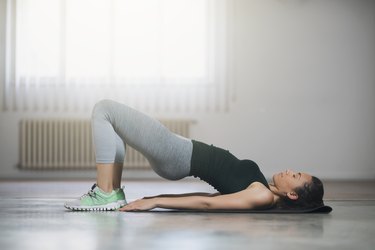 Bridges can build way more than your butt, and this glute-bridge workout is proof.
Crafted by personal trainer, April Whitney, CPT, it combines glute-bridge variations with other upper- and lower-body minutes for an all-over burn. All you need is a pair of dumbbells, a few feet of floor space and 20 minutes.
Try This 20-Minute Glute-Bridge Circuit
Do: each of these movements for 40 seconds, followed by a 20-second rest. Then, take a 60-second break and repeat the whole circuit four more times for a total of 20 minutes, Whitney says.
Move 1: Marching Glute Bridge With Dumbbell Hold
Body Part
Butt, Legs, Chest and Arms
Begin lying face-up with your feet flat on the floor, knees pointing up.
Hold a single dumbbell by both ends straight over your chest.
Press into your heels to raise your hips up toward the ceiling until you form a line from knees to hips to head.
Raise your right foot a few inches off of the floor.
Lower it back to the floor.
Raise your left foot a few inches up. Then, put it back down.
Repeat this marching motion for 40 seconds.
Return to the starting position and bring the weight down.
Rest for 20 seconds.
Tip
Keep your core braced as you perform this exercise in order to keep the dumbbell stable.
Move 2: Glute Bridge With Hamstring Walkout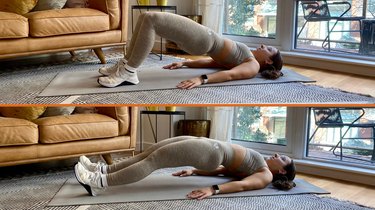 Body Part
Abs, Legs and Butt
Begin in the glute-bridge position, feet flat and hips raised.
Slowly step your right foot an inch or two farther away from your body.
Step your left foot to meet your right.
Continue alternating stepping your feet farther and farther away.
When your knees are almost fully straight, reverse the motion to walk your feet back to the glute-bridge position.
Move 3: Frogger Hip Thrust to Crunch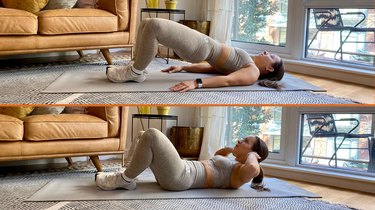 Body Part
Back, Legs and Abs
Begin lying on the ground, hands behind your head.
Bring the bottoms of your feet together about a foot away from your butt.
Press into your feet and squeeze your glutes as you raise your hips up toward the ceiling.
Pause here for a moment.
Come back to the ground.
Perform a crunch, focus on raising through your core.
Come back to the floor.
Tip
As you crunch, avoid pulling or yanking your neck forward with your hands. Come up as high as you can with control.
Move 4: Glute Bridge With Alternating Chest Press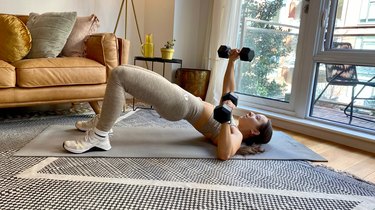 Body Part
Butt, Legs and Chest
Begin lying on the floor with two dumbbells at chest level.
Lift up into a glute bridge.
Press the right dumbbell straight up above your chest.
Bring the weight back to chest height.
Press the left weight straight up.
Alternate weights, holding the glute-bridge position.
Move 5: Single-Leg Glute Bridge to Russian Twist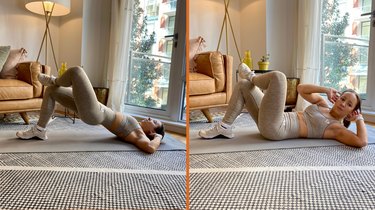 Body Part
Butt, Legs and Abs
Start lying face-up on the floor, hands behind your head.
Cross your left ankle over your right knee.
Press up into a bridge, squeezing your glutes at the top.
Lower back to the ground.
Come into a Russian twist toward the left, reaching your right elbow toward the right knee.
Switch sides and repeat.