We could all use more time in the day, right? One way to squeeze out a few extra minutes of productivity is to design a workout that does double duty. Case in point: A quick cardio workout that also strengthens your arms.
"Full-body workouts are optimal when you are short on time and still want to burn the maximum amount of calories," says Ridge Davis, NCSF-certified trainer and creator of Ridgid Bootcamp. They incorporate multiple muscles at once, which Davis says raises the heart rate faster.
"The higher heart rate helps your body reach a fat-burning zone and build optimal strength, and developing strength with balance across all the muscle groups helps prevent injuries and muscular imbalances," he says.
This eight-move arm-blasting cardio workout crafted by Davis will boost your heart rate and strengthen and tone the arm muscles — no equipment required.
Try This Cardio Arm Workout for Yourself
You can perform this workout as a standalone routine or swap it out for an arm routine one to two days a week. Don't forget to warm-up with a few minutes of light cardio and dynamic exercises, such as high knees, arm circles and jogging in place.
‌Do:‌ each move for the recommended time or reps with no rest between exercises. Do 3 rounds, resting for 20 to 30 seconds after each round.
1. Mountain Climber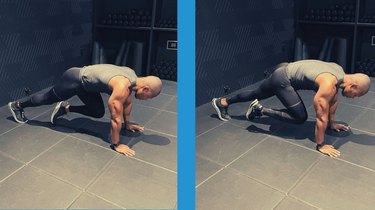 Body Part
Arms, Abs and Shoulders
Press up into a high plank like you're about to do a push-up, with hands beneath your shoulders and your body in a straight line from head to hips to heels.
Your feet should be shoulder-width apart and anchored to the floor on the balls of your feet.
Keep your hips level and don't let your lower back sag.
Bring your right knee into your chest, engaging your abs at the same time.
Return your right knee to starting position.
Bring your left knee into your chest, then shoot it back, switching legs at your desired pace.
Keep your breath steady throughout the exercise, breathing in and out through your nose.
Tip
You'll work every muscle with this cardio-inspired move, but the triceps, biceps and shoulders will work overtime to keep you stable. Think about screwing your hands into the floor like you're opening a jar to protect (and strengthen) your shoulders.
2. Seal Jack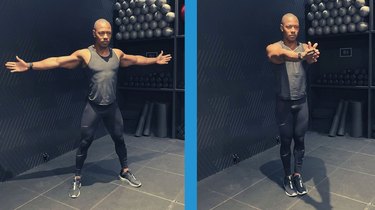 Body Part
Arms, Chest and Shoulders
Stand with legs wide and arms at shoulder height and extended out to the side.
Jump your feet together while bringing the arms together, out in front. Your palms will touch as you squeeze your chest muscles.
Jump out while moving the arms back to the starting position.
Repeat for the recommended time.
Tip
Transform an oldie but a goodie into an upper-body move that targets the biceps, triceps, shoulders and chest.
3. Arm Circle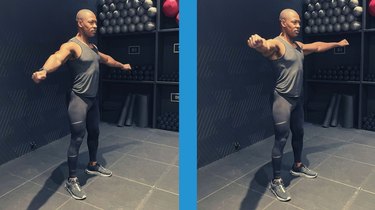 Body Part
Arms and Shoulders
Stand up tall with your feet about shoulder-width apart.
Hold your arms straight out to the sides with palms facing up.
Rotate your arms from back to front in a circular motion.
Tip
Increase your heart rate and wake up your arm and shoulder muscles with this old-school dynamic exercise.
4. Cross Punch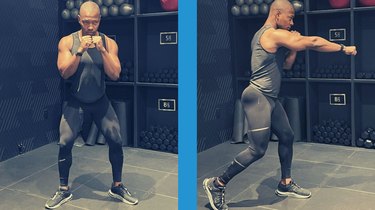 Body Part
Arms, Shoulders, Abs and Legs
Start in an athletic or boxing stance with feet slightly wider than hip-width apart, a slight bend in your knees and your fists up by your chest.
Pivot on the right foot to rotate the right hip and bring the right heel off the ground.
Do a cross-body punch with the right hand. Your arm will be fully extended and punching to the left side with a fisted palm facing down. Squeeze the triceps and obliques.
Return to the starting position and repeat.
Tip
This combo move packs a one-two punch by targeting the obliques, biceps, triceps, and of course, the powerful lower-body muscles. You can do all 20 reps on the right side before changing to the left side or alternate right and left side.
5. Knee Driver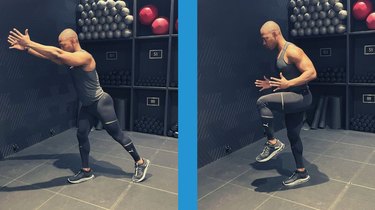 Stand tall with feet about hip-width apart with hands together in front of you.
Take a step back with the left foot (the heel will be off the floor) and extend your arms out in front of you, above shoulder height.
Shift the weight to the right foot, bend your left leg and drive the knee up toward your chest while bringing your arms toward the body. Hands will be above your thighs.
Pause, then drive the leg back and reach the arms out and slightly above shoulder height.
Tip
This kickboxing-inspired move will boost your heart rate and tone the triceps, biceps and core muscles. You can do 20 reps on one side before changing to the other side or alternate right and left sides.
6. Standing Lat Pull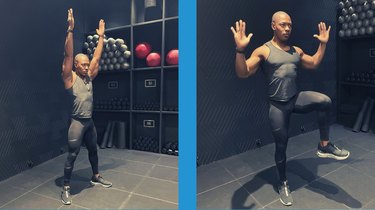 Body Part
Arms, Back and Abs
Stand with legs wide and arms extended above your head, fingers pointing toward the ceiling. Engage your core and glutes for balance and stability.
Shift your weight to the right foot.
Drive your left knee up toward your chest while pulling the arms down, palms facing forward.
Pause.
Extend the arms up and return your left leg to the starting position.
Repeat on the other side and alternate right and left leg for the recommended time.
Tip
Ditch the lat pulldown machine and perform this move with just your body weight. You'll work several upper-body muscles, including the biceps, triceps and lats while giving your cardio system and core a boost.
7. Traveling Plank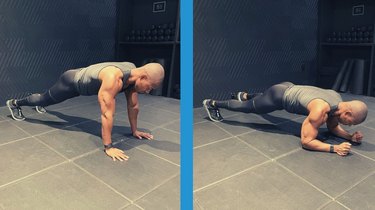 Body Part
Arms, Abs, Shoulders and Butt
Start at the top of a push-up with arms extended, feet slightly wider than hip-width apart, arms slightly wider than shoulder-width apart and gaze looking down.
Engage your glutes and core and drop down onto your forearms with palms facing each other.
Begin to travel laterally, "stepping" the right arm and foot to the right, followed by the left arm and foot.
Travel to the right for 10 reps, then travel back to the left, leading with the left arm and leg, for 10 reps. Keep your core and glutes tight the entire time.
Tip
Work your abs and arms with this cardio-boosting exercise. Traveling planks target the rectus abdominis (six-pack muscles), obliques (sides of your torso), triceps, forearms, shoulders and glutes.
8. Squat to Overhead Reach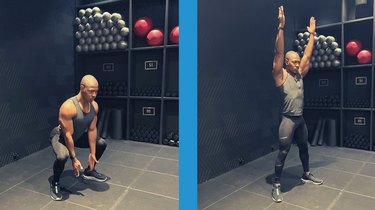 Body Part
Arms, Butt and Abs
Start in a wider-than-normal squat position with toes pointed slightly outward and your arms between your legs, pressing against the inner thighs. Your fingers will point down.
Tighten your core and glute muscles, press through the heels, and stand up while extending your arms overhead, fingers pointing to the sky, palms facing each other.
Drop down to the squat position and repeat.
Tip
Your arms, lats, core and lower body will thank you after blasting out this multi-functional move. Plus, the quick transitions your upper and lower body make will raise your heart rate.