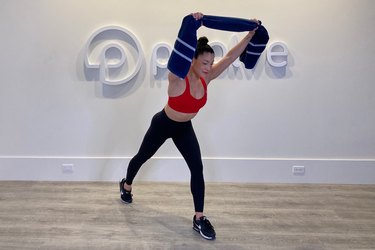 If you're working out from home, your selection of gym equipment is likely limited. But here's the good news: You don't need expensive machines or heavy barbells to build a stronger back.
In fact, one tool for an effective back workout is in your linen closet or hanging in the bathroom. Yep, we're talking about a towel. When used strategically, a towel can be a terrific way to create the tension and resistance required for an upper-body strength routine.
For the following 20-minute circuit workout — courtesy of Dani Coleman, a NASM-certified trainer at P.volve — you only need a towel. The workout features exercises that'll have you moving in all different directions to increase your strength and improve your functional movement.
​Do:​ all of the exercises below for the given reps. Repeat for 2 total rounds, one on each side.
Tip
It's important to hold the towel tightly at both ends (as if you're trying to pull it apart), Coleman says. This will create the resistance you need.
Move 1: Serratus Push-Up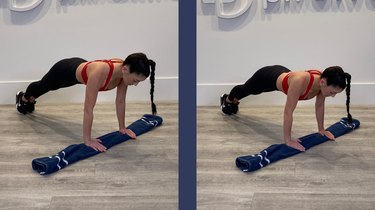 Roll up a towel and place it on the floor, then press the base of your palms into it for wrist support.
Start in a tabletop position and make sure your shoulders and wrists are stacked with a slight bend in your elbows.
Step your feet back into a full plank, bracing your core, glutes and quads and keeping your posture long through the crown of your head.
Draw your shoulder blades together, then push them away from one another.
Tip
This exercise helps strengthen your serratus anterior muscle along the upper part of the sides of your rib cage. Often neglected and weak (especially if you have rounded shoulders), this muscle rotates your arm upward, which helps you lift things overhead, Coleman says.
If the exercise is too challenging, modify by doing it in a forearm plank or kneeling on all fours, Coleman says.
Move 2: Standing Towel Row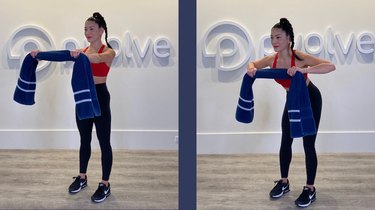 Hold your arms in front of you at shoulder height, taking an overhand grip on the towel with hands shoulder-width apart and palms facing the floor.
Maintain tension in the towel and keep your shoulder blades together and down along your back.
Squeeze your glutes and sit your butt back a few inches (maintaining tension on the towel at shoulder height), allowing your chest to incline slightly forward and engaging your core (including your back muscles).
Press your glutes and hips back to full extension as you squeeze your shoulder blades and pull the towel toward your chest with tension.
Continue this movement at a moderate, controlled tempo.
Tip
"This exercise targets your mid trapezius, which help your shoulder blades pull back and down while also providing stabilization for the shoulder during some arm movements," Coleman says.
Many of us have weak trap muscles due to poor posture, which is why this move is so important. This exercise also fires up your glutes, which, when strong, can help prevent and reduce low back pain, Coleman says.
Move 3: Step-Back With Lat Pulldown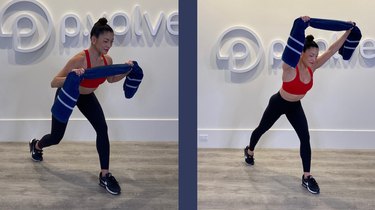 Extend the towel overhead, keeping your shoulders down into your back and tension on the towel with a grip slightly wider than shoulder-width apart.
Reach your foot straight back and balance on the ball of your foot, maintaining a slight incline of your upper body with your core engaged.
Squeezing your glutes, bend the back knee as you pull the towel down slowly just beneath your chin, keeping your shoulders down and kissed together.
Push through your front heel and stretch your back leg and arms back to their starting point, squeezing your glute at the top and keeping your lats engaged and shoulders down.
Tip
Lat pulldowns strengthen the muscles that help stabilize your spine and build back and shoulder strength, Coleman says. Meanwhile, the step back component of the movement opens the hips and activates the glutes.
Focus on form and move mindfully. "Keep the eccentric part of the lat pulldown slow to really feel that time under tension," Coleman says.
Move 4: Standing Knee Drive With Supinated Row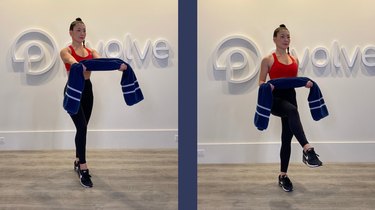 Take an underhand grip on the towel, hands shoulder-width apart, and bring one leg in front of you to your 12 o'clock.
Keep a slight bend in the knee of your standing leg, engage your glutes and reach the towel out to shoulder height (keeping tension on it).
Pull the towel in toward your body as you lift your front leg in front of you, knee bent to a 90-degree angle.
Feel your elbows graze by your ribcage as you pull the towel back toward your chest.
Lower your leg with control as you send your arms back out to shoulder height.
Tip
This exercise is a full-body movement that lights up your lats while also firing up your deep core muscles and stretching your hips, Coleman says.
If you're feeling a little wobbly on one leg, you can modify by softly tapping the front foot on the floor (like a kickstand for balance) or doing the move on two flat feet to focus on the upper body, Coleman says.
Move 5: Lateral Lunge With Thoracic Rotation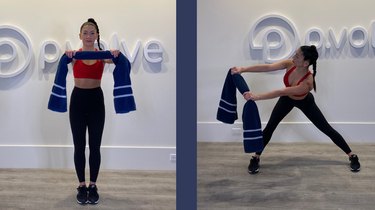 Take an overhand grip on the towel with palms facing down at shoulder height and keep your shoulder blades pulled together for the entire move.
Engage your core and step out to the side, landing with your hips back, chest slightly forward and back long.
Keeping your shoulder blades together, rotate from your core over your working leg, feeling a stretch in your inner thighs and glutes.
Rotate your body back and step your working leg back into the starting position.
Tip
This rotational exercise will help you practice engaging your mid-back, which can hold a lot of tension from poor posture, Coleman says.