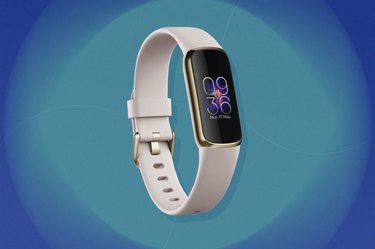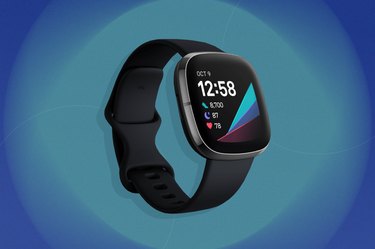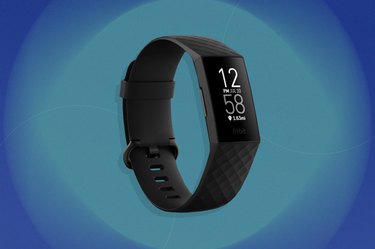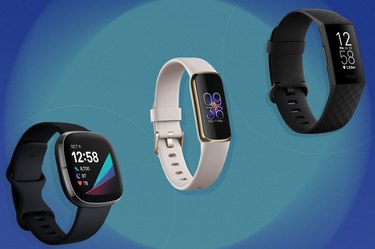 Fitbit is a pioneer in the world of wearables and has made a name for itself as one of the best fitness trackers. What was once a "nice thing to have," owning a Fitbit has become kind of essential for every exercise junkie who is obsessed with tracking their health and staying accountable to their fitness goals.
But there are many different types of Fitbits out there, tracking your steps, heart rate, sleep and hydration levels, so how do you choose? As a certified personal trainer and lover of all things data, I've taken the guesswork out of the equation with my own product testing. Read on to learn all about my favorite tools and the three best Fitbits you can buy.
1. Best for Style: Fitbit Luxe
​Battery Life: ​5 days
​Phone Compatibility: ​iOS and Android
​GPS: ​yes
​HR Monitoring: ​yes
​Sleep Tracking: ​yes
​Water Resistant: ​yes
As the newest device from Fitbit, this sleek-looking wearable offers the same features you expect in a smartwatch, like monitoring sleep and measuring heart rate in different exercise modes, but in a more compact form.
It also has stress-management tools, like guided breathing exercises, to help you find bits of time to relax throughout the day. It can even track your body's oxygen levels. What's more, it notifies you about calls and texts.
Aside from the great tools and features, I loved that I could easily sport this Fitbit to the gym or on a run, shower with it on, then wear it out for dinner. And it never cramped my style.
I also took full advantage of the device's silent alarm feature, which wakes you up with vibrations on your wrist. So I didn't have to disturb my partner's zzz's with a noisy alarm. As a bonus, it comes with a six-month trial of Fitbit Premium, so you can work with a health coach to get deeper insights into your stats.
2. Best for Wellness Insights: Fitbit Sense
​Battery Life: ​6 days
​Phone Compatibility:​ iOS and Android
​GPS: ​yes
​HR Monitoring: ​yes
​Sleep Tracking: ​yes
​Water Resistant: ​yes
If you're looking for the best Fitbit for more in-depth info about your health, the Sense is for you.
In addition to the usual Fitbit bells and whistles, this smartwatch connects to an EDA Scan app to detect electrodermal activity, which indicates how your body responds to stress. There's also an ECG app to assess your heart health (you can even share results with your doctor) and an on-wrist skin temperature sensor to give you even more clues about your health.
After connecting the smartwatch to my phone, I was able to receive and respond to texts, emails and other smartphone notifications on my wrist. And get this: I used the voice assistant (compatible with Google Assistant and Amazon's Alexa) to make calls directly from my wrist.
Plus, the battery lasts six days, and the watch is swim-proof.
3. Best for Battery Life: Fitbit Charge 4
​Battery Life: ​7 days
​Phone Compatibility:​ iOS and Android
​GPS: ​yes
​HR Monitoring: ​yes
​Sleep Tracking: ​yes
​Water Resistant: ​yes
While this update on the Fitbit Charger 3 doesn't have as many features as the other best Fitbits on this list, it does he longest battery life, which was perfect on the days I forgot to charge it.
Despite its more compact size, you still get many of the classic Fitbit perks, like all-day activity tracking, goal-based exercise modes and sleep insights. I loved checking my daily sleep-health score to ensure I was getting adequate shut-eye each night.
One of my all-time favorite features: the SmartTrack Automatic Exercise Recognition, which starts tracking your workout if you forget to do it manually — and I have many times.
And if you need a little nudge to get moving throughout the day, it sends you reminders to get up and going. It also notifies you about texts and calls and, if you connect it to your credit card, you can pay right through it.
3 Tips for Finding Your Best Fitbit
Be sure that the device you're choosing has the ability to track the activities and exercise that you do. For example, if you're a runner, it's important that your watch has built-in GPS and can track your pace and distance. And if you're a swimmer, you're not going to want to purchase a fitness tracker or watch only to find out after the fact that isn't water resistant.
When it comes to your Fibit, are you looking for something just to wear to work out, or do you want a band or watch that can double as a fashion statement? If you already have daily watch, you can get away with a less sleek-looking tracker and just take it off when you're not using it. But if you want to wear your device 24/7, be sure you pick one that fits your style.
Because trackers allow you to sync them with a smartphone, or have a smartphone app component, it's important to make sure that the device you choose is compatible with your phone. To get the most out of your tracker and all the features that come with it, check sync compatibility before you purchase. Fortunately, Fitbits tend to play nice with both Apple and Android.