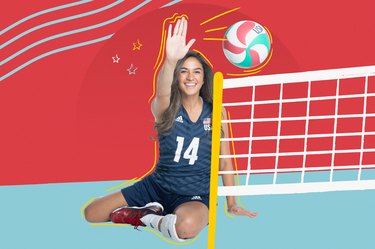 Athletes in the Olympic and Paralympic Games share their top tips so you can fuel your body and rock your workouts Like an Olympian.
How does one play elite-level volleyball, run a coffee shop, bake custom-order cookies and parent a 5-year-old all at the same time? Although it certainly isn't easy, that's a day in the life of Paralympian Kaleo Kanahele Maclay.
As far as her athletics go, Maclay basically grew up with a volleyball in hand. She started training with the Paralympic Sitting Volleyball team when she was 12 years old and went on to become a two-time (soon to be three!) Paralympian. Maclay competed at the 2012 London Games, winning a silver medal, and the 2016 Rio Games, bringing home the gold.
But her accomplishments don't end there: Maclay is a two-time silver medalist at the World ParaVolley Sitting Volleyball World Championships, where she was named the Best Setter in 2018. She was also named the Female Sitting Player of the Year in 2014 by USA Volleyball.
Now, Maclay looks forward to competing in the 2020 Tokyo Paralympic Games. And to power her athletic career, family businesses and parenting duties, she likes to start her days strong with the perfect pre-workout breakfast.
The Food That Fuels Maclay's Skillful Sets
Maclay's day-to-day relies on good nutrition, starting with her favorite breakfast: avocado toast.
"Before a workout, and it seems pretty typical, avocado toast is my go-to in the morning," she tells LIVESTRONG.com. "Avocado toast with an egg gives me everything I need before practice."
Maclay especially loves this meal because it's quick to prepare when she's in a rush. Plus, it packs all the macronutrients she needs to stay energized and full.
"I like that [avocado toast] provides a nice mix of protein, fat and carbs," she says. "I think that carbs get a bad reputation sometimes, but they translate into quick energy for me on the court."
Like many other athletes, Maclay preps her pre-workout meals strategically, making sure she gets plenty of carbohydrates before training sessions. Then, after her workout, she focuses on replenishing her carb stores and fueling her muscles with protein.
Another must-have for an energized training session is coffee — from her own shop, of course.
"My husband and I own a coffee shop [Flower & Flour in Oklahoma City], so I get one to two cups of coffee before practice as well," she says. "That's like a major have-to-have before practice."
Why Avocado Toast Is a Great Pre-Workout Breakfast
Not only does avocado toast make for envy-worthy social media pics, but it also offers major benefits for anyone — elite athlete or not.
The ingredients also give you some micronutrients: Avocado is high in fiber, potassium and magnesium, all of which help ward off muscle cramps. And eggs are high in choline, which plays a role in muscle control.
Eat Like a World-Class Athlete Before Your Next Workout
You can find avocado toast on the menu of just about any brunch restaurant. But Maclay says she loves making it at home because it's quick and cost-effective. After all, you can assemble this pricey restaurant dish in less than 10 minutes with just a few ingredients.
To elevate your avo toast, Taub-Dix recommends these tips:
​Go for whole-grain bread.​ Whole-grain bread is high in fiber, which keeps your digestion regular and helps you feel fuller for longer.
​Add a source of protein.​ Top your toast with a fried egg or a plant-based protein such as hummus or slivered almonds to keep you full.
​Experiment with spices.​ Salt, pepper and a squeeze of lemon are solid go-tos for avocado toast, but you can also add flavor with chili flakes or smoked paprika.
Avocado toast is like a blank canvas, Taub-Dix says. You can customize it however you like, whether that's for taste or performance. While some (like Maclay) may like a fried egg on top, others may find it hard on their stomachs before a workout.
Above all, pay attention to how your body feels while you're exercising. Any bloating or gas is a sign that you should adjust your recipe as needed. Using a little less avocado or scaling back on spices may do the trick.
​​To learn more about ​​Team USA​​, ​​visit TeamUSA.org.​ ​The Tokyo Paralympics begin August 24​​ on NBC.​​