While the time you spend in the gym plays a crucial role in muscle building, the fuel you put in your body is just as important.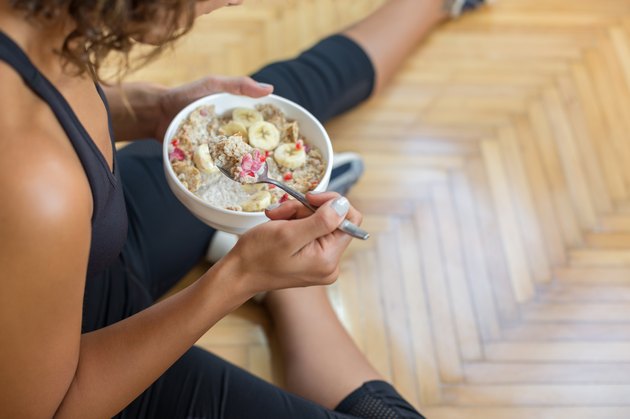 If you're looking to increase strength and stay lean, you should eat 1.2 to 1.6 grams of protein per kilogram of body weight and aim to get about 25 grams of protein per meal, according to an April 2015 review published in The American Journal of Clinical Nutrition.
But don't neglect your carbs, either, as they're crucial for replenishing your muscles. When you eat carbohydrates, they're partially converted to glycogen, which your muscles use for energy, according to the Academy of Nutrition and Dietetics.
So if you're looking to start your day on a strong note, try these recipes that combine quality sources of protein and carbs to get you right on track for muscle growth. Each high-protein breakfast is tailored for six popular diets, so everyone can have their pick!
Savory Protein Breakfast Bowl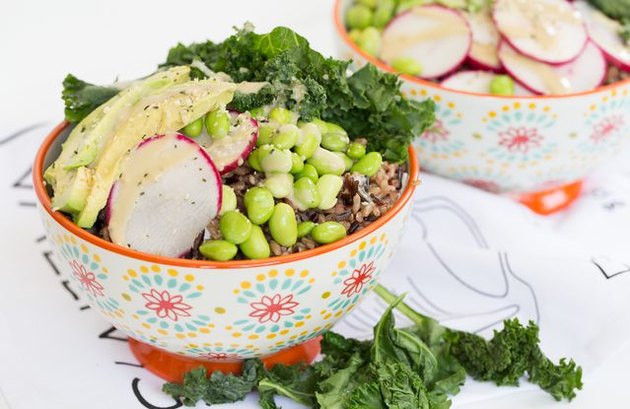 If you're struggling to find plant-based protein recipes, this breakfast bowl will set you straight. Not only will this dish help you build a calorie surplus but this recipe packs 26 grams of protein and 36 grams of high-quality carbs — perfect for your hypertrophy goals.
You may be surprised to learn that edamame (immature soybeans) are actually packed with protein, with about 19 grams of protein per cup. These little green beans are not only a great muscle-building food but they're also high in soy isoflavones, a plant chemical that helps support bone health, according to a December 2011 study published in Maturitas.
2. Best for the Mediterranean Diet
Mediterranean Breakfast Scramble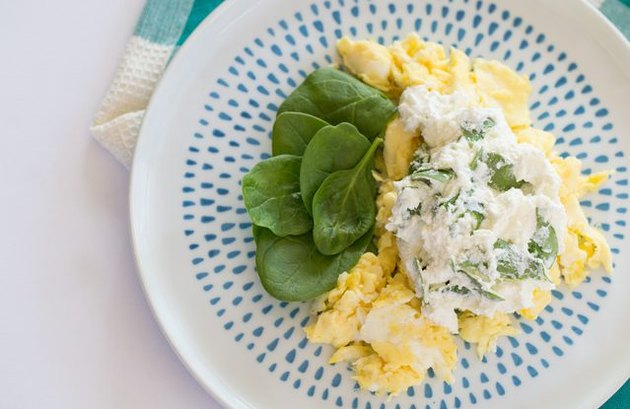 Although this recipe is simple, it will provide just the protein you need to strengthen those muscles — 14 grams per serving, to be exact. This Mediterranean-diet-friendly dish also calls for a half cup of spinach, helping you meet your micronutrient requirements for the day.
Eggs — with their yolks — are great for building and repairing muscle tissue post-exercise, according to a December 2017 study published in The American Journal of Clinical Nutrition. This dish combines a whole egg and egg whites, making this scramble a little lower in fat than the average. Egg whites are very low in calories and high in protein, making them a solid hunger-fighting breakfast food.
3. Best for the Keto Diet
Sun-Dried Tomato Frittata With Garlic Aioli
4. Best for a Vegetarian Diet
Teff Breakfast Bowl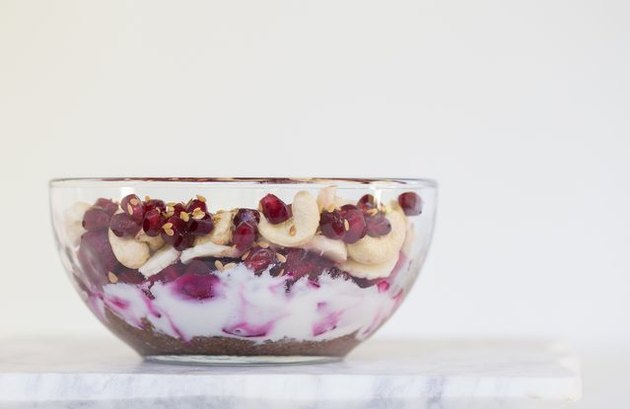 This bowl packs 22 grams of protein and is an excellent option if you prefer to start your breakfast on a sweet note. Especially if you're looking for a good pre-workout dish, this recipe is filled with high-quality carbohydrates, which will power you through any workout session.
The main component of this recipe, teff is a northeast African grain that's naturally gluten-free and full of protein and fiber, according to the Whole Grains Council. Teff is also a source of iron, which your body uses to transport oxygen across the body — deeming it a great grain to support your exercise.
5. Best for the Paleo Diet
Sunny-Side-Up Breakfast Sausage
6. Best for a Gluten-Free Diet
Gluten-Free Cinnamon and Yogurt French Toast