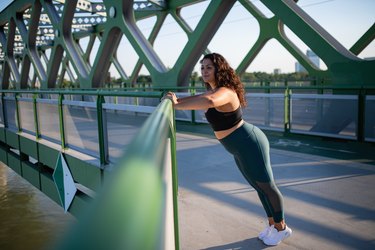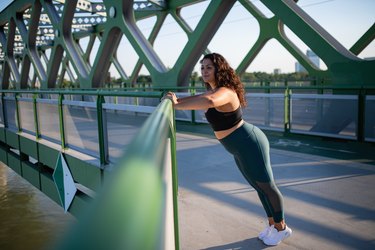 Resistance exercise comes with a laundry list of health benefits. And to max them out, it's important you're building strength in a way that's right for you. One of the best for people with diabetes? Low-impact strength training.
If you have this nerve damage, it's very possible that high- and even moderate-impact exercises are painful for you. And no exercise should never be painful!
What's more, peripheral neuropathy (nerve damage in your hands and feet) can make it difficult to know if you have minor cuts, scrapes, or blisters. That means high-impact exercises can, in a way, increase your risk of infections creeping their way in, explains Caroline M. Apovian, MD, co-director of the Center for Weight Management and Wellness at Brigham and Women's Hospital. Think about it: If you don't know a spot on your heel has worn raw, how do you know to bandage and clean it?
The last issue with jolting around lies within your joints. As Apovian explains, diabetes can cause incremental joint damage that may make your hips, knees, or ankles more sensitive to plyometric exercises like squat jumps.
Here, Machowsky lays out four of the best low-impact strength exercises you can do. And, if you put them together, you've got a perfect 20-minute strength routine. For a full-body session, do each exercise for 3 sets of 8-12 reps, resting for 30 to 90 seconds between sets.
20-Minute Low-Impact Strength Workout for People With Diabetes
Move 1: Resistance Band Bent-Over Row
Body Part
Back, Shoulders, Arms and Abs
Step both feet on the center of a resistance band so your feet are hip-width apart. Grip one end of the band in each hand down at your sides.
Push your hips back to lower your back, keeping it flat.
Squeeze your shoulder blades down and together, then pull through your arms, to raise your hands to the sides of your torso.
Pause, then return to start, keeping constant tension in the band.
Tip
Even if you're doing this exercise at home, it's best to wear shoes! It will be far more comfortable on your feet, regardless of if you have diabetic neuropathy.
Move 2: Glute Bridge
Body Part
Butt, Legs and Abs
Lie down on the floor with your knees bent and feet flat on the floor, hip-width apart. Relax your arms alongside your body.
Squeeze your core and glutes and tuck your pelvis slightly as you press through your heels and lift your hips off the floor. Keep your spine straight and avoid lifting to the point that your lower back arches.
Hold this position for a few seconds with your glutes engaged.
Keeping your core and glutes engaged, slowly lower your hips back to the starting position.
Move 3: Wall Push-Up
Body Part
Arms, Chest, Shoulders and Abs
Stand arm's distance from a sturdy wall with your feet under your hips.
Place your palms on the wall, shoulder-width apart at shoulder height. This is the starting position.
Bend your elbows and bring your chest toward the wall. Keep your elbows pointing away from your body at a 45-degree angle, rather than out to the side.
Press back to the starting position.
Tip
As you get stronger, up the challenge on this push-up variation by moving your hands to a lower surface like a kitchen counter or sturdy table.
Move 4: Chair Squat
Body Part
Legs, Butt and Abs
Sit on the edge of a chair with your feet flat on the floor. Hold your arms in front of your chest for balance.
Push through your feet and stand up. Make sure you're engaging your glutes and your core as you do.
Pause for a moment at the top.
Hinge at your hips and bend your knees as you sit back down in the chair. Keep your chest upright.
Tip
To progress this squat variation, don't let your body relax onto the chair. Stop right before your hips touch the chair, pause, then stand back up.
More Low-Impact Exercises