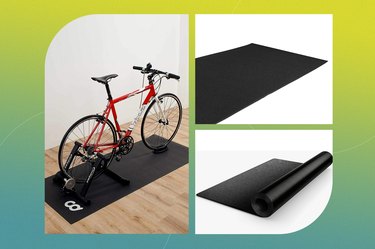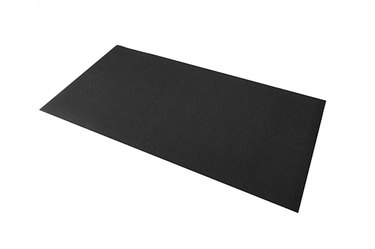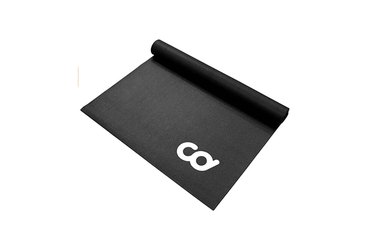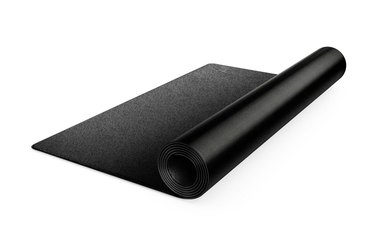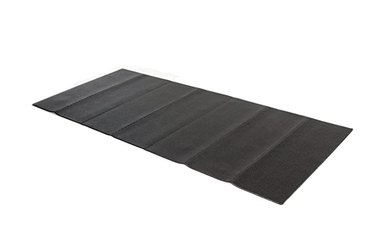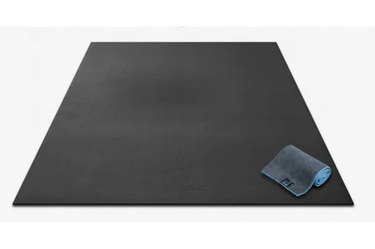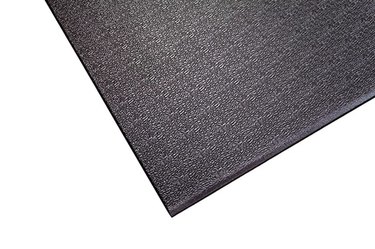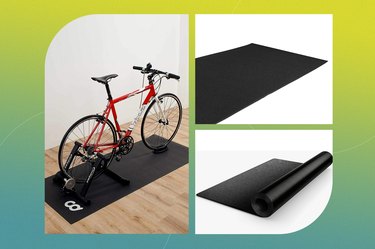 So, you've finally ordered your own at-home stationary bike. But did you remember to order a mat for your machine? Before you climb on and take your bike for a spin, consider adding a stationary bike mat to your setup.
"A bike mat mainly protects your floor from scratches and the sweat that's (hopefully) pouring off you," Emily Jacques, CPT, certified personal trainer and instructor for CycleBar GO, tells LIVESTRONG.com. "It also provides an even surface for your bike, so that you have a stable base and can lessen the noise if you live in a shared space or apartment."
Here are the seven best bike mats to get you rolling in 2023.
We spike with several indoor cycling instructors to learn all about different bike mats. From there, we narrowed down the top styles based on the following criteria:
Thickness level
Material
Durability
1. Best Overall: BalanceFrom Heavy Duty Exercise Equipment Floor Mat
‌Size: ‌60" L x 30" W
‌Thickness‌: unavailable
‌Material: ‌PVC foam
With more than 14,000 ratings, an average of 4.7 stars and a very affordable price point, it's safe to say this bike mat is a real fan favorite. It's designed with a grippy pattern on both sides, so it won't slip underneath your bike — a must-have, according to Jacques. And the moisture-resistant PVC material makes it easy to wipe clean.
If you want some extra space on the sides of your bike for floor work, opt for the 78" L x 36" W size.
2. Best for Carpet: CyclingDeal High-Density Mat
‌Size:‌ multiple, including 72" L X 36" W
‌Thickness:‌ 0.12"
‌Material:‌ PVC
Setting up your spin bike on carpet? You still need a mat — in fact, not having one is a recipe for mildewy, damaged carpet .
Fortunately, this mat for stationary bikes is thin, but it's dense and a lot firmer than other mats, which is a quality to look for, according to Denise Chakoian, founder of CORE Cycle.Fitness.Lagree. The firmness and durability makes this pick the best bike mat for carpet.
Its PVC material is slip-proof and waterproof and has enough structure to it that it won't get dented or bent out of shape between your bike and the carpet underneath — making for a secure and stable ride.
It's also available in eight different sizes, including the classic 72" L X 36" W size, so you can pick the dimension that's right for your bike and space.
3. Best for Peloton: Peloton Bike Mat
‌Size:‌ 72" L x 36" W
‌Thickness: ‌0.157"
‌Material:‌ PVC
Unsurprisingly, this leading at-home cycling company makes its own mat. And naturally, it's considered the best bike mat for Peloton bikes. It's perfectly sized, and the bike-mat duo have been extensively tested together for the ultimate rider experience.
Like all products from the brand, this mat's quality and durability make it a worthwhile investment, and it's a favorite among our editors.
"I've had the bike and mat combo for several years now," LIVESTRONG.com's Senior Fitness Editor Jessica Campbell-Salley says. "And the mat has stood up to tons of rides, sweat and even dirty cat paws — aka tons of cleaning — over the years."
4. Best Foldable Mat: Stamina Fold-to-Fit Folding Equipment Mat
‌Size: ‌84" L x 36" W
‌Thickness:‌ 0.25"
‌Material:‌ closed-cell foam
With seven foldable segments, this bike mat easily folds up for storage. Plus, if you want your mat to be extra thick and sound-absorbing, you can fold it in half.
It's longer than other mats, so you have extra material to play with. And it's also relatively thick to begin with, and Amazon reviewers note that it's durable, holds up over time and repels water. It's also got a textured, grippy surface to prevent slips.
5. Best Budget: Sunny Health and Fitness Home Gym Protector Mat
‌Sizes: ‌4, including 79" L x 35.5" W
‌Thickness:‌ 0.16"
‌Material: ‌PVC foam
Made of high-density PVC foam, this mat is thick enough to protect your floors and durable enough that it'll last through many workouts — part of why it has 4.6 stars after more than 24,000 ratings. It's also water-resistant and easy to clean.
The smallest version of this mat is perfect for small bikes that don't take up a large footprint and will set you back less than $30.
‌Size: ‌72" L x 48" W
‌Thickness: ‌0.25"
‌Material: ‌natural rubber and PER foam
If y0u're using your bike a lot, you need a mat that's durable and handles heavy weight, Chakoian says. Gorilla Mats are on the pricier end, but the brand prides itself in its heavy-duty construction and durability — so much so that it offers a lifetime warranty. While these aren't made specifically for bikes, they can more than handle the load.
The mat is made with a non-slip bottom layer and a durable top layer, and it also comes with a microfiber towel, storage bag and Velcro straps for easy cleaning and storage.
7. Best for Small Spaces: Supermats Heavy Duty Equipment Mat
‌Size: ‌46" L x 24" W
‌Thickness:‌ 0.25"
‌Material: ‌PVC
This small mat is ideal for use in a small space where you can't afford to lose extra room to an oversized mat and want something that covers the bare minimum of the machine. It does everything the other mats do — protects your floors and mutes noise and vibrations — but won't take up much floorspace.
4 Factors to Consider When Shopping for a Bike Mat
Generally, bike mats should be at least 72 inches long and 24 inches wide (6 feet by 2 feet), says Chakoian. This footprint fits most bikes while giving you room to stand next to the bike. After all, stepping directly onto hard floors in your cycling shoes could damage them, Jacques says.
The best bike mat size also depends on your bike. If you have a smaller bike and a small space, you may want to opt for something with less room around the sides. Just make sure that there's enough mat to fully cover the floor and that the bike isn't sitting right on the edges.
The best thickness depends on your floor, she says. "Usually thicker [0.25" and up] is better just because it's more durable and soundproof, but if you're in a carpeted room, you want something thinner to keep your bike even and flat."
The best bike mats will have a hard, durable surface "versus something soft like a yoga mat, which will break apart quicker and cannot handle the weight of the bike," Chakoian says.
Make sure the material is nonporous and either water-resistant or waterproof. That way, sweat and cleaning products won't soak into it and cause funky smells. Some brands use term "closed cell" to signify water resistance.
While rubber tends to be the most durable type of bike mat, it's also usually the most expensive, and these mats shouldn't be rolled, so they can be difficult for in-home cyclers who need to roll the mat up and store it from time to time. More often than not, these are what you'll find in commercial cycling studios.
Most of the best stationary bike mats for at-home use are made of PVC, a type of plastic, which isn't quite as durable but is much more affordable. If you're using the mat in your home, PVC mats should hold up just fine.
Ideally, you want your mat to be smooth on top and grippy on bottom. A smooth surface helps the bike sit flat and is the easiest to keep clean. And a textured or non-slip pattern on the bottom helps prevent it from scooting around as you're exercising, Jacques says.
Also, the stiffer the mat the better. If the material is too soft, the bike's feet will sink into it. This isn't necessarily a problem if it's minimal, but if it sinks in a lot, it can cause instability, potentially throwing you off balance or ripping through the mat and ruining your floor.
Will your bike mat be a permanent addition to your home gym floor or do you plan to store it between uses? If you plan to sometimes store this exercise bike accessory, consider that when shopping. Foldable bike mats are an option, and some thinner, non-rubber mats can be rolled.
But don't roll up thick rubber mats; it can damage them. "If you need to remove it from your floor, stand it up against a wall instead of folding the mat so it maintains its rigidness," Chakoian says.