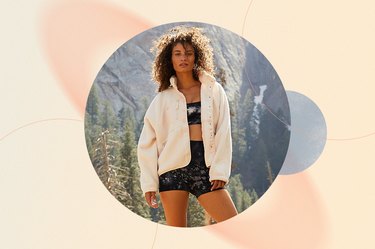 When orange leaves fall and pumpkins dominate grocery store shelves, something awakens deep within me. Now, hear me out, I'm not usually a particularly basic gal — I love pull-up bars, fantasy novels and tattoos. But with fall in full swing, my inner monster craves all things cozy.
The worst (and best) part about my fall fixation? It extends to my credit card. And when chillier temperatures arrive, that means endless flannel shirts and fleece jackets in my shopping cart.
But this season sticks out from previous years because I did the impossible: I managed to hunt down the absolute perfect fitness fleece jacket for my active outdoor adventures.
Sounds like an unthinkable accomplishment, right? What makes Free People's Hit the Slopes Fleece Jacket so outstanding? Let me walk you through my criteria:
We make deliberate choices about the language we use when it comes to gender. While more brands now carry gender-neutral workout clothes, you'll still typically see clothing brands, like Free People, market their products to men or women.
The main difference between most women's and men's clothing is the fit: Men's versions tend to be longer in length and roomier due to physical differences. However, fabrics, quality and comfort should be the same between gender-labeled pairs. We encourage everyone to purchase the products that feel right for them.
While I love rocking this workout jacket to coffee or brunch, I need a fitness fleece that's functional, too. And this one definitely checks that box. After numerous hikes and outdoor walks, this jacket offers just enough warmth without making me feel stuffy as I work up a sweat.
Plus, it's machine washable, so if things get extra strenuous, I toss the jacket in the machine with the rest of my workout clothes.
I don't like a jacket that's too snug. After all, a good fitness fleece should make you feel soft and cozy, not restrained. But at the same time, an overly-oversized fit sacrifices functionality, making it challenging to move my arms during a steep climb or quick jog.
This one is a boxy fit that's perfect for layering as the weather gets colder. It offers enough room for comfort but I still feel mobile and agile on a hike.
This jacket has several zip pockets — and they're actually big enough to fit my phone. (I have an iPhone 11 Pro Max, so not many pockets can get the job done.) The jacket buttons high up the neck, which I like when it's a little windy. But I can also fold the collar down for a more open look.
And finally, my favorite detail, the ends of the sleeves have a band that keeps them snug and in place. Once snow and sleet hit, those bands are going to keep my wrists nice and dry.
Another bonus? You can buy this baby in 20 different colors. (Yep, you read that right.) And FP even makes this fitness fleece jacket in different patterns and prints (cute florals, too) and a pullover style for those who don't want buttons going all the way down.
Get Your Perfect Fall Fitness Fleece
I've only had this jacket for a few months, but I'm not surprised its been such a big hit with Free People shoppers and my own girlfriends. After all, the company keeps coming out with new colors, patterns and iterations. I even invested a similar vest version that isn't quite as warm, but definitely versatile for higher temps.
But don't take my word for it, just scroll through Free People's reviews section. I'm not alone in my obsession with this fall fleece jacket.
‌So, what are you waiting for? Get fall-ready and add this perfect jacket to your cart and fall fitness routine.‌