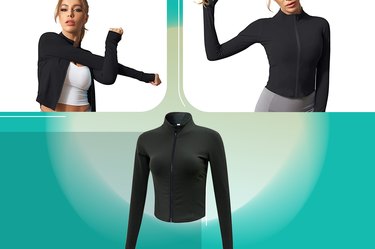 To say I'm a fan of shopping is probably the understatement of the century. The look of utter horror on my boyfriend's face after spotting my closet was evidence enough: I ‌‌love‌‌ to shop.
But my nice clothing doesn't even scratch the surface of my activewear obsession. In my defense, I exercise every day and, considering I mostly work from home, trendy and functional athleisure is a must.
Discovering the world of Amazon athleisure truly changed the game for my closet and wallet. Despite the dozens of Amazon pieces I've tried (and loved), there's one that holds a special place in my heart: Amazon's version of the Lululemon Define jacket from the brand Rowai.
A Quick Language Note
We make deliberate choices about the language we use when it comes to gender. While more brands now carry gender-neutral workout clothes, you'll still typically see clothing brands market their products to men or women.
The main difference between most women's and men's jackets is the fit: Men's versions tend to be longer in length and roomier due to physical differences. However, fabrics, quality and comfort should be the same between gender-labeled pairs. We encourage everyone to purchase the products that feel right for them.
Functionality and Features
Now, I know that a jacket is just a jacket. But the instant confidence boost I get when putting this one on is undeniable. It delivers everything you get from the Lululemon version, and the $15.99 price tag is just the icing on top of the stretchy, buttery-soft cake.
It has thumbholes and zips halfway up your neck for extra warmth. And the stitching on the front (just like the real Lululemon Define Jacket) gives your torso a compressive fit and flattering shape without feeling restrictive.
But don't take my word for it — three of my friends also have this jacket in their activewear collection after trying mine on.
"This jacket has a great cut and overall high quality. It washes well and dries quickly, too," says Samantha Hartman, one of my best friends, who can be found strength training, roller blading or playing volleyball on a daily basis. "I have it in two colors and I'm obsessed."
Like she says, this jacket isn't only a fashion statement — that's just a bonus. I've put this piece through countless walks, pull-ups and squat sessions. Not only does it wick sweat, it stays perfectly in place, giving me a distraction-free workout.
Choose the Right Size for You
This jacket comes in sizes S to XL. Usually Amazon sizing can be a little tricky, but this one actually runs pretty true to size. The small fits my 5'6" frame exactly the way it should, and my taller, 5'9" bestie loves the medium.
But if you're still a little concerned with sizing, try this pro tip: Read through the product reviews and take a peek at the customer photos. When you find someone with a similar height and body shape, you can get a pretty good idea of your best size.
And if you don't love the size you choose, Amazon Prime members get free returns, too!
Get Your Perfect Rowai Workout Jacket
I've only had this jacket for about a month, but I'm not surprised it's such a fan favorite on TikTok and among my own friends. Since my initial purchase, I even decided to invest in another color (it comes a bunch of options).
‌‌​So, what are you waiting for? Add this Amazon jacket that's as good as the Lululemon Define to your cart and fitness routine.‌