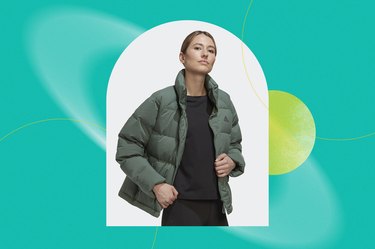 As an active person who packs their week with workouts like strength training, yoga, running and indoor cycling, rest and active recovery days are important. From experience, I know exercising at a pretty intense level without taking a enough breaks is a recipe for disaster (read: injury).
So, when an active recovery day rolls around, my favorite activities include long walks and easier hikes. And I don't stop when the winter weather rolls around.
I've lived in the northeast my entire life, and it can get pretty cold and windy, but I love how reinvigorating it feels to be outside — especially now that I work from home, I look for any chance I can get to get some fresh air. (It's worth noting getting outside boasts benefits like improving your mental health, mood and emotional well-being, according to the American Psychological Association.)
However, I haven't had much luck in the past when it comes to the right jacket to wear on my walks and hikes: They've either been too heavy, making me hot and sweaty (which I hate!), or they've been too light, and forcing me to either shiver through my activity or cut it short because I'm too cold.
A Quick Language Note
We make deliberate choices about the language we use when it comes to gender. While more brands now carry gender-neutral workout clothes, you'll still typically see clothing brands market their products to men or women.
The main difference between most women's and men's jackets is the fit: Men's versions tend to be longer in length and roomier due to physical differences. However, fabrics, quality and comfort should be the same between gender-labeled pairs. We encourage everyone to purchase the products that feel right for them.
Functionality and Features
Adidas' Helionic Relaxed Down Jacket has the two most important features you need in a winter coat: duck down/feathers (80 percent duck down, 20 percent feathers) and water repellency.
When you're outside in cold weather, staying warm and dry is a top priority, and Adidas delivers. I've worn this puffer jacket on days when it's been windy and on days when snow flurries were coming down, and I wasn't wearing many layers underneath at all. But I never felt overheated on my walks or hikes either.
For sunny, cold days in Colorado, LIVESTRONG.com's senior fitness editor Jessica Campbell-Salley found the jacket ideal for dog walks and rest-day jaunts. "For bigger hikes with lots of elevation gain it would be too puffy," she says. "But it's a stylish, comfortable way to stay warm while getting some less intense movement in."
Plus, the zipper goes all the way up to your chin (and there are snaps to reinforce the zipper), and the jacket features a stand-up collar, so no cold air can get through the jacket from the top. If you want even more protection against the elements, Adidas offers a hooded version of this jacket, which is also available in plus sizes 1X through 4X.
The jacket has two large front-zip pockets to safely store items like your keys or your phone when you're out and about. No jacket's pockets ever feel big enough for my large iPhone and my car keys ‌and‌ house keys, so it was great to be able to fit them into the pockets and not have to worry about them when other things — like a trail's rocky terrain — were more important.
Last, but certainly not least, this jacket is also environmentally friendly: It's made from 100 percent recycled polyester plain weave.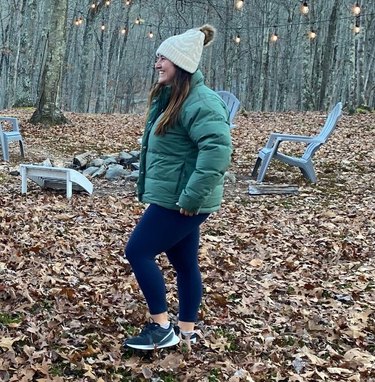 Choose the Right Size for You
This jacket comes in sizes S to XL. With so many different brands fitting a different way, finding your perfect size can be tricky. I noticed this jacket runs a bit large, and Campbell-Salley agrees.
While this sizing issue is OK if you know you're going to be wearing a few layers underneath the jacket, the jacket has a 600 fill power of down, which means it's pretty warm on its own without the need for excessive layering. If you're only planning on wearing a base layer or thin sweatshirt under the jacket, it's probably best to size down one size.
If you don't love the size you chose, Adidas offers free returns and exchanges within 30 days of your delivery. And if you're an adiClub member, you have up to 60 days to return or exchange your jacket.
Get Your Perfect Adidas Helionic Relaxed Down Jacket
The Adidas Helionic Relaxed Down Jacket comes in three colors (black, white and green) so there are plenty of options for any taste. I've only had this jacket for about a month, but it's become such a staple for all my outdoor activities and I know I'll wear it for winters to come.
‌‌‌​So, what are you waiting for? Add this Adidas jacket to your cart and active recovery routine!‌
Was this article helpful?
Thank you for your feedback!