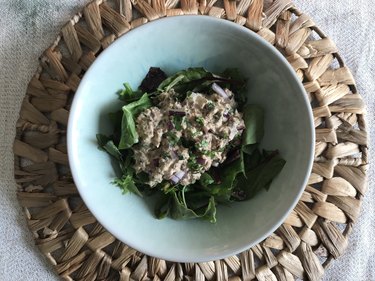 Sardines have always been on my list of healthy foods that seemed too fishy to actually eat. That said, I'm always looking for ways to get more longevity-supporting nutrients into my diet in ways that are cheap and simple.
So after much experimentation, I landed on a tasty sardine salad recipe that's made its way onto my weekly lunch menu.
The Health Benefits of Sardines
Sardines are full of omega-3 fatty acids, which support your brain and heart health as you age. Specifically, they have a type of omega-3 called DHA (or docosahexaenoic acid), which supports healthy brain function, according to the Academy of Nutrition and Dietetics.
Sardines are also high in protein, with 12 grams per fish, according to the USDA. Muscle atrophy is common in older adults and plays a role in many diseases and your ability to get around easily as you age, according to February 2018 research in ‌Aging and Disease‌. Getting more protein in your diet is one way to help support your health as the years go by.
My Go-To Sardine Salad Recipe
Despite all the health benefits, I had to find the right balance of flavors in order to really change my mind about this once-loathed protein powerhouse.
In this sardine salad recipe, I used a chipotle-lime flavored mayo and a squeeze of lemon juice to help mask the fishiness. Some chopped red onion and fresh parsley also add a refreshing taste.
The absolute best part of this sardine salad is how quick and simple it is to prepare. All you have to do is combine the ingredients in a bowl and decide how you want to eat it — there's no cooking involved, and you'll only use one dish!
Things You'll Need
Drain your sardines and place them into a medium-sized mixing bowl.
Mash the sardines with a fork.
Add the rest of your ingredients to the bowl and combine.
Enjoy!
Tip
You can eat this sardine salad on toast, in a wrap or on a bed of greens. It makes a great nutrient-dense snack paired with crackers or sliced cucumbers, too.
If you're not a fan of chipotle-lime mayo (or don't have any on hand), you can swap in regular mayo with a bit of sriracha and a squeeze of lime juice, or sub in some dijon mustard instead.
Was this article helpful?
Thank you for your feedback!