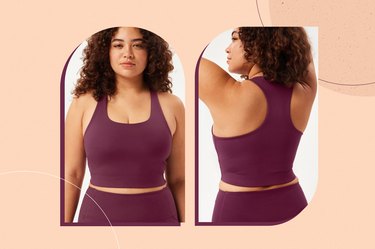 If you've ever been in the middle of a high-intensity workout and all you can think about is how uncomfortable your sports bra is, you're not alone. It's hard to focus when the one item you trusted to keep your girls in place and excessive boob sweat at bay fails.
I've been in this position more times than I can count — fiddling with straps, feeling the ache in my chest due to lack of support, the whole shebang. But I can finally say I've found a sports bra that doesn't inevitably become my main focus during an exercise session: Girlfriend Collective's Paloma Racerback Bra.
Features and Functionality
My favorite forms of activity are Peloton indoor bike workouts, running and walking (I love to unwind with a good podcast). The Girlfriend Collective Paloma sports bra is great for these high- and low-intensity forms of exercise alike.
It's compressive enough that there's no unwanted bouncing, but it's not so compressive that I can't breathe (sometimes compressive sports bras can be way too tight!). It also fits true to size, which is a major plus because returning online purhases can be such a pain.
I also appreciate this sports bra is longer than your typical one and has a lot of coverage — it's honestly more of a crop top than a bra. The straps are also fairly thick and cushioned, which prevents them from digging into your shoulders and helps give your breasts more support.
There's no digging — or chafing — anywhere else either. The bra sits smoothly on your chest and doesn't move, even when you do.
The Paloma bra doesn't have padding in the cups, but I don't find it to be an issue because the material in general is pretty thick. (I also personally find padding to be a bit uncomfortable sometimes — especially removable cups that move around while you work out and bunch up when you put the bra in the washer and dryer.)
Speaking of which, this bra has held up very well through a few months of washes. There's no threads coming loose or rips at the seams like you sometimes get with lower-quality materials. (This bra is made mostly from recycled materials — more on that below — and spandex.)
For being bright yellow, the bra pleasantly surprised me by not allowing any sweat to show through. And the Paloma bra comes in six other colors, including black, white, navy blue, purple, forest green and brown, for whatever mood you're in.
Some other highlights include Girlfriend' Collective's dedication to size inclusivity (the bra goes up to a 6XL) and sustainability (it's made from 79 percent recycled plastic bottles). And you can feel safe taking your workouts outdoors because this sports bra has a UPF 45+ rating for protection against harmful ultraviolet rays.
Get Your Own Girlfriend Collective Paloma Racerback Bra
While I have quite the number of sports bras in my collection, Girlfriend Collective's Paloma Racerback Bra is by far my favorite.
But don't just take my word for it. There's a reason why Girlfriend Collective is such a popular and beloved clothing brand: They make cute and functional pieces for all body types and use environmentally friendly materials.
Ready to own your new favorite sports bra? It's a purchase you won't regret.
More Workout Clothing We Love