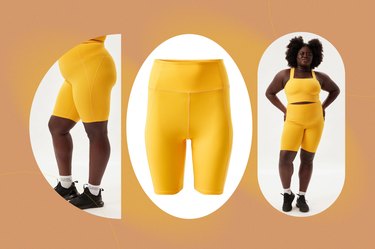 I truly can't count the number of times a pair of workout shorts have crept up my thighs (actually more like became the length of underwear), even when the brand promised they'd stay in place.
I'm willing to chalk this issue up to the fact that I did gymnastics for years growing up, and then switched over to CrossFit, so my thighs are probably a bit more muscular than the average person — because it even happens with longer bike shorts. Regardless, I'm always annoyed when this happens because it inevitably leads to discomfort and even chafing.
Features and Functionality
After taking a few group cycling classes in studios over the years and enjoying them, I recently decided to spring for my very own Peloton bike. Maybe it's because it's new or maybe because I don't have to actually leave my apartment to use it, but I've become obsessed with it and hop on it for a workout almost every day.
With that being said, I needed to add a few more bike shorts to my closet so I wouldn't be overwhelmed with the amount of laundry I had to do. And these Girlfriend Collective shorts have been a staple in my wardrobe ever since.
The bike shorts are high-waisted, and they don't roll down your stomach like some shorts do. They're also long enough where they don't move and cause chafing on my thighs when I'm exercising. They have an 8.5-inch inseam, which seemed long to me at first glance (I'm only 5'2) but they still hit above my knees and don't resemble capris.
These shorts also fit true to size. With some brands, you don't really know what to expect, and you may have to size up or down. But Girlfriend Collective takes the guesswork out of shopping.
Some other highlights include the fact that they go up to a size 6XL, they're made from 79 percent recycled plastic bottles and have a UPF 45+ rating for protection against harmful ultraviolet rays.
The only downside to these shorts is they're a little bit see-through, but if you get them in a darker color they should be fine. (For reference, I have them in bright yellow, but there are six other colors you can choose from — most of which are dark tones.)
Get Your Own Girlfriend Collective High-Rise Bike Shorts
If you're looking for shorts that will stay put during any activity — even those high-intensity sessions — Girlfriend Collective's High-Rise Bike Shorts should be the next pair you purchase. They're comfortable, breathable and don't move an inch during my workouts.
More Workout Clothing We Love