Mother's Milk tea, a product manufactured by Traditional Medicinals, contains a combination of herbs historically used to enhance breast milk production. Mother's Milk contains fennel, aniseed, coriander, fenugreek and blessed thistle. All these herbs are generally regarded as safe when they are used in moderation, under the guidance of a qualified practitioner. However, they may cause unanticipated side effects. Consult your health care provider before using any medicinal herb while nursing.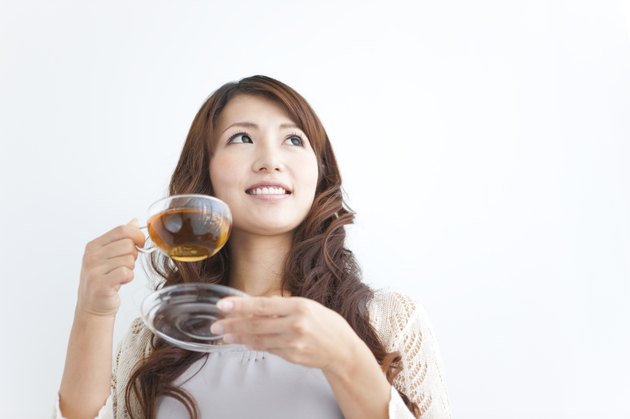 Decreased Breast Milk Supply
Fennel and anise, the two main ingredients in Mother's Milk tea, have been used for centuries to stimulate milk excretion. A report published in the Journal of Ethnopharmacology attributed their effects to the presence of anethole, dianethole and photoanethole, three compounds that are chemically similar to estrogen. Kelly Bonyata, a board-certified lactation consultant, notes that these herbs are effective for promoting the milk-ejection reflex, or let-down. However, in large amounts, the estrogen-like compounds in these herbs may actually decrease breast milk production.
Body Odor
Fenugreek in Mother's Milk tea contains sotolone, a fragrant compound that causes body odor. Because of this, Mother's Milk tea may can cause the mother and baby to produce sweat and urine with a strong maple-like odor. While this side effect is ultimately harmless, a pediatrician should be notified if the baby's urine begins to acquire the odor. Kelly Bonyata warns that strange-smelling urine in newborns may also by a sign of maple syrup urine disease, a serious metabolic disorder.
Excessive Stomach Acid
The National Institutes of Health (NIH) warns that blessed thistle, an ingredient in Mother's Milk tea, can increase the production of stomach acid. If taken in massive amounts, Mother's Milk tea cause stomach ulcers or heartburn.
Upset Stomach
According to the National Center for Complementary and Alternative Medicine, some people develop gas, bloating and diarrhea after ingesting supplements containing fenugreek. Sensitive babies may develop colic-like side effects due to an increased production of stomach gas.
Allergic Reaction
All plants can cause allergic reactions in people with pre-existing sensitivities. Mother's Milk tea may cause rashes, hives, wheezing or diarrhea in people who are allergic to one of more of its ingredients. Use medicinal herbs with extreme caution if you have a history of allergies.