"Statins" are the most commonly prescribed class of drugs to lower total cholesterol and low density lipoprotein cholesterol, also referred to as LDL-C. Statins work by inhibiting cholesterol synthesis in the liver. Results are a 20 to 50% drop in LDL-C, depending on drug and dose. Some people find the side effects a problem, or have other reasons to not take or stop taking statins. Alternatives, while not as effective, will lower cholesterol by other means.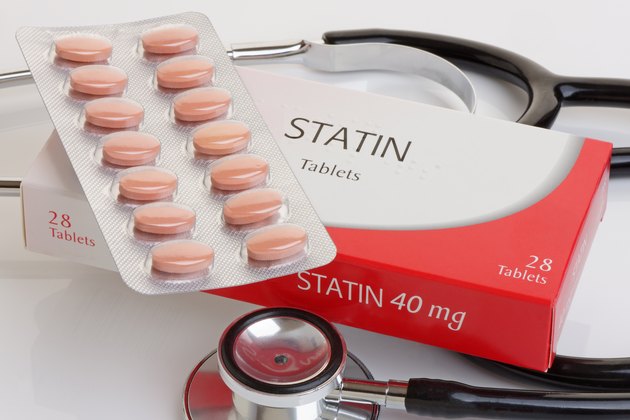 Niacin
Niacin, brand names Niacor or Niaspan, lowers LDL-C from between 2 to 33%, depending on dose. Niacor is the immediate release form and doses range from 0.5 to 3.0 g/day. Niaspan is the extended release form and doses range from 0. 5 to 2.0 g/day. Adverse side effects are milder with Niaspan. (see Reference #1)
Cholestyramine
Resin-containing products with brand names Cholestipol, Questran, Prevalite and Locholest date back to the 1950s and function by binding cholesterol-rich bile in the digestive tract. Long-term clinical trials with resins resulted in a 15.8% lowering of total cholesterol, LDL-C not reported, and a 29% reduction in the risk of heart disease deaths. (See Reference #2)
Ezetimibe
Ezetimibe, brand name Zetia, lowers cholesterol by blocking the intestinal cell receptors responsible for absorbing cholesterol. According to a review by Dr. A. Pandor in the May 2009 issue of "Journal of Internal Medicine," Zetia at the standard dose of 10 mg/day resulted in an 18.6% decrease in LDL-C compared to placebo. Trials have not been long or large enough to measure clinical outcomes. (See Reference #3)
Phytosterols
Phytosterols and phytostanols are plant-derived molecules similar in structure to cholesterol. When consumed 2 to 3 times a day, with meals, these plant sterols interfere with cholesterol absorption, resulting in a 10 to 12% decrease in LDL-C. Phytosterols are food ingredients, not drugs. They are sold either incorporated into foods such as margarine, or as dietary supplements. (See Reference #4)
Soluble Fiber Foods
Beta-glucans are in whole oat and barley foods. Psyllium seed husks are incorporated into foods and dietary supplements. These soluble fibers interfere with cholesterol absorption. Regular use 2 to 3 times a day results in approximately 5% drop in LDL-C. The U.S. Food and Drug Administration allows label health claims for these foods. For example: "Eating soluble fiber from foods such as [name of food] as part of a diet low in saturated fat and cholesterol, may reduce the risk of heart disease."
Therapeutic Lifestyle Changes
The National Cholesterol Education Program recommends Therapeutic Lifestyle Changes, referred to as TLC, for people who's LCL-C is elevated but not to the point that a drug intervention is warranted yet. TLC changes include an eating plan with less than 7% of calories from saturated fat, less than 200 mg of dietary cholesterol per day, weight loss if overweight or obese, and exercising at least 30 minutes per day most if not all days. TLC recommendations include the already mentioned soluble fiber and plant sterol interventions. (See Reference #5)
Red Yeast Rice-Natural Statin
This dietary supplement is problematic. If it works, i.e., contains statin-like compounds made by fermenting a specific red-colored yeast on rice, the FDA considers it illegal. If it does not contain active compounds it will not work, but is legal to sell. The supplement products on the market do no state on the label whether they contain actives or not.