As a mineral that's essential for a normal heartbeat and the function of your muscles, potassium should have a prominent place in your daily diet. Individuals taking certain medications or those with certain medical conditions, however, might need to limit how much potassium they eat to avoid negative health consequences. If fish has a place in your diet, knowing which options are lowest in potassium will help you create a healthy eating plan based on your health status.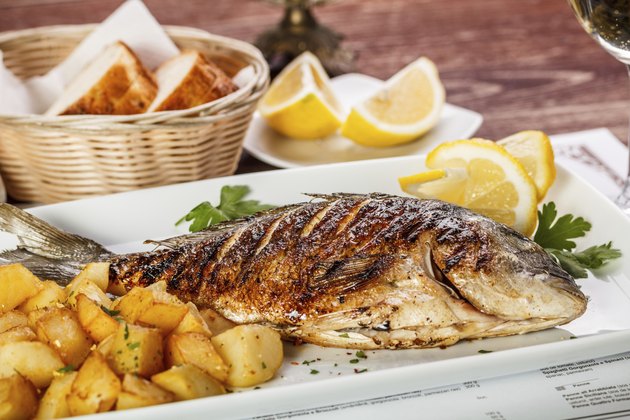 Why It Matters
Hyperkalemia, or high potassium, is a concerning situation because high levels of this mineral can cause side effects such as weakness, diarrhea, nausea and pain. Long-term hyperkalemia can lead to paralysis, abnormal heartbeat and a decrease in urination, according to the Cleveland Clinic. Heart failure medications may raise the levels of potassium in your body, requiring that you limit your dietary intake. People with kidney failure may also need to limit their potassium intake.
Fish Low in Potassium
Pickled herring is among the fish lowest in potassium, with 59 milligrams per 3-ounce serving. A fillet of ocean perch has 113 milligrams, making it another of your lowest-potassium options. With between 200 and 300 milligrams per serving, haddock, cod, flatfish, pollack, orange roughy and canned light tuna are also good choices for fish low in potassium.
Shellfish Low in Potassium
Three ounces of cooked lobster contain 196 milligrams of potassium, and one crab cake contains 194 milligrams. A 3-ounce portion of king crab has 223 milligrams of potassium, while the same amount of blue crab has 220 milligrams. Imitation crab has just 77 milligrams per 3-ounce portion. Canned shrimp contains 68 milligrams of potassium per 3-ounce portion.
Seafood to Avoid
If you're following a low-potassium diet, speak with your doctor about what foods, including fish and shellfish, to avoid. In the meantime, certain types of fish can be quite high in potassium, likely making them off-limits. For example, half of a halibut fillet contains 840 milligrams and half of a sockeye salmon fillet has 632 milligrams. A piece of swordfish has 529 milligrams of potassium, and a rockfish fillet has 696 milligrams. Yellowfin tuna and pollack contain good doses of potassium, too.