Psychiatrists and doctors may prescribe the generically named medication mirtazapine for the treatment of mental depression. It is known by the brand name Remeron in the United States, and Australians buy it with the brand name Axit. The medicine, categorized as a tricyclic antidepressant, works to elevate mood in a depressed person by raising the activity level of norepinephrine and serotonin, two neurotransmitters, in the brain. MayoClinic.com reports that serious side effects only occur rarely.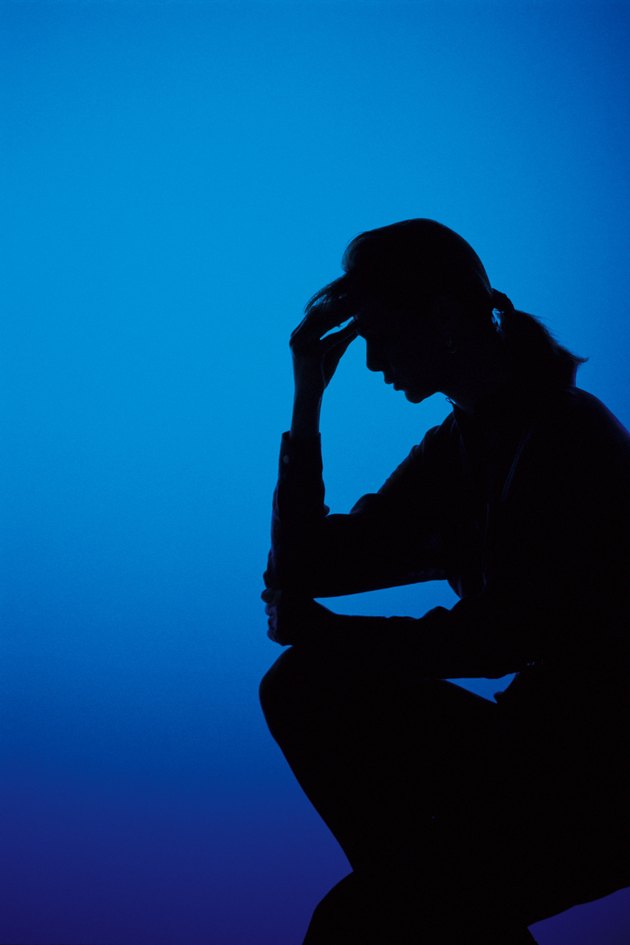 Depression
While Axit works to improve the person's mood and alleviate depression symptoms, it also can cause some common side effects of depression, MyDr.com.au states. These types of non-serious side effects include feelings of anxiety as well as an inability to sleep. Consult a physician if these problems appear significant.
Mental Difficulties
Taking Axit also can induce some temporary abnormalities in the mental processes of the person taking it, Drugs.com indicates. For example, the person may experience unusual and disturbing dreams. The drug also may cause the person to think abnormally. Fortunately, these kinds of common side effects do not classify as serious and probably will disappear as the person grows accustomed to having Axit in her system.
Drowsiness
MyDr.com states that Axit can cause sleepiness and drowsiness as well as an inability to concentrate. These common side effects occur when the person first takes the medication, but unless they appear serious and do not stop, the person will need medical intervention for them.
Nausea
The National Institutes of Health report that mirtazapine may induce common side effects such as nausea and vomiting during initial use. Doctors expect these kinds of side effects to end on their own, but should know if they feel severe. The medicine in Axit also may cause the bowels to function improperly during initial use, causing constipation. This, too, should end shortly.
Appetite Changes
The mood elevation effects of taking the tricyclic medication Axit may cause the person to feel hungrier than normal, which can lead to eating excessively. This can result in another potential common side effect, gaining weight. These non-serious side effects also generally cease without medical aid, the National Institutes of Health indicate.
Is This an Emergency?
If you are experiencing serious medical symptoms, seek emergency treatment immediately.