The prescription drug escitalopram oxalate, available as the brand Lexapro, is classified as a selective serotonin reuptake inhibitor. Manufactured by Forest Pharmaceuticals, Lexapro increases serotonin levels in the brain, making it useful for treating depression and generalized anxiety disorder, which can result from imbalances in brain chemicals. Lexapro also can help some people who experience migraine headaches.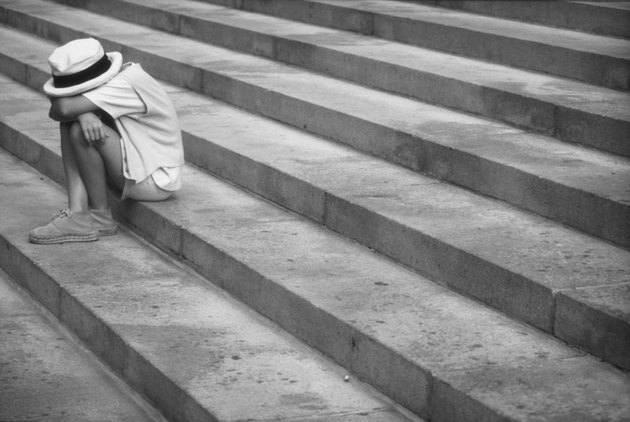 Depression Treatment
Lexapro is beneficial for people diagnosed with clinical depression, according to eMedTV. Symptoms of this disorder may include unexplained pain, sleeping too much or having insomnia, or eating too much or having a lack of appetite. Changes in appetite can lead to weight gain or weight loss. People with clinical depression, may lose interest in activities they once enjoyed, have feelings of worthlessness or hopelessness, or have suicidal thoughts. The U.S. Food and Drug Administration has approved Lexapro for treating adults with depression, as well as adolescents age 12 to 17 years old. Significant improvements in mood usually appear in four to six weeks.
Anxiety Treatment
The FDA has also approved Lexapro for treating generalized anxiety disorder. This condition is very different than the normal anxiety that most people experience on occasion, as noted by the U.S. National Institutes of Health. Generalized anxiety disorder causes chronic and excessive worry and tension that disrupts daily life, even though no specific events have occurred that explain this level of anxiety. Generalized anxiety disorder can cause unexplained feelings of apprehension, difficulty concentrating, difficulty sleeping, fatigue, headaches and muscle aches. A doctor might diagnose generalized anxiety disorder if these symptoms last for six months or longer.
Migraine Prevention
Doctors are allowed to prescribe medications for purposes not approved by the FDA, called off-label uses. Lexapro has an off-label use for preventing migraine headaches, according to eMedTV. A migraine headache is intense and severe, often occurs on only one side of the head, and may also involve symptoms of nausea, vomiting and sensitivity to light. A migraine headache can last for several days. Lexapro is especially effective at preventing these headaches in people who also have depression or anxiety. The FDA warns that migraine treatment drugs known as 5-hydroxytryptamine receptor agonists, or triptans, can be dangerous to take along with Lexapro. A doctor should be notified about any other medications be taken.