When excess fluid accumulates in the circulatory system or body tissues, it results in swelling. This swelling, also referred to as water retention, causes puffiness and discomfort. In some cases, water retention affects the fingers. Severe cases of water retention require medical evaluation to determine the cause and develop a treatment plan.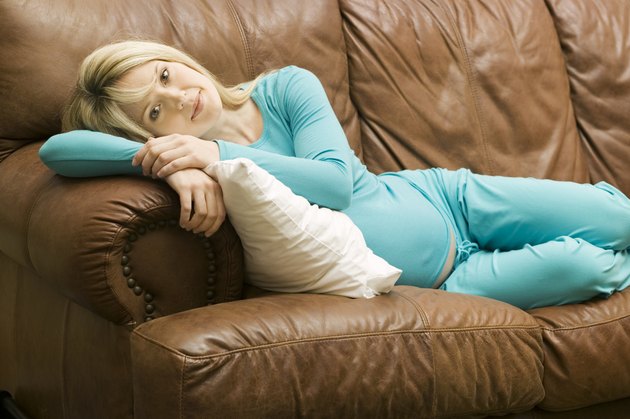 Premenstrual Syndrome
Before a menstrual period occurs, some women experience premenstrual syndrome. Changing hormone levels cause swelling, which affects the fingers and other body parts. Over-the-counter drugs for premenstrual syndrome contain caffeine, which acts as a diuretic. Diuretics increase the excretion of fluid from the body to reduce water retention.
Pregnancy
During pregnancy, the amount of fluid in the body increases to meet the developing fetus' needs. This extra fluid builds up in the fingers, feet, legs and ankles. Preeclampsia, a condition associated with pregnancy, also causes swelling. MayoClinic.com describes preeclampsia as a condition that occurs after week 20 of pregnancy. Characteristics of this condition include swelling, high levels of protein in the urine and elevated blood pressure. Without treatment, preeclampsia can lead to the death of a mother or her baby.
Congestive Heart Failure
Penn State Milton S. Hershey Medical Center defines congestive heart failure as an inability of the heart to pump blood properly. People with coronary artery disease, untreated high blood pressure, enlarged heart and chronic kidney disease have an increased risk for congestive heart failure. These conditions damage the heart muscle and cause blood to back up in the lungs and other body parts. This pooling of blood causes water retention.
Kidney Disorders
The kidneys control the amount of sodium and other electrolytes in the body. These organs work with hormones to control fluid levels in relation to electrolyte levels. When sodium levels decrease, the body retains too much water. This occurs because low sodium levels cause the body to produce too much antidiuretic hormone, which signals the kidneys to hold on to water; this can result in finger swelling.
Allergic Reactions
When the body has an allergic reaction to a specific substance, the immune system releases histamine into the bloodstream. The histamine causes swelling and other allergy symptoms, according to MedlinePlus. If an allergen comes into contact with the fingers, it could lead to water retention. Causes of allergic reactions include foods, animal dander, pollen, prescription drugs and insect bites.
Medications
Some medications cause the body to retain water in the fingers and other body parts. Hormone replacement drugs and birth control pills contain estrogen and testosterone that cause swelling. Calcium channel blockers, which work to reduce blood pressure, also cause swelling. Examples of calcium channel blockers include diltiazem, verapamil and amlodipine. Other drugs that cause water retention include tricyclic antidepressants, steroids and MAO inhibitors.
Lymphedema
The lymphatic system consists of blood vessels and interstitial spaces between the body's organs and tissues. This system circulates immune cells that protect the body against viruses, bacteria and other organisms that cause disease. When lymphatic fluid builds up between tissues, it results in water retention and discomfort. The National Lymphedema Network explains that this reduces the amount of oxygen in the lymphatic system, increases the risk for infection and makes it difficult for wounds to heal properly.