Helicobacter pylori are bacteria which causes infection in the stomach or the first part of the small intestine. A helicobacter pylori infection usually does not produce any symptoms but can include nausea, vomiting, burning pain in the stomach and bloating. Treatment of the infection usually includes a proton pump inhibitor, such as omeprazole (Prilosec, Omesec) or lansoprazole (Prevacid) and two antibiotics. Typically clarithromycin (Biaxin) is combined with amoxicillin (Moxatag, DisperMox) or metronidazole (Flagyl) for effective elimination of the bacteria. The medications are administered for 7 to 14 days for effective treatment. Many side effects are associated with these medications. See your doctor to determine which medications are appropriate for you.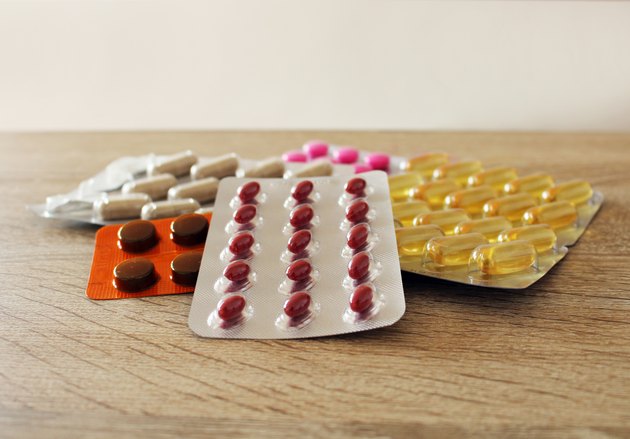 Metallic Taste
Clarithromycin or metronidazole may produce a metallic taste in the mouth. Clarithromycin may cause abnormal taste in up to 7 percent of patients. Omeprazole has the potential to cause abnormal taste in patients, as well. Esomeprazole and metronidazole may cause dry mouth. The patient may chew gum or suck on candy to help with these undesired side effects.
Nausea and Diarrhea
Nausea and diarrhea are common side effects that may occur with the use of these medications. The proton pump inhibitors may cause nausea, abdominal pain, and diarrhea. Up to 6 percent of patients on clarithromycin may develop diarrhea. Avoiding large, fatty meals. Drinking a lot of fluids may help with these adverse effects. Diarrhea lasting more than 2 days, or more than 6-8 loose stools in a 24 hour period, needs to be reported to a doctor immediately.
Headache
Headache is a common side effect of the medications used for treating helicobacter pylori infection, particularly with the proton pump inhibitors. About 8 percent of individuals may experience a headache with pantoprazole and esomeprazole. Lanzoprazole and omeprazole may cause a headache in up to 7 percent of individuals. This side effect is not permanent and diminishes with continued use. Uptodate explains that metronidazole may cause headache, skin flushing and sweating when combined with alcohol; therefore, alcoholic beverages should be avoided during treatment.
Sun Sensitivity
Metronidazole may cause sun sensitivity, which increases the risk of developing a sun burn. The patient may also develop redness, inflammation and skin discoloration on the sun exposed area. The patient should avoid being in the sun and use sun screen with an SPF of at least 30. Wearing long sleeves, pants and a hat may also protect the skin and help to avoid these reactions. If the patient's symptoms worsen or if she develops itchiness and hives, she should inform a physician right away.