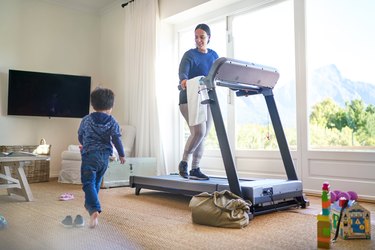 While the energy inside a gym can offer extra motivation, these days, you can get pretty much any workout machine delivered right to your home. And for those who are short on time or just want a little extra convenience, a home-gym upgrade can be worth the investment.
There's no shortage of fitness equipment brands (particularly post-pandemic), which makes your search a little more challenging. We've saved you some time and chatted with a fitness professional to gather six of the best brands.
Personal trainer and health coach Alan Filauro, CPT, gave us his advice on what to look for in the best workout equipment brands. With his guidance, we picked our favorites based on the following criteria. You can learn more about how we cover products here.
Equipment quality
Price
Equipment variety
1. Best for Cardio Equipment: NordicTrack
For high-quality cardio equipment, NordicTrack is among the best. Treadmills, rowers, ellipticals, bikes — NordicTrack has it all. Plus, all of their equipment comes with a subscription to iFit, their interactive personal training platform. And, they make one of Filauro's favorite cardio machines on the market.
"I prefer the Elite Treadmill (32-inch) by NordicTrack," Filauro says. "It is on the cheaper side and provides the highest incline on the market, which really benefits my fastest cardio clients."
NordicTrack Products to Try
2. Best for Strength Equipment: Rogue Fitness
"Rogue Fitness covers all my favorite functional equipment with the medicine ball, kettlebells, barbells and dumbbells," Filauro says.
Anyone looking to do their strength and conditioning right at home needs weights of varying shapes and sizes, and Rogue has it all. Filauro especially likes their kettlebells, but you can choose from all kinds of hand weights, power racks and larger rigs, depending on your available space and fitness goals.
Rogue Fitness Products to Try
‌3. Fold Back Wall Mount Rack‌
3. Best for Virtual Workouts: Peloton
What started as only a home bike has grown into one of the most recognizable fitness brands. What sets Peloton apart is the company's high-quality, diverse livestream workouts that connect you with a virtual fitness community.
Now, the brand offers both bikes and treadmills and rowing machines. Plus, the app ($12.99/month) includes all kinds of at-home workouts, including boxing, yoga and outdoor training.
4. Best on a Budget: Sunny Health & Fitness
As far as affordable fitness equipment goes, Sunny Health & Fitness is worth considering. They have a vast selection to choose from with reasonable price points, which is ideal if you need several machines for your home gym. Readily available on Amazon, Sunny Health & Fitness is a popular workout equipment brand with thousands of five-star reviews.
Sunny Health & Fitness Products to Try
‌1. Mini Stepper Stair Stepper Exercise Equipment With Resistance Bands‌
‌2. Squat Assist Row-N-Ride Trainer for Glutes‌
‌3. Magnetic Rowing Machine Rower With LCD Monitor‌
5. Best for Variety: Life Fitness
A brand you've probably seen in your local gym, Life Fitness has a pretty wide variety of fitness equipment, including stair climbers, treadmills, exercise bikes and strength machines.
Nearly all Life Fitness cardio equipment has an LCD entertainment system console for interactive workouts. These systems allow you to track your heart rate, calorie burn and workout time, among other metrics.
Life Fitness Products to Try
‌1. F3 Folding Treadmill‌
6. Best for Durability: Precor Fitness Manufacturer
Newly a part of Peloton, Precor manufactures and distributes high-end commercial and home fitness equipment, including treadmills, elliptical trainers, climbers and more.
Many of Precor's treadmills are built to withstand high levels of intensity and use and are equipped with a self-cooling motor to prevent overheating. The company's bike seats, pedals and handlebars are ergonomically designed for extra comfort, and the stair climbers help promote proper posture and minimal joint impact.
‌3. EFX 200 Line Elliptical‌
3 Factors to Consider Before You Buy
While you can definitely find affordable at-home workout equipment, machines are usually a big-ticket purchase. So, before you begin your hunt for the perfect treadmill or bike, consider how much you can comfortably spend.
For those shopping on a budget, consider more affordable brands like Sunny Health & Fitness. You can definitely find affordable, high-quality brands out there. Or consider renting a machine if you're not quite ready to purchase your own.
Although some people may have an entire basement or garage for their home gym, not everyone has ample space. And unfortunately, most gym machines are pretty big. So, make sure to measure your available space closely, comparing to the dimensions of different machines.
When picking the spot you'll be doing your workouts, Filauro suggests a more private area. Look for a space that will help you stay focused on your workout, eliminating distractions (like other people in your home) as much as possible.
3. Your Favorite Activities
Although this seems pretty obvious, don't buy a treadmill if you hate running. In other words, don't buy a machine just because it's a piece of common at-home workout equipment and you ‌hope‌ you'll use it. These days, you can find just about any piece of equipment for your home.
And when you finally get a new machine for your home, "put [training] in your schedule and believe you're letting down your favorite trainer if you do not start on time," Filauro says. Intentionally carving out time in your schedule can help guarantee you're putting your brand-new machine to good use.