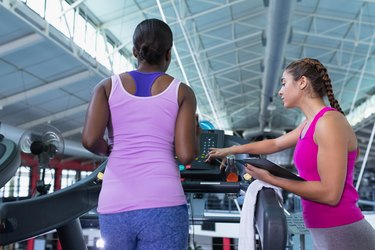 The quality, diversity and durability of gym equipment are some of the benefits of purchasing and using high-quality machines. Makers of the top-rated home gym equipment brands take into account the variety of exercise styles and the function of the body when building and improving their equipment.
Become familiar with different brands of exercise equipment to find which products work best for your health and fitness goals. Utilizing a calorie tracker app is also a great resource as it has your personalized information on board.
Precor Fitness Manufacturer
Precor manufactures and distributes high-end commercial and home fitness equipment such as treadmills, cycles, elliptical trainers, climbers and more. Precor is affiliated with Amer Sports — a leading sports equipment company with brands recognized internationally such as Wilson, Atomic and Suunto. Precor treadmills are built to withstand different levels of intensity and are equipped with a self-cooling motor.
Cycle seats, pedals and handlebars are ergonomically designed for comfort during longer periods of cycling. Elliptical trainers are durable and versatile with handles for a full body workout or the option to stride hands-free for increased calorie burning. Climbers are designed to encourage proper posture with minimal impact on your joints. Equipment is distributed through a network of authorized dealers to more than 100 countries.
Consider Life Fitness
In 1968, Keene P. Dimick created an exercise bike to improve his own physical condition. His invention inspired entrepreneurs Ray Wilson and Augie Nieto to create Life Fitness with the goal of creating exercise equipment that would help generations of athletes, trainers and exercisers to live healthier and more fulfilling lives. Presently, Life Fitness employs more than 1,700 people in 12 international sites and manufacturing facilities and has 186 dealers and distributors in more than 120 countries.
Equipment includes cardio and strength-training pieces such as stair climbers, treadmills, exercise bikes and a variety of multi-part home and commercial weight training stations. Life Fitness cardio equipment has LCD entertainment system consoles for interactive workouts with features such as calorie tracking and heart-rate monitoring.
International Leader, Star Trac
Star Trac is an international leader in commercial quality cardiovascular, total body and strength training fitness equipment. Products include recumbent bikes, weight training stations and total body elliptical trainers. Star Trac designs and manufactures their own equipment in a 100,000-square-foot facility that houses an assembly line, a development laboratory, metal fabrication station and weld shops.
The logistics center is next to the manufacturing center and handles the company's shipping, receiving, customer service and sales departments. Manufacturing and shipping products in two central locations that are close together allows for quality control and continuous improvements in a timely manner.
Cybex International, Inc.
Cybex International Inc. is a leading manufacturer of premium exercise equipment for consumer and commercial use. Cybex products include both strength and cardiovascular equipment engineered to reflect the natural movement of the human body. Cybex offers three lines of strength equipment with more than 150 pieces that include modular, plate loading or weight-training equipment. Cardiovascular equipment includes treadmills, cycles, steppers and the innovative Cybex ArcTrainer. Treadmills are made with smart technology called Intelligent Suspension that reduces the shock on the back and knees.
Cycles feature three types of exercise — constant power lets the cycle take control over the exercise, bike mode simulates outdoor cycling with increasing resistance and the isokinetic setting maintains a pre-set speed. The ArcTrainer stimulates stabilizing muscle groups for maximum calorie burning with minimal impact on your joints. Cybex sells its products internationally in 87 countries with a direct sales force in the United Kingdom and two manufacturing facilities that employ over 600 people.