You can rent exercise equipment for numerous reasons and occasions. You might want to try out a piece of equipment or type of exercise, you might have plans to exercise at a vacation home, or you might rent the equipment only for the time needed to lose a certain amount of weight. You can also rent outdoor sporting goods equipment to enjoy for a few hours. Whatever the reason, you can rent exercise equipment in your area for short-term use.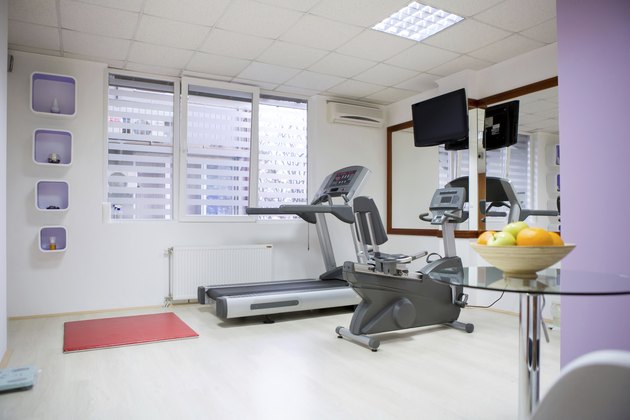 Try It Out
A variety of exercise equipment is available to rent for indoor use in your home or business. You can rent numerous types of exercise machines such as elliptical machines, treadmills, stationary bikes and stair steppers. Many rental companies also offer rentals of full home gym systems or free weights with or without the bench.
Get Out of the House
Another option is to rent equipment for engaging in outdoor sports. Outdoor sports equipment for activities such as biking, golfing and backpacking are all available to rent. You can also rent equipment for specialized outdoor activities such as water sports, which would include items such as kayaks and surfboards; or winter sports, including rentals such as skis, snowboards, snowshoes or skates for ice skating.
Across the Country
Online companies such as Gym Source and Rent-a-Gym offer rentals for indoor exercise machines and free weights to locations across the nation from their websites. You can also look for local equipment rental businesses. Local parks, sporting goods stores and specific local sports rental businesses offer outdoor sporting goods rentals. For example, REI offers rentals for mountaineering equipment, camping equipment, skis, snowboards and snowshoes in stores across the nation. You can also check websites like RentItToday.com for this type of rental.
How It Works
The rental process will depend on the business you are renting from. When you rent an exercise machine from Rent-a-Gym, you choose a type of exercise equipment on the website, fill out a rental application and talk to a representative. The company delivers the equipment and you can schedule a pick-up when you are ready. With outdoor sporting goods, you can generally go to the store, rental company or park and rent the equipment that day. However, it is best to contact the business in advance to confirm the desired equipment will be available when you need it.