Esophageal ulcers can make eating difficult, especially if you have pain when swallowing, or you experience nausea, vomiting or heartburn. Gastroesophageal reflux disease, or GERD, is the most common cause of esophageal ulcers, but bacterial or fungal infections, excessive vomiting and esophageal irritants such as alcohol can also cause ulcerations. While there is no specific diet for esophageal ulcers, eating foods that minimize acid reflux may help manage symptoms. Talk to your doctor before making any changes to your diet.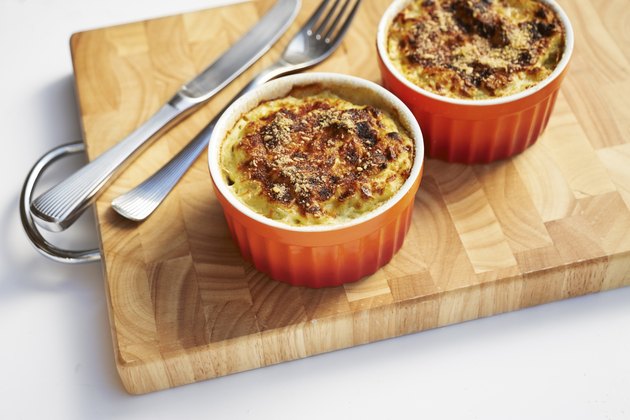 Basic Diet Guidelines
When you have an esophageal ulcer, you need to follow a low-fat diet. Fat in food delays stomach emptying and decreases pressure in the lower esophageal sphincter, or LES, which is the valve that separates your stomach and your esophagus. Both of these issues increase the risk of acid reflux and esophageal irritation. A low-fat diet for esophageal ulcers means limiting your intake of fried foods, high-fat meats such as bacon, high-fat desserts, and added fat such as oil and butter. It also helps if you eat small, frequent meals throughout the day to limit stomach pressure and possible reflux.
Foods to Eat
Your esophageal reflux diet should include a variety of things from all the food groups: fruits, vegetables, whole grains, lean sources of protein and low-fat dairy products. Eating an array of healthy foods ensures that your body gets all the nutrients it needs to promote healing and overall good health. If you experience pain when swallowing, be sure to chew your food thoroughly. If that doesn't help, you may benefit from eating softer or pureed foods, such as stewed meats, mashed potatoes, soft-cooked rice or pasta, soft-cooked vegetables, ripe bananas and applesauce.
Foods to Limit
In addition to fat, certain foods also increase the risk of acid reflux. To minimize esophageal discomfort, you may need to limit these foods in your diet. Chocolate contains methylxanthine, a substance that reduces LES pressure. Coffee, both caffeinated and decaffeinated, may increase reflux and irritation. Mint, carbonated beverages, acidic foods and alcohol also can aggravate reflux. Whether you should include these foods in your diet depends on your individual tolerance.
Watch Those Calories
Being overweight or obese also increases the risk of reflux and irritation of esophageal ulcers. Limiting your calorie intake to lose weight may also help alleviate symptoms. Your calorie needs for weight loss -- which range from 1,000 to 1,600 calories a day -- depend on your age, gender and activity level. Your doctor can help you determine how many calories you need to lose weight and help improve symptoms related to an esophageal ulcer.