Stomach ulcers develop when the protective layer of your stomach erodes and sores form on the lining of your stomach. Stomach ulcers are usually caused by the Helicobacter pylori bacteria, but they can also be triggered by chronic use of anti-inflammatory drugs. Certain foods can increase stomach acid production, irritate sensitive stomach tissues and exacerbate abdominal pain. A healthy diet consisting of fruits and vegetables, lean meats, yogurt and water can help accelerate recovery and alleviate ulcer pain.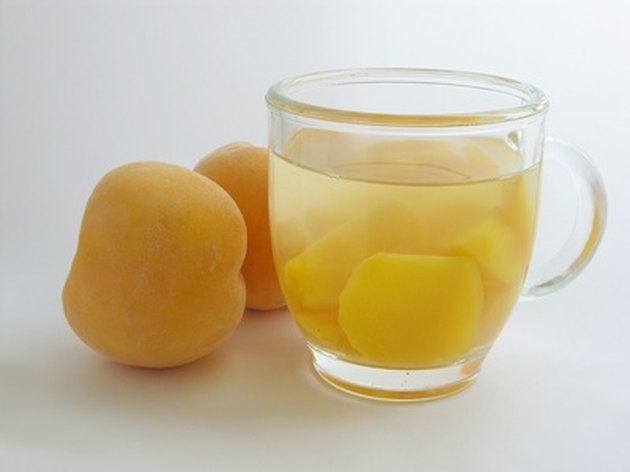 Fruits and Vegetables
Consuming fruits and vegetables that are low in acid and high in fiber such as apples, peaches, pears, grapes, kiwi, bananas, berries, melons, lettuce, cooked carrots, Swiss chard, spinach and kale can help alleviate ulcer pain. Fiber can help your stomach ulcer heal at an accelerated pace, prevent additional ulcers from forming, improve your digestive system, soothe ulcer pain and reduce excess gas, according to Simeon Margolis, author of the book "The Johns Hopkins Complete Home Guide to Symptoms and Remedies." Margolis recommends that you avoid citric fruits and spicy or gassy vegetables such as grapefruits, tangerines, lemons, limes, broccoli, cabbage, cauliflower, Brussels sprouts, tomatoes, chili peppers, onions and garlic because they can increase stomach acid and exacerbate gas and abdominal pain.
Lean Meats
Eating limited amounts of lean meats can help soothe painful ulcers. According to Lavon J. Dunne, author of the book "Nutrition Alamanc," lean meats such as salmon, tuna, trout, sardines, lean red meat, skinless poultry and turkey are loaded with protein, a nutrient that can ease stomach pain and help repair damaged tissues. Other low-fat foods rich in protein include lima beans, pinto beans, tofu, low-fat or non-fat dairy products and soy products. Dunne recommends that you avoid high-fat proteins such as sausage, salami, bacon, ham and whole fat dairy products because they can increase acid production in your stomach, inflame sensitive stomach tissues and worsen your pain.
Yogurt
Snacking on a cup of 8 oz. yogurt twice a day can reduce ulcer pain. Yogurt is loaded with probiotics, live bacteria that encourages healthy digestion and ease irritated ulcers by replacing harmful bacteria in your gastrointestinal tract with healthy bacteria, according to Swami Sadashiva Tirtha, author of the book "Ayurveda Encyclopedia: Natural Secrets to Healing, Prevention, and Longevity." Other foods that contain probiotics include fermented and unfermented milk, miso, tempeh, kefir, fortified juices and soy milk.
Water
Drinking approximately 48 oz. to 64 oz. of water per day can help ease painful ulcers. Water flushes toxins and impurities out of the body, provides hydration and accelerates the healing process, according to Alan R. Gaby and Schuyler W. Lininger, authors of the book "Natural Pharmacy: Complete A-Z Reference to Alternative Treatments for Common Health Conditions." Gaby and Lininger recommend that you avoid caffeinated beverages such as coffee and cola because they can increase the amount of acid in your stomach and intensify your pain. Other beverages that can improve stomach ulcers include herbal teas, caffeine-free sodas and apple, grape, peach or pear fruit juices.