Hair follicle testing is an examination of the hair to test specific drug use by an individual. The method tests for measures of drug molecules and metabolites, which are residues of drugs that remain in the hair. Rutgers University Health Department explains that every 0.5 inches of hair detects drug usage over a 30-day period and the standard testing requires 1.5 inches of hair. Testing primarily detects for methamphetamines, cocaine, marijuana, opiates and phencyclidine drug usage.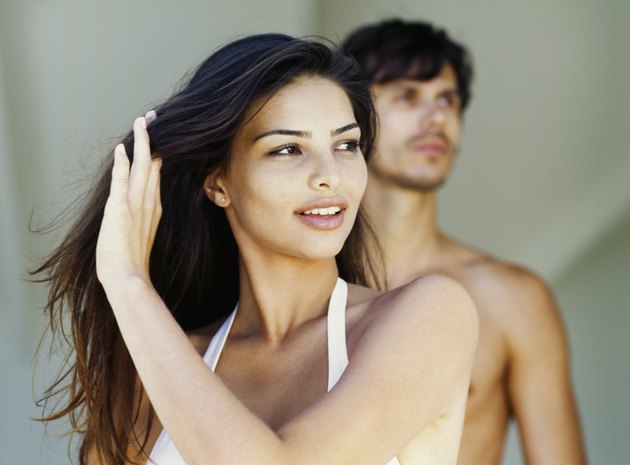 Methamphetamines
Methamphetamines are a highly addictive psychostimulant that belong to a group of drugs that stimulate the central nervous system. The drug closely resembles the chemical properties of amphetamines and can be ingested, injected, smoked or snorted. Methamphetamines can change the chemistry of the brain and destroy dopamine receptors, which factor into how individuals experience pleasure, according to PBS. The effects of methamphetamines include alertness, hallucinations and rushes of energy.
Cocaine
Cocaine is a highly addictive drug that extracts from the leaves of the coca bush. The drug is a crystalline powder that is snorted or injected, but may also process further into a cocaine base for smoking. Cocaine is one of the oldest known drugs and adults aged 18 to 25 have the highest rate of usage compared to other age groups, according to the Partners HealthCare Employee Assistance Program. Abuse of cocaine can cause seizures, respiratory problems and psychosis, among other health concerns.
Marijuana
Marijuana is a product of the cannabis plant and a mind-altering substance. The drug refers to dried leaves, stems, seeds and flowers of the cannabis plant in which individuals smoke. The drug can have adverse effects on the lungs, heart and brain. Marijuana is the most frequently used illegal drug in the United States and more than 98 million Americans over the age of 12 have tried the drug, according to the National Institute on Drug Abuse. The effects of the drug vary by strength and dosage and produce a state of induced relaxation.
Opiates
Opiates are either natural or synthetic versions of the constituents found in the opium poppy. These drugs have many medical uses as painkillers and have illicit versions. Opiate drugs include methadone, heroin, codeine and Oxycontin. Approximately 9 percent of the population has misused both illegal and prescribed opiates, according to MedlinePlus. Opiates can produce short or long-term effects and are commonly taken orally or intravenously.
Phencyclidine
Phencyclidine is a drug originally developed as an anesthetic, but discontinued for medical use because of its severe side effects. The drug is now illicitly marketed and available in powders, capsules and tablets. The drug is a dangerous abusive drug and can cause compulsive behaviors and various health hazards, according to Drugs.com. The drug can be snorted or taken orally and causes hallucinations, confusion, distorted thinking and numbness, among other symptoms.
Is This an Emergency?
If you are experiencing serious medical symptoms, seek emergency treatment immediately.