When people have pain, they can take a medication such as oxycodone or codeine. Both medications are opiate drugs and work by binding to the opioid receptors in the brain, which change how a person perceives pain. MedlinePlus points out that oxycodone and codeine can become addictive for users, so patients should follow their doctor's orders when using either drug.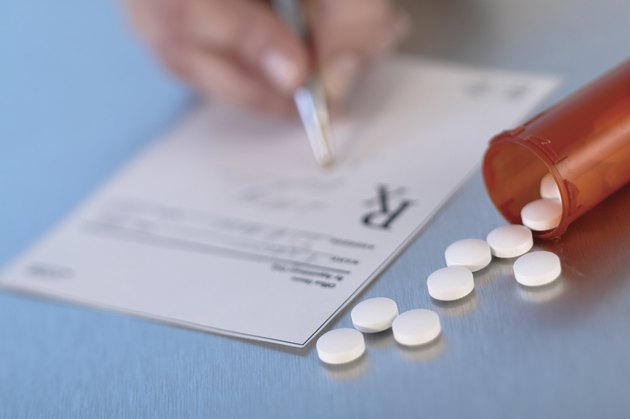 Purpose
Both oxycodone and codeine treat pain. Patients will take oxycodone when they have moderate to severe pain. One option for oxycodone is an extended-release tablet, which patients only need to take once a day. The extended-release tablet provides pain relief throughout the day. People who take pain medication as needed or those who have occasional pain should not take an extended-release tablet of oxycodone. People who have a tolerance of opiates should take 60 milligrams tablets of oxycodone. MedlinePlus explains that if a person who does not have a tolerance to oxycodone takes a 60 milligrams tablet, she can experience breathing problems or may die. Patients with mild to moderate pain take codeine as they need it. When codeine is combined with another medication, it can act as a cough suppressant.
Available Forms
Patients can take either codeine or oxycodone alone or as a part of another medication. For example, MedlinePlus notes that people can take codeine as part of a cold or cough medication. For pain relief, people can take codeine with aspirin or acetaminophen. Oxycodone combinations with acetaminophen and aspirin also exist, as well as an oxycodone and ibuprofen combination.
Proper Use
To avoid problems, patients need to take each medication in a certain manner. With oxycodone, patients should take the medication with a full glass of water. Drugs.com warns that patients should not break an extended-release tablet, as this can cause too much of the drug to be released into their system at one time. If patients take the liquid form of oxycodone, they should measure the liquid with a dose-measuring cup or spoon only. To prevent constipation that sometimes occurs with oxycodone use, patients should drink water throughout the day. As for codeine, patients should also take this medication with a full glass of water. If the medication cause stomach upset, patients can take codeine with milk or food.
Overdose
Taking too much of either codeine or oxycodone can lead to an overdose. For example, notes Drugs.com, people who overdose on codeine can have a cessation of breathing, extreme drowsiness, weak pulse and shallow breathing. Some people may faint. Other overdose symptoms include cold and clammy skin, confusion and pinpoint pupils. Overdosing on oxycodone can result in a coma, slow heart rate, shallow breathing and extreme drowsiness. Oxycodone overdosing can also cause cold and clammy skin, fainting, confusion and pinpoint pupils.
Warning
Since some people abuse both oxycodone and codeine, patients should watch their supply for any missing pills. Misusing the medication, whether for medical or recreational purposes, can lead to serious problems. For example, MedlinePlus notes that patients who take larger doses of codeine than recommended by their doctor or patients who take the drug more frequently can develop an addiction. Drugs.com warns that death can occur if people crush and inject oxycodone.