If you're looking for a way to bring your cycling workout inside without buying an expensive exercise bike, you can do it quickly, easily and fairly inexpensively. You'll have the benefit of riding a bike that you're used to; or training with the bike that you'll be using in your next race.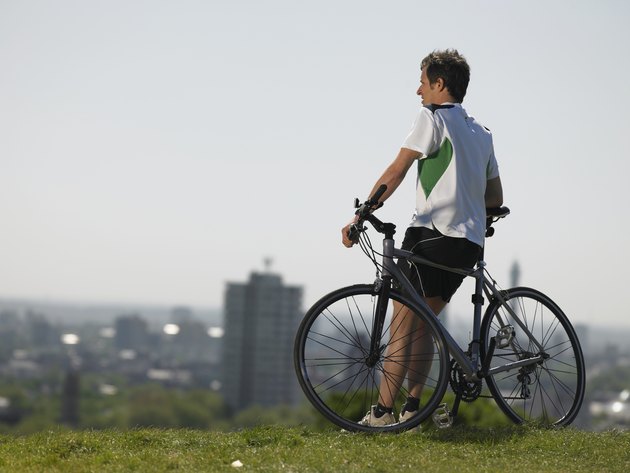 Step 1
Purchase a bike trainer. This is an essential piece of equipment that you'll use to stabilize your bike. According to a search performed on a popular shopping comparison Web site, prices for bicycle trainers range from $62 to more than $600. Most bike trainers are one piece and require no assembly.
Step 2
Choose a safe indoor location that is flat and free of clutter, and leave plenty of room for your equipment.
Step 3
Place the rear wheel of your bike into the trainer. If it's your first use, you'll have to unscrew the clamps far enough to place your bike into the trainer.
Step 4
Tighten the bike trainer clamps onto the axle of the rear wheel of your bike. Most trainers require you to just screw each side until tight. Turn the wing nut until tight to prevent your bike from coming loose while riding.
Step 5
Adjust the resistance. Some bike trainers require manual adjusting with the adjuster located on the actual trainer; so you may need to get on and off the bike until you reach your desired resistance. Some trainers adjust resistance based on your pedal speed while others allow you to adjust the resistance manually but while sitting on your bike.
Step 6
Make sure your bike is secure stable before starting your training. You can do this by simply rocking or wiggling your bike gently back and forth before you get on.
Tip
Purchase a bike trainer that's right for you. There are several kinds of trainers: wind/fan, magnetic, fluid, electronic and rollers. The first four use the same concept but just use different means of achieving resistance. They are good for any experience level. Rollers are for more advanced riders and may not be suitable for beginners.
You can also purchase a riser block to level out your bike. The riser block is usually just a piece of plastic that gives you a place to put the front tire of your bike for added stability and/or to protect your flooring.