According to the Encyclopedia of Sports Medicine and Science website, 35 years of age begins the young middle-aged group that lasts for 10 years. This is when the first signs of slowing down in terms of physical activity may begin. Along with being less active comes the chance to gain weight. By the time you are 35, you are not building strength at the rate you did just 10 years earlier. As you age, flexibility needs to be maintained by stretching, and regular exercise will help maintain bone health.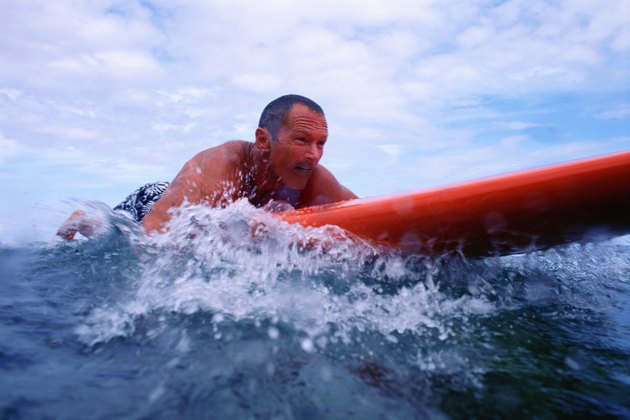 Manage Weight
Burning calories will help you lose weight. If you have any weight issues and resulting health issues, exercise can target lowering weight and building better health. The Centers for Disease Control recommends a weekly workout program that involves at least 150 to 300 minutes of moderate exercise or 75 to 150 minutes of vigorous aerobic activity to help you manage your weight. High-impact aerobic activities, such as playing basketball, running or jogging or working out on a treadmill can burn the most calories.
Help Stress
Exercise can help you manage the stress you have in everyday life. You have endorphins in your brain that are activated when you work out. These endorphins are what's behind you feeling better, and you can keep them active on a daily basis. Exercise can take your mind off of what stresses you and help with anxiety as well.
Strength and Flexibility
Building strength and flexibility in your body are two of the main forms of exercise according the the University of Maryland Medical Center. When you include weightlifting and resistance training to build strength in your regular workout program, the muscles in your body will get stronger, and your bones will be healthier. Strength training can build muscle and bone density at every age. Easy muscle building exercises include push-ups, pull-ups and lifting weights. Flexibility helps you move better and have less joint pain. Stretching your muscles will help prevent cramping and getting hurt.
Keep Healthy
The University of Maryland Medical Center website states that after age 30, men will naturally begin to lose strength in their muscles. The American Heart Association has set target heart rates during exercise for all age groups. Aerobic activity on a regular basis where you reach your target heart rate is associated with building good health. Both low- and high-impact physical activities are beneficial to your health in terms of age-related issues, such as managing blood pressure, prevention of type 2 diabetes, joint problems, heart disease and boosting your good cholesterol.