Build your body by incorporating resistance training, aerobics and a healthful eating plan. If you want to increase your muscle mass, use heavy enough weights so you can lift for only six to 12 repetitions per set. If you want to tone up, use lighter weights so you can complete 15 to 20 reps per set. Gradually increase the weights you are using as you get stronger to continue to build your body, according to the American College of Sports Medicine.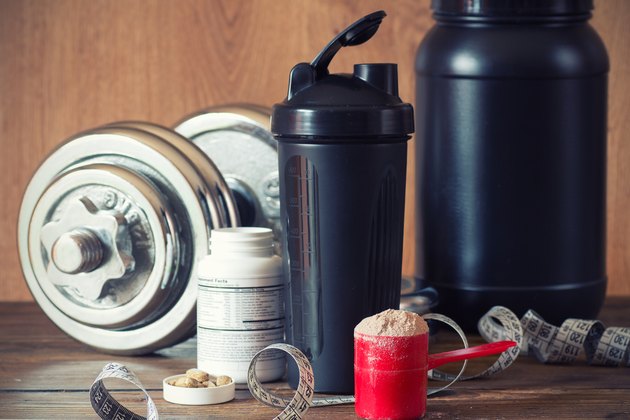 Weight Training
Step 1
Complete a chest and biceps workout on Monday mornings. Pair chest and biceps exercises, including flat barbell bench presses with EZ bar curls, flat dumbbell flyes with concentration curls and incline barbell presses with hammer dumbbell curls. Do four sets per exercise.
Step 2
Perform a workout for your back and triceps on Wednesdays. Pair back and triceps exercises, including lateral pull-downs with two-arm dumbbell triceps extensions, one-arm dumbbell rows with one-arm rope press-downs and seated cable rows with triceps push-ups. Complete four sets per exercise.
Step 3
Do a leg, shoulder and abdominal routine on Fridays. Pair squats with barbell shoulder presses, stationary barbell lunges with dumbbell lateral raises, leg curls with bicycle crunches, one-legged dead lifts with dumbbell side bends and leg extensions with bent over dumbbell flyes. Do four sets per exercise.
Cardio
Step 1
Complete a 60-minute treadmill workout on Tuesdays such as running for three minutes and walking for one minute, or take an aerobics class.
Step 2
Do an interval workout on Thursdays. Sprint for 30 seconds, then walk for 90 seconds, totaling 30 minutes, on a treadmill to burn a significant number of calories even after your session.
Step 3
Perform a moderate-intensity run outside for 30 to 45 minutes on Fridays.
Meals
Step 1
Eat plenty of calories to fuel your exercise. Consume 41 calories per kilogram of body weight if you are a man, or consume 37 calories per kilogram of body weight if you are a woman, according to the National Strength and Conditioning Association.
Step 2
Consume 1.5 to 2 grams of protein per kilogram of body weight between all of your meals to enhance protein and muscle building.
Step 3
Drink a protein and carbohydrate shake immediately after your exercise sessions. Blend one cup of semi-frozen skim milk, ½ cup of ice water, one scoop of whey protein, one scoop of casein protein, ½ a frozen banana and 3 ounces of a frozen orange.
Things You'll Need
Gym equipment

Protein powder

Skim milk

Fruit
Tip
Take a picture before and after you begin your training so you can evaluate your progress.
Warning
Check with your doctor before beginning an exercise program to ensure it is safe for you start.