Toxins and excess waste material build up in our colon over time. This excess waste can accumulate, making you bloated and giving the impression of a protruding stomach even if you are lean. Detoxing your body will help push all of the impacted fecal matter and built-up mucoid plaque from your body and allow your stomach to flatten out. Add some aerobic exercise to burn excess fat and some resistance training to strengthen your abdominal muscles and a flat stomach can be yours.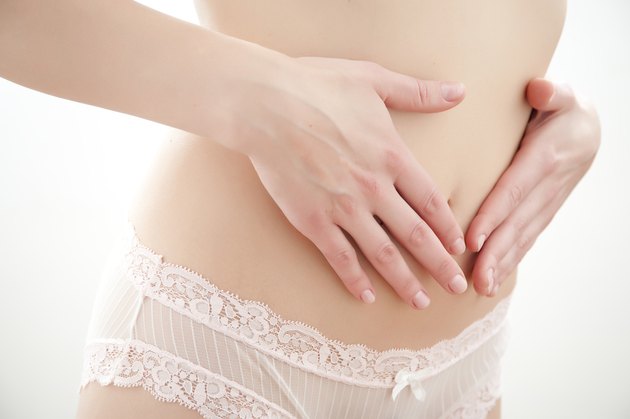 Step 1
Cut out alcoholic beverages, tobacco. Stay away from processed and refined foods such as canned meats, white flour and cooked animal products, which are harder for most people to digest. According to Dr Ben Kim, vegetables, fruits and their juices are easy to digest because they are naturally rich in water, helping you stay hydrated, which is essential to a total cleanse. During an intense cleanse the goal is to minimize how hard your digestive organs have to work.
Step 2
Take psyllium husk with bentonite clay. According to Colonzone, these substances work together by absorbing water in the colon then expanding in size to increase the weight of your bowels, which helps you be more regular. As these substances pass through you, the bentonite clay absorbs toxins from the mucous lining in your GI tract and the husk helps push out mucoid plaque and impacted fecal matter that is stuck to your colon wall.
Step 3
Mix your psyllium husk or crushed flax seeds with foods or liquids to mask the flavor and make them easier to drink. According to Colonzone, these substances absorb several times there weight in water, which can lead to dehydration if you do not drink enough liquids when taking them. Increase your water intake to at least two liters a day to avoid dehydration and constipation.
Things You'll Need
Psyillium husk

Bentonite clay

Flax seeds