Drinking fresh juice every day for 30 days has its benefits, unless that's the only thing you're consuming. Most 30-day juice diets involve you fasting on juice alone to either help you lose weight or detox your body. You certainly will lose weight subsisting on a juice-only diet, but it's not the healthiest way to go. And as for a detox diet, your body already has that covered. Consult your doctor before starting a juice diet.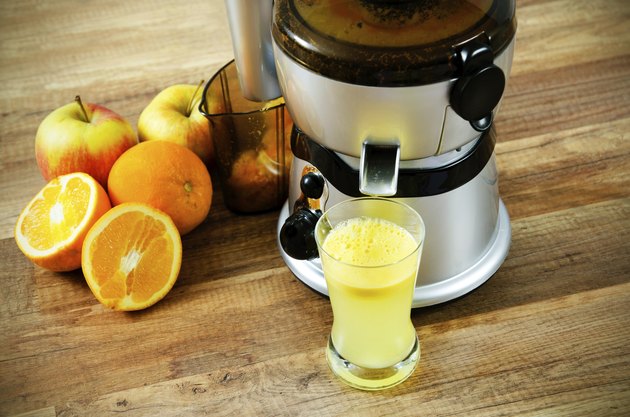 Juice Diet Basics
On a 30-day juice diet, your intake is limited to raw fruit and vegetable juices and water. The juice on the diet isn't the kind you find on the grocery store shelves, but juice you make from whole fruits and vegetables, which requires a juicer or blender. Juice blends usually include a mix of fruits and vegetables. For example, a juice recipe might include apples blended with kale, celery and lemons or beets with pineapple, oranges and spinach.
Weight Loss
When you limit your food intake to only juice, you are limiting your calorie intake, which leads to weight loss. Although you can lose a lot of weight following a juice fast diet, when you lose weight too quickly, you are most likely losing water and lean muscle, not your excess fat. To lose fat weight and keep it off, lose it slowly at about 1 to 2 pounds a week.
Detox
Limiting your intake to fresh juice cleanses your body of environmental toxins, while promoting health, according to the book "30 Day Juice Cleanse." But you don't need to limit your diet to juice alone to get rid of toxic substances. Your kidneys and liver do that for you, unless they're diseased, in which case you should consult your doctor about your specific dietary needs and the potential harm of a 30-day juice diet. If you want to improve your health and feel better, eat a healthy diet high in fiber and low in fat with a variety of nutrient-rich foods from all the food groups, in addition to your fruits and vegetables.
Concerns and Alternatives
As a long-term extremely restrictive diet, a 30-day juice diet may lead to nutritional deficiencies. It can also decrease energy levels and lead to dizziness or fainting. Plus, when you limit your calorie intake, your metabolic rate slows down to conserve energy, making it harder for you to lose weight. Making your own fruit and vegetable juice can up your intake of vitamins and minerals, but instead of making it the only thing you consume, you may be better off adding these healthy juices to your healthy, balanced diet.