Some drugs increase the risk for chronic cough, particularly angiotensin-converting enzyme inhibitors--ACEIs--medications used to treat hypertension. In addition, sitagliptin, a medication for type 2 diabetes, also causes cough, according to East Tennessee University professors James N. Baraniuk and Mary J. Jamieson in their 2010 article for "Allergy, Asthma & Clinical Immunology." They note up to 6 percent of users develop cough and sore throat while taking sitagliptin. Some antibiotics may cause cough, as may inhaled steroids.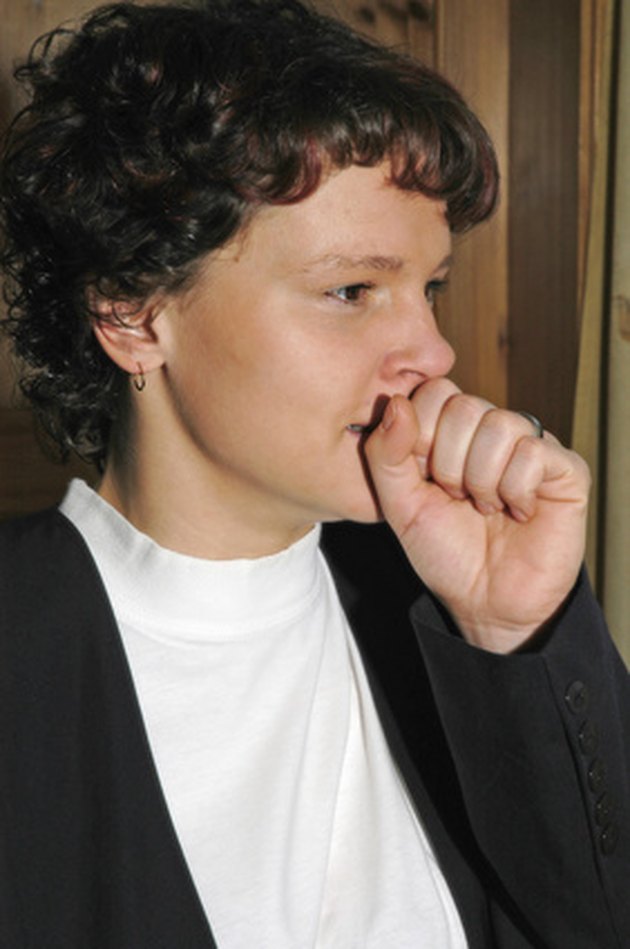 Angiontensin-Converting Enzyme Inhibitors (ACEIs)
The National Health Lung Eduction Program--NLHEP--reports up to 20 percent of patients using ACEIs develop coughs and no one ACEI is any better or worse than another in terms of causing coughing. It is unclear what triggers the cough, says the NLHEP, but it is known the coughing may occur within a week of starting the ACEI or up to a year later.
Coughs caused by ACEIs range from mild problems to extreme hacking coughs. This cough is usually worse at night and when the person is lying down. If the ACEI is stopped, the cough will eventually go away, within 2 weeks to several months. According to pulmonary expert Peter V. Dicpinigaitis, M.D. of Montefiore Medical Center in Bronx, New York in his article for "Chest" in 2006, patients with cough from ACEIs may be switched to angiotensin receptor blockers--ARBs--which have a significantly lower risk for cough.
Sitagliptin
To check complaints that sitagliptin causes cough, Baraniuk and Jamieson performed chart reviews of 15 patients who were intolerant to sitagliptin. They found symptoms of coughing, rhinorrhea--runny nose--and fatigue occurred within 1 to 8 weeks of starting sitagliptin in affected patients. These symptoms ended within a week of stopping the medication. They also note that inhaled or nasal glucocorticoids might resolve this allergic problem and could enable individuals to continue taking sitagliptin.
Antibiotics
In his 2006 article for "Chest" on causes of cough, Udaya B.S. Prakash, M.D. notes some antibiotics cause a chronic dry cough, and if there is no evidence of abnormalities in imaging studies, an antibiotic-induced cough should be--but often is not--considered by doctors as the cause.
Some antibiotics which may cause cough are amphotericin, erythromycin, aminoglysides and sulfonamide antibiotics, says Prakash, who notes that the mechanism for the cough is probably related to the reason why the person is taking the antibiotic, or an infiltrative disorder.
Inhaled Steroids
Sometimes cortiocosteroids used in inhalers or intranasal sprays by people with asthma or nasal allergies can induce a dry cough, according to the staff at the Mayo Clinic on their website. They recommend gargling water between puffs on the inhaler. Be sure to spit out the water and not swallow it, they advise.
Is This an Emergency?
If you are experiencing serious medical symptoms, seek emergency treatment immediately.